When you really like a pair of shoes, it can be worthwhile to pay for restoration rather than buy a new pair.
Some of the world's finest shoe companies offer recrafting and resoling services. I don't know why they do this, honestly. It can't be very profitable. Maybe they just want to be awesome to their customers. (More on this later)
Rancourt & Co. is one great company offering this service, or services I should say – they currently offer 3 tiers of shoe repair, from a basic resole to premium refurbish.
My well worn Baxter model camp moccasins were a good candidate for restoration. These are some of my favorite Summer shoes. They're comfortable and durable with a classic style.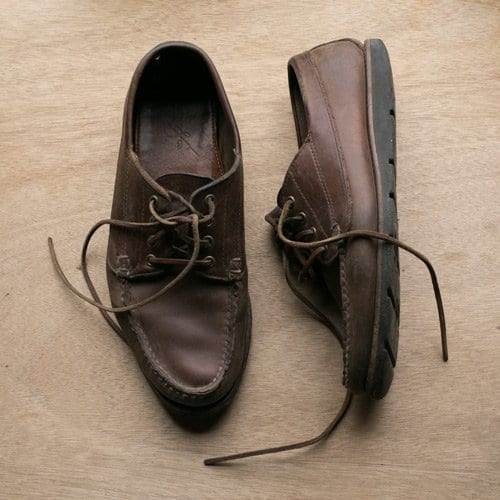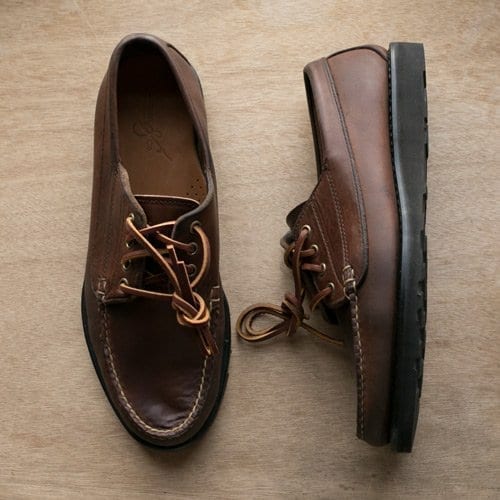 The company offers more restoration options than you might expect, which is a plus. I would even say it's "fun" to send your shoes back, because you can customize them with a variety of replacement soles that could significantly change the character of the shoe.
I chose the $135 "Premium Refurbishing" service and a black Vibram 4014 Christy wedge replacement sole. In early December, I placed the order for re-crafting. It's easy to get started. Rancourt sends you a shipping label, and you drop the shoes in the mail with some paperwork included. (Oops, I forgot the paperwork, but nobody seemed to mind).
Just 32 days later, the email notification comes back with an update. Shoes are ready. It's still snowing outside, so I don't need them, but OK! Looking forward to it. They arrived a few days later and the results are impressive.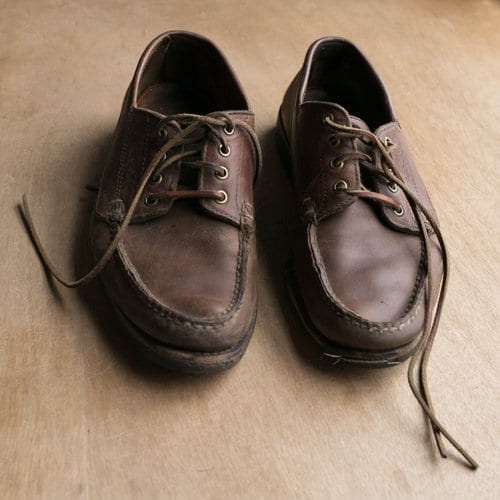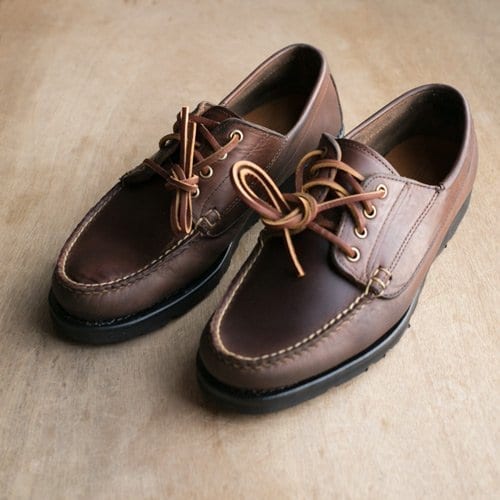 The original sole was a cushy black Lactae Hevea model, while the new Vibram wedge sole is a few centimeters taller with a more aggressive tread pattern. I chose to keep it subtle with a black sole, although a natural white sole would have been a good choice as well.
The leather came back clean and nicely buffed, with brand new insoles. Somehow my toe had carved a large dent into the right shoe, and this could not be fixed. But it doesn't really need to be fixed.
If you really love your Rancourt & Co shoes, I would recommend their resole service. The photos say a lot more than I can in this case.
P.S. The Kaizen of Shoe Repair
If you wanted to create shoes of the highest quality, what would you do?
Here's an idea:
Make shoes. Then create a "shoe wear laboratory" in which you study the changes that occur after a variety of people wear your shoes.
Ask customers to send their used shoes in for "repair." Gather data on recurring problems with each shoe, and then address those problems in the construction of later models.
You would create feedback loops for improvement and provide a service customers want. A very Kaizen idea I must say.
Do the people at Rancourt or Alden or Allen Edmonds think this way about recrafting? I have no idea. I do know that by offering the repair service, they make a strong statement about standing behind their products.
More about shoe repair:
---