Kapital Katsuragi ring coats are innovative and desirable outerwear items that currently do a brisk trade on the second-hand market.
In this review we'll take a look at their main design features, discuss style and fit, and consider the quality of their construction.
An Introduction
My first Kapital ring coat – a sturdy black number – was purchased around 5 years ago. I absolutely adored this item from the moment I saw it, and it became a central part of my wardrobe. My signature look even. Consequently, on another trip to Japan about a year later, I bought a second, beige, version, and have almost continuously alternated the two coats ever since. We'll consider how well they are holding up today in a short while, but first let's take a closer look at the Kapital ring coat's unique design.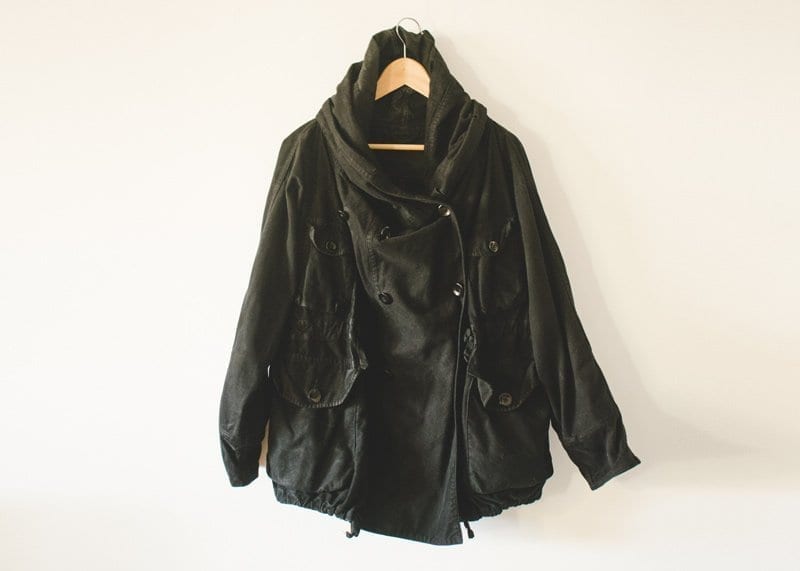 Design
The Kapital ring coat is unusual in that it strikes a very successful balance between two extremes that common sense would suggest are pretty much incompatible: fusing a rugged, workaday military look with the sophistication and elegance of a beautifully cut and draped high fashion item. With that said though, it should come as no surprise that this garment is designed and made in Japan, a nation well-known for its functionally-elegant design ethos: if anyone is going to pull off this unlikely combination, it's almost certainly going to be a Japanese designer.
In fact, while the jacket's peacoat-inspired button closure and four heavy-duty pockets owe a clear debt to classical European naval outerwear, there are other elements of the design that can more likely trace their origins back to traditional Japanese tailoring. In particular the rolled Yukata-style collar that terminates in the jacket's elegantly draped double-breasted fastening.
The refined utilitarianism of the ring coat makes for an item that can be combined almost as equally well with a suit – at least if done carefully – as it can with cutting edge street threads and vintage workwear. On a more practical level, the enormous expanse of cloth that folds down to make the collar can also be unfurled so that it doubles-up as an oversized Jedi-hood: ideal for catching a few moments shut-eye in a brightly-lit airport departure lounge or other public space.
Sizing and Fit
While the hood/collar can be worn in several different ways, and the coat can be buttoned using different formations, personally I always wear my ring coats in the same basic manner – as seen in the photos accompanying this article. However, precisely which style suits you will likely depend on your particular body type.
I'm about 6 feet tall and skinny. Both of the Kapital ring coats I own are size S. I could probably get away with an XS quite comfortably, however as the ring coat can be adjusted by means of waist ties, going for a size larger than your regular one is not a major problem. Indeed, Kapital ring coats are rather loosely draped by their very nature, so in fact the size S fits me very well: I can wear plenty of layers under mine without it starting to get bulky, while it still looks equally good on cool late-summer evenings with just a light t-shirt underneath.
The "ring" in the coat's name is a tall hood-like expanse of cloth that rolls around the nape as a collar. If you're a scrawny-necked, long-limbed rake like me, the ring coat is going to be very flattering for you: the collar sits up high near the face and the loose cut of the coat hangs gracefully from malnourished, angular appendages (that's your weedy arms, see).
For those of a bigger build, however, overly showy or elegant items of clothing can sometimes look a little try-hard or clumsy. Rest assured that this is not the case here though. So while the ring coat does indeed hang beautifully off underfed catwalk-bodies, the aggressive masculine edge created by the coat's military details means that even more robust wearers will emerge with their dignity fully intact.
Materials and Construction
The black coat I own is cut from a moleskin-like heavy pure cotton that is a little rigid but nonetheless very comfortable to wear. Meanwhile the beige version is made of a slightly lighter-weight material that is a mix of 95% cotton and 5% polyester. Normally I try to avoid synthetics at all costs, but 5% is so minimal that it doesn't bother me here. In any case the fabric is a pleasure to touch and the high cotton-count keeps it perfectly breathable. The back of the neck and yoke area of both coats are reinforced with some kind of heavy, crude wool-like fabric, adding extra durability to this hard-working part of the garment.
As with all Kapital products, the ring coat's construction is of excellent quality, with strong stitching that shows absolutely no signs of give, even after several years of heavy use. Over this time the ring coats' roomy pockets have not only suffered from aggressive hands being repeatedly thrust into them, but have been stuffed with every imaginable kind of object (usually in the interests of getting around restrictive airline carry-on rules). Despite all this punishment, there's not a trace of wear at the pocket corners – usually the first place to tear on a poorly-made garment.
At some point the black coat evidently became snagged on a nail or some other sharp object, which ripped a small hole in the back of the shoulder area. This was pretty successfully patched by a tailor, and turns out not to be the huge disaster I thought it was at the time. It certainly doesn't discourage me from wearing the ring coat.
Without knowing precisely what caused the damage, it's hard to say whether this was the fault of inferior quality fabric, however this seems unlikely with a product that is made in Japan. In any case, as mentioned above, the cloth appears to be of very high caliber, and the reality is that if it was a particularly sharp spike, then no cotton fabric would have escaped unscathed, no matter how durable.
The only other issue I've had is that the color of the black ring coat began to fade slightly after a couple of years. Some might actually prefer the worn-in look, but I decided to refresh the color by re-dying it black, making it seem like new again. Eighteen months later, it still looks great.
Often when you re-dye clothing, this fact is very obvious to anyone who sees the internal labels, as they too change color. However, evidently Kapital's labels are made of synthetic fibers, so instead of becoming an ugly over-dyed gray, they totally rejected all the dye and have remained pristine. Even on close inspection you would not be able to tell that the coat has been dyed.
Indeed, buyer beware, because your "almost new" Katsuragi ring coat may in fact have been lived in for several years like mine. Not that this is a huge problem to be honest though, as the quality of these coats means that they are likely to last for many more years to come.
Final Thoughts
With their "ethnic" stylings and overly decorative details, some of Kapital's other designs can stray a little too close to hippie territory for my own tastes. However the simple, functional elegance of the ring coats has made them something of a cult item with menswear connoisseurs worldwide. Well made and very cleverly designed, over the years these will likely come to be considered classics and consequently should hold their value if well looked after in the meantime.
---