Men's Wedding Attire Dos and Don'ts
A lot of guys are clueless about what to wear to weddings. They end up shopping with their girlfriends at the last minute, impulsively buying coats and ties and shoes they don't want, all in the name of tradition.
And if traditions weren't hard enough to master, creative wedding invitations make the situation more perplexing. They tell you to dress casually, wear vintage, or color coordinate outfits with other guys. It can get a bit ridiculous.
But don't let it stress you out! Use these 8 pearls of wedding wisdom as a guide for getting dressed this season, and you'll do fine.
1. Do Wear Something Traditional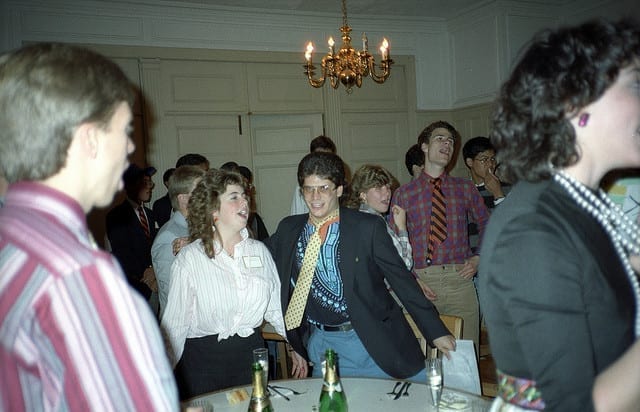 Weddings are not fashion shows and (if you're a guest) you are not the center of attention. Wear something traditional and save the experimentation for later. Even if it's your own wedding and you have complete control over attire – do you want to look back at photos and laugh/cringe at the outdated style trends?
2. Don't Underdress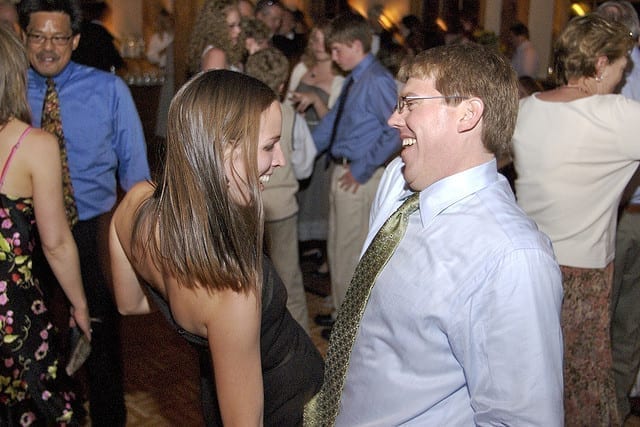 You could do worse than a shirt and tie, but you could also do better. How? Buy a jacket, get it tailored to fit you, and then wear it with confidence.
3. Do Wear a Suit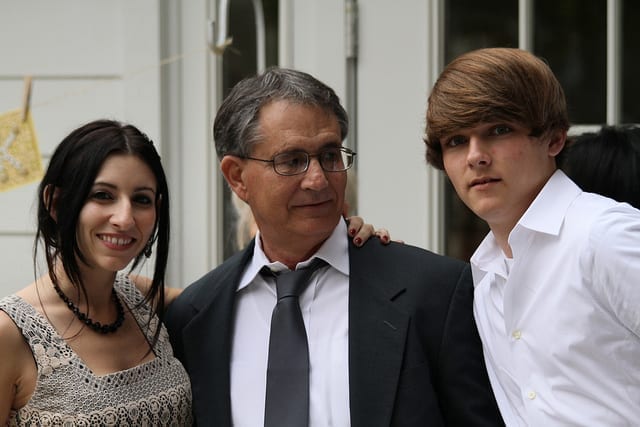 As a man, you actually have it easy – because you can wear a suit. Wear one and you'll understand why it's practical. Without a suit, you're a lost soul trying to piece together "dressy" items.
A solid gray or navy suit looks great and simplifies the process of getting dressed. You can stop thinking so hard about what to wear to every wedding. Wear the same suit, and switch out your shirt, tie and shoes as needed.
Just don't wear a bad suit, and don't wear a striped business suit.
4. Don't Rent Your Clothing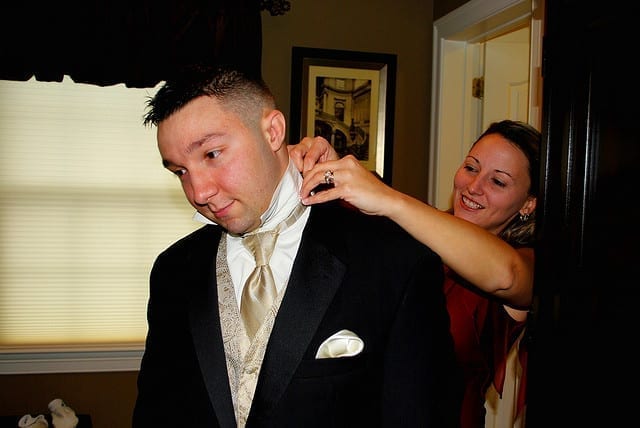 "You look great in that rented tux" is something people rarely say. Just like men never say: "I love wearing this rental and might keep it." If the groomsmen can't make it happen by the big day, then sure – rent something. But if you have six months to figure out wedding attire, take the time to find a suit you actually like to wear.
5. Do Keep Your Clothes On…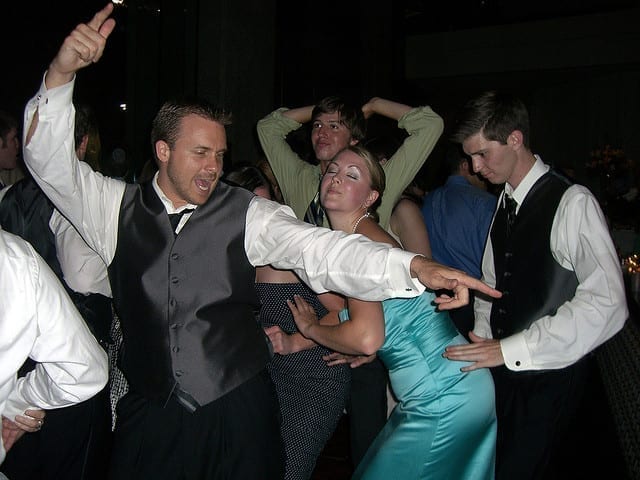 It shouldn't be surprising that men in rented tuxedos want to tear them off as soon as they enter the reception hall. But try to keep your clothes on, at least until the older guests retire for the evening.
6. Don't Wear Denim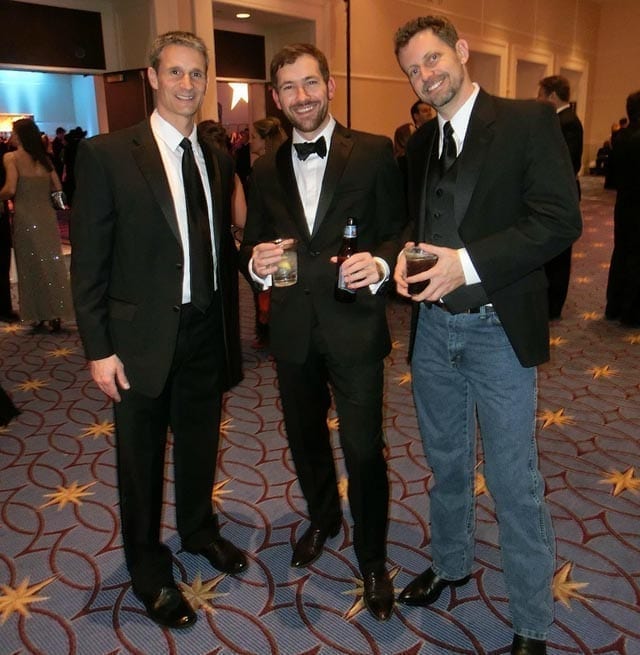 Guys love jeans – especially American guys – and they wear them everywhere. But unless you're attending a coal miner-themed wedding, jeans are not OK.
(I'll admit, the man in the photo above looks like a cool cat, probably because he wears his jeans with confidence. But can you do the same?)
7. Do Wear Evening Wear (but only in the evening)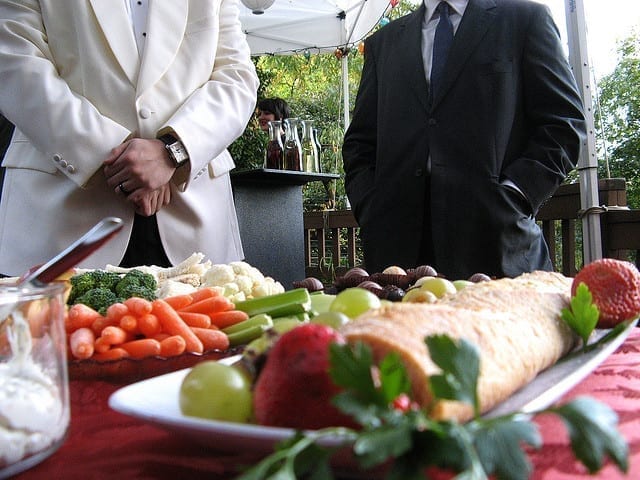 Tuxedos and dinner jackets look silly in the middle of the day. That's why they call it evening wear; because it looks so incredibly-smashing within the backdrop of a special evening.
(That said, if an invitation asks you to arrive at 1 p.m. wearing black tie, you might as well play along. It's their day, after all.)
8. Do Wear a Wedding Appropriate Tie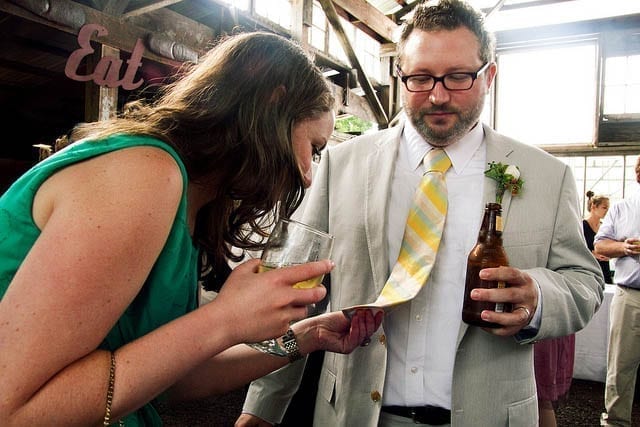 If you're a groom or groomsman, then it's best to wear a traditional wedding tie. They come in black, white, silver, gray, or navy, often with a checked pattern. You don't need them to match.
Guests can wear just about any tie, but should consider the circumstances. An outdoor beach wedding might call for a different necktie than a Saturday wedding in church.
More Style Advice:
---
Photos courtesy of Flickr users: Gordon Tarpley, Scott Brenner, Jesse Newland, Joe Shlabotnik, Stacey Huggins, B Rosen, Banjo Brown, Robyn Lee, Jorge Mejía Peralta