It's an arms race: as populist politicians do away with ties to make themselves look more like down-to-earth men of the people – some even undoing a button or two – anyone who doesn't want to look like a politician has had to go even more casual with their suits. John Bramaan traces the history of this summer's hottest menswear trend, wearing a suit without a shirt, and asks what the future might hold for men's formalwear.
The Emergence of a Trend
Dressing well means treading a delicate balance between trends, timelessness, and simply wearing clothes that are flattering for your body. Slavish adherence to the season's dominant looks invariably either leads to identikit mediocrity or the kind of flapping clownishness that's likely to provoke public snickering. Yet a pigheaded refusal to shift with fashion's overall flow will have you looking eccentrically dated in only a few years.
Thankfully, somewhere between the two extremes lies a broad middle path. One that offers sufficient room for personal expression and creativity, without too much risk of derision for being a total "victim," on the one hand, or just dressing plain shabby, on the other.
If not taken too seriously, though, there's a detached, almost sociological, satisfaction to be gained from watching how emerging currents develop: will a "hot" new look fizzle out in a matter of months, or fully take hold; establishing itself as one of the sartorial pillars of our era?
Even for those with no desire to adopt every passing fad, fashion can make for a fascinating spectator sport.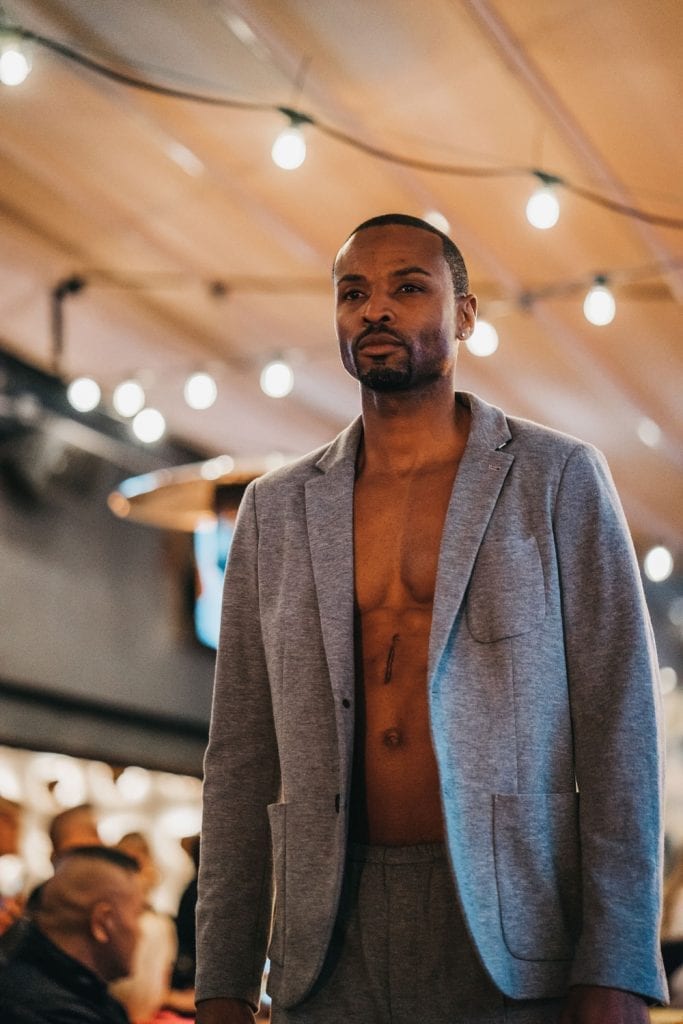 Take the wearing of formal tailoring minus the customary dress shirt – indeed, without a shirt of any kind at all.
Much touted in recent months as the look for summer 2019, it first showed up on the radar last spring, during the SS19 menswear shows.
Commentators have traced the origins of this trend to the doors of a number of different fashion houses: Dries Van Noten's Paris show last June featured almost a dozen sans-shirt looks; the same week Dior unveiled Kim Jones' kimono-inspired one-button DB jacket, the "Tailleur Oblique," over lithe exposed torsos. And Zegna had dropped a couple of shirtless-tailoring looks a week or so earlier during its presentation in Milan. Most people, however, seem to have missed the lone-trailblazer sporting this look at Pitti Uomo 94 right at the start of the season.
As is often the way though, it took more than either the bottom-up influence of the street or the top-down dominance of the runway to turn this into a full-blown trend. For that you need endorsement from influencers and celebrities. And, sealing its fate, the suit without a shirt look has since shown up on everyone from Kanye to Jay-Z and Donald Glover.
It's anybody's guess whether these outings were due to a spontaneous impulse on the part of the celebs in question, or rather the result of paid product placement (perhaps suggesting the latter explanation, Glover appears to have been wearing one of Dior's creations almost exactly as Jones sent it down the runway). Whatever the reason, though, high-profile approval has turned the look into a bit of a "thing."
The History of Bareback Suiting
In actual fact though, the shirtless look boasts a much longer pedigree than certain lazy menswear editors would have us believe. Indeed, shirt-free formalwear was already happening in womenswear long before it reached Pitti, with assorted Kardashians and Hadids donning double-breasted suits, and very little else, on a number of occasions earlier in the year.
The look didn't originate there either though. Jeremy Scott's evening attire might ordinarily be expected to cause something of a stir, but when in 2016 he turned up to the MTV Video Music Awards wearing an outlandish embroidered suit with nothing but a couple of chains underneath, he was apparently just following the soirée's official dress-code: no less than four of his fellow attendees were also rocking a bare-breasted-blazer that evening.
Just as every generation believes it invented sex, we frequently also try to take credit for originating looks that in reality would not strike our parents or grandparents as especially novel. And when it comes to sartorial deviance, there are few avenues that weren't explored by 1970s punks. As it turns out, this also includes the suit without a shirt look.
British agitpop funkateers Gang of Four usually turned out pretty smart in coordinated new-wave attire. But while lead singer Jon King could sometimes be seen flopping around in classy French-cuffed dress shirts, he wasn't immune to subverting sartorial codes from time to time by instead donning a low-slung "wife beater" under his suit.
Strictly speaking though, Go4 were post-punk. And admittedly a tank top isn't quite the same as a naked chest. But there are few artists more often credited as the original grandaddy of punk than Richard Hell. And lo and behold, Hell's 1977 Blank Generation LP cover features the man himself flashing open a sports coat to reveal his naked torso.
Yet as every know-it-all YouTuber will tell you, punk didn't just come out of nowhere. In fact, second only to the banality of "most underrated band EVVERRRR!!!!" are YouTube comments along the lines of "these guys were punk before punk!"
And if any band truly deserves the "proto-punk" label, it's the Stooges. Not only for the music, but just as equally for frontman Iggy Pop's provocative attitude and unconventional attire. Indeed, trace any "youth culture" trend back far enough, and there's a high chance that you'll find Iggy there, sneering at you with his shirt off.
Unsurprisingly, given his trademark topless persona, the suit without a shirt trend is no exception: Iggy was rocking blazers over his otherwise-naked torso as far back as 1970. And it's a look he's returned to time and again over the years.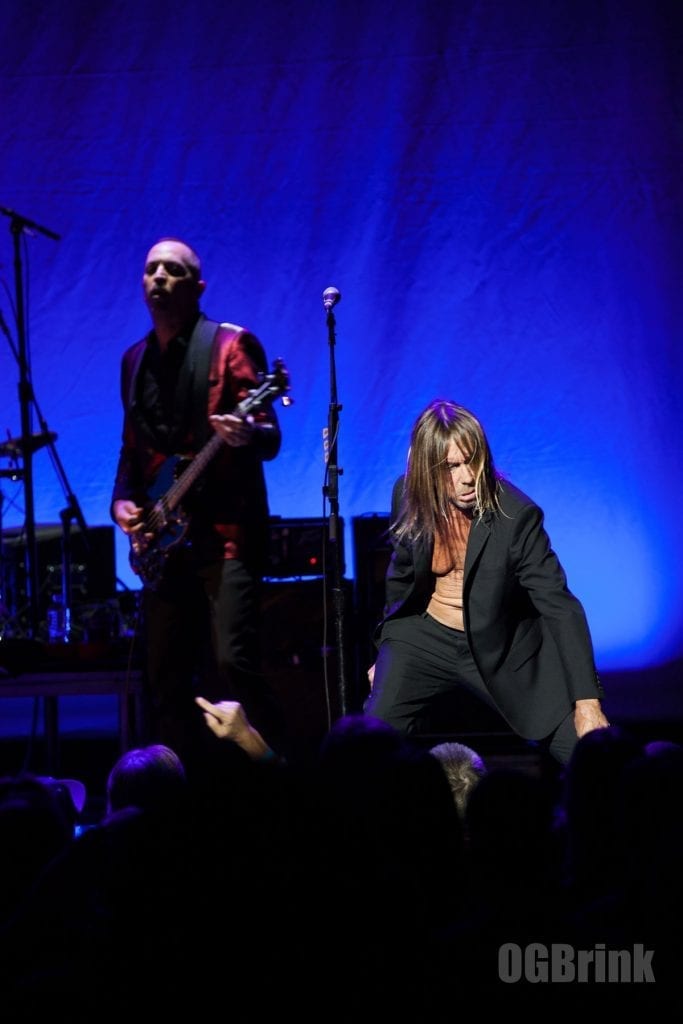 The Future of the Suit
Today's suit without a shirt look has somewhat evolved from its raw rock and roll origins. When in the 1970s Iggy donned the uniform of the establishment over bare pectorals it was a provocative gesture. But if there's a single development that could be said to characterize the last few years in fashion, its undoubtedly the blurring of any clear boundaries between formal attire and the street: streetwear has moved up to the runway, as luxury formalwear has stooped to meet it.
The suit jacket has its origins in the 17th Century, as a long outer garment worn on horseback. However, as this was a relatively stiff and formal piece of clothing, it eventually evolved into the more practical lounge suit; comfortable, but nonetheless intended to be worn with a shirt and tie.
In recent decades the tie has slowly fallen out of favor, and shirts have been unbuttoned to an ever deeper degree – perhaps to the point that the shirt no longer serves any clear purpose. Meanwhile, following Armani's influence in the '80s, suit jackets themselves have lost a lot of their structured rigidity. So much so that some of today's suits show signs of becoming a kind of soft and slouchy under garment, almost like a sweatshirt.
Arguably then, the modern suit jacket no longer needs a separate shirt. It is the shirt.
The evolution of the suit has been one of decreasing formality. But even if the historical arc of menswear suggests that the emerging shirtless trend may bring about permanent changes to men's formalwear, it's always worth remembering that fashion frequently comes in cycles of action and reaction. Today's shift towards sportier and less conventional suiting might just as easily result in a resurgence of tight-buttoned traditionalism a few seasons from now.
---