Alden 405 Indy boots are some of the most popular boots ever made, and for good reason. They're stylish, comfortable and well made boots. I recently acquired a secondhand pair in dark brown chromexcel leather. Let's discuss some of the key features, and my own personal opinions about them.
See Also:
Horween Chromexcel leather is fantastic in this shade of dark brown. It's a versatile color that should age beautifully.
The Neocork outsoles are practical for Winter in Minnesota (at least in the urban areas). While traction isn't aggressive, the Neocork composite offers better traction and water resistance than a leather sole. I should say that in general, I prefer high quality rubber soles, such as those made by Dainite and Vibram.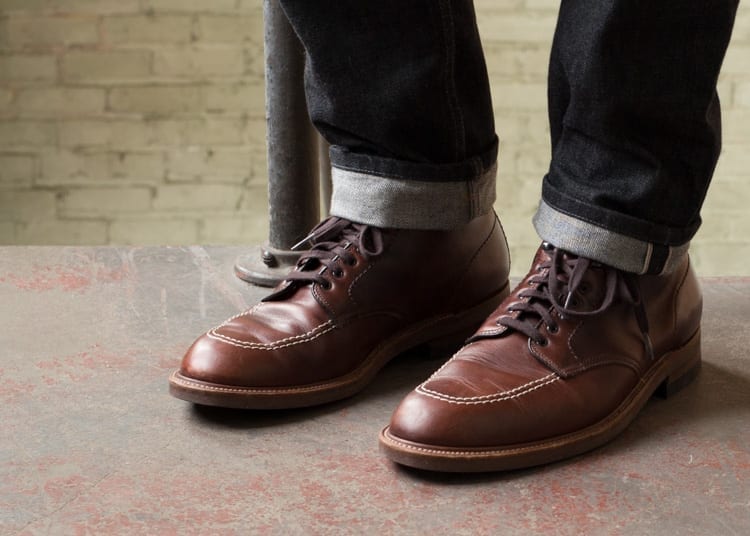 The Indy boot offers a nice balance between a dress boot and work boot. I could never truly appreciate the style until I put them on my feet. Isolated product photos don't do justice to their classic looks. They're definitely casual – great with chinos, cargo pants, cords or denim (as pictured above).
Speed hooks are not my favorite feature of the Indy boot. I'd rather have eyelets all the way to the top. They do look cool and do help with speedy shoe removal, but if you haven't practiced lacing these, the hooks can be somewhat clumsy. If you wear them with dress pants, the hooks may also occasionally catch on the hem.
Their "open" lacing (like a derby shoe) is the most comfortable option for any shoe. I own plenty of oxfords, but usually reach for the derbies for their flexibility and comfort. The 405 boots are incredibly comfortable. That's not a surprise to you Alden fans out there, because you know comfort is something Alden does extremely well.
Like every Alden model, the Indy boots have a tempered steel shank that provides consistent support. Meanwhile, your foot gradually conforms to the glove leather lining and cork midsole.
Indy boots are made on the Trubalance last, which is supposed to run one half size large. I can confirm that to be true. These boots in size 10.5 (my true size) have a generous fit. However, I tend to wear boots only in the Fall- Winter. With a pair of thick wool socks, they'll be OK.
Comparable Alden models
In addition to the 405, Alden makes a 401, 403 and 404 Indy boot. The main difference between these models is leather. That's also where you'll see a noticeable difference as the boots age.
The character of leather will change over time, so my Horween Chromexcel boot is going to look quite different than your well worn pair in calfskin or cordovan.
I'd love to try them all, but these boots tend to last so long that frequent replacement doesn't make sense. Maybe my next pair will be a tough 404 boot with a commando sole.
---