Pitti Uomo 94 may be long over, but in the meantime we've been busy condensing our notes to bring you more highlights from the SS19 Florence menswear collections. Following on from the first part in this series on the best brands of Pitti, we take a look at some quality British outerwear; elegant bags and accessories from Denmark; workwear and vintage inspired pieces from France and Italy; and an innovative use of traditional textile production techniques from China.
But that's by no means all. Read on for the full briefing.
Vintage & Republic Co.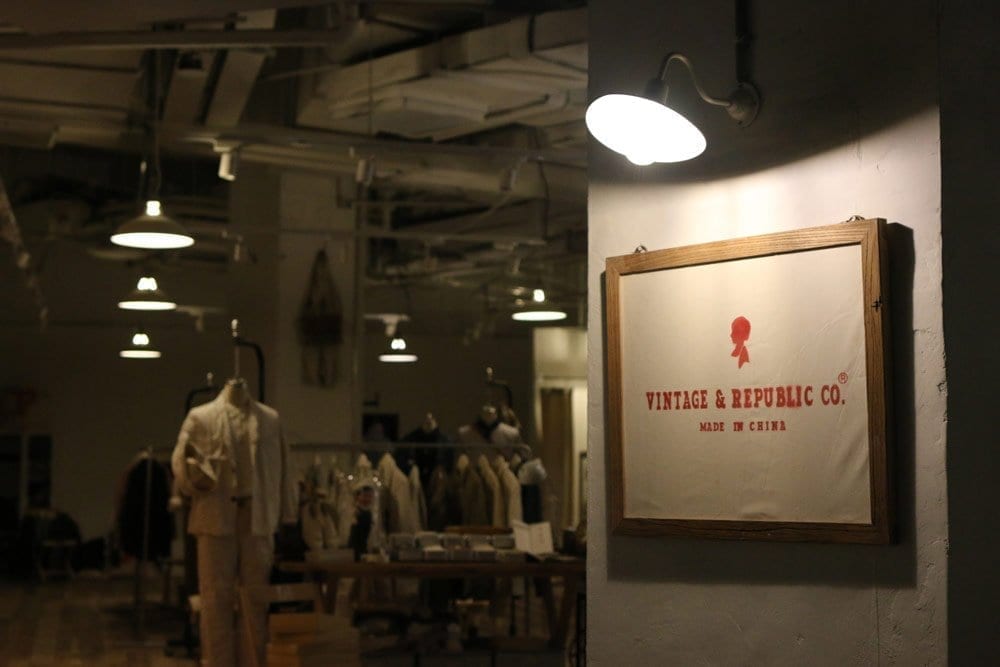 One of the more interesting new discoveries I made at Pitti this season was undoubtedly the "Shanghai Ancient Shuttle Garments Co." and their Vintage & Republic line. The label's designs were attractive enough – practical and unfussy, along the lines of De Bonne Facture and ts(s) – but what made Vintage & Republic really stand out was a particular attention to textiles and the manufacturing process.
If the "made-in-China" tag has become synonymous with cheap quality fast fashion, it's because this is what we as consumers have asked for. But with decades (indeed, centuries) of apparel-making expertise, Chinese manufacturers are of course completely capable of producing high quality items when the market will support this.
What's more, China also has a rich textile heritage to draw upon. So while Vintage & Republic's designs largely take inspiration from familiar American denim and workwear silhouettes, the group of friends behind this small label salvaged antique looms from a disused factory and invested time and energy in developing some really beautiful raw and heavyweight cloth for their garments.
Chemical processes and treatments are kept to an absolute minimum, with products either dyed using traditional plant indigo or left a natural tone of ecru. Indeed, I was intrigued to learn that some mid-tan items on show were made from a precursor to the modern strain of cotton that is most commonly used in apparel manufacturing. And the less treatment the fibers have been through, the darker the shade of cloth.
One of the more memorable items was a thick cotton polo shirt produced using a tubular knitting process that creates a garment totally free from body seams, providing a more comfortable fit. While this technique seems to be undergoing something of a resurgence of late, up until a few years ago it was one that I only really encountered employed by the very best T-shirt manufacturers in Japan and Germany.
More unusual still were garments made from a blend of cotton and silk which contained flecks of residue mulberry leaves from the silkworm's cocoon. Normally these leaves would be removed during processing for a more refined cloth. But instead Vintage & Republic have left them in the weave, imparting the garments with the most beautiful smell, like fresh tea (although what happens once the item has been washed is anybody's guess).
Bevilacqua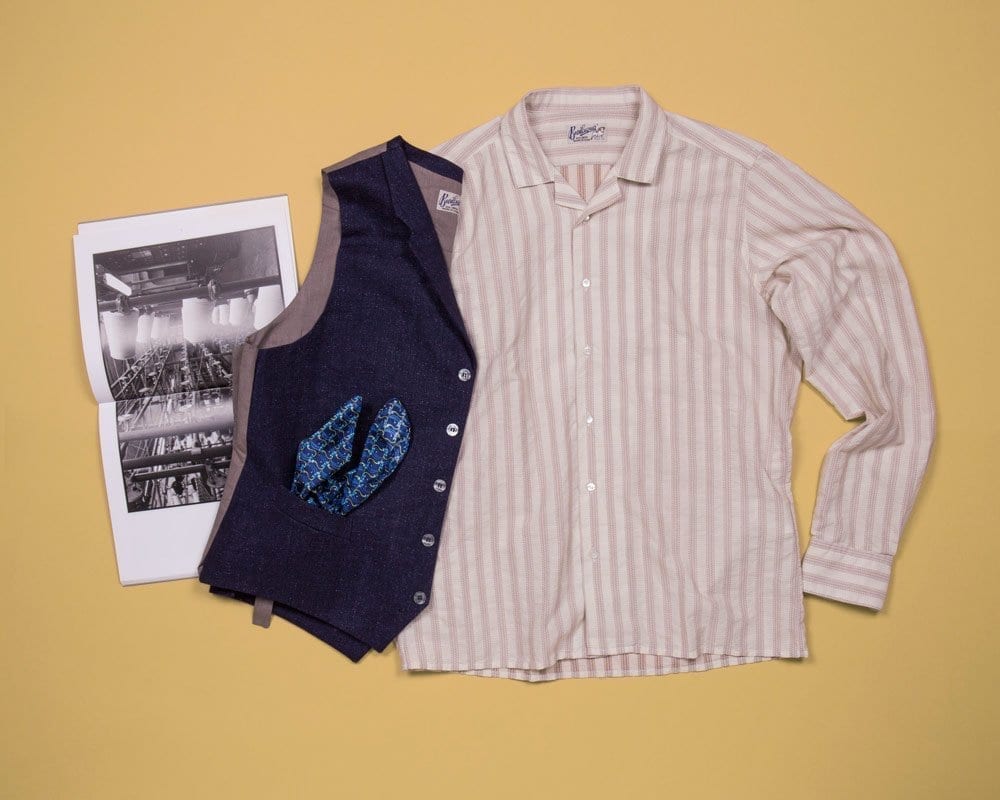 Bevilacqua shirts make me want to sleep rough in a Tuscan hedgerow: the soft, rustic fabrics, relaxed cuts, and somewhat bohemian prints suggest romantic fantasies of elegantly tramping through hillside vineyards in a beat-up woolen suit and sturdy leather boots.
While not yet a household name internationally, Bevilacqua enjoys a dedicated following in Japan (a sign of quality if ever there was one). In fact the label has real history, initially coming into being way back in 1950 as a maker of neckties. Since then, Bevilacqua has expanded its repertoire to include dress shirts, pants, tailored vests, jackets and light overcoats – but nonetheless still manufactures from it's base in the hills outside Florence, just a few kilometers from the company's birthplace.
With a strong focus on "new vintage" items, but without limiting inspiration to any single era, there's a wide selection of weaves and prints to choose from here. And yet, when viewed together, Bevilacqua's heterogenous line of garments possesses a distinct and unified esthetic. To be precise, it's exactly the boho eclecticism that binds.
What makes a good dress shirt? A flattering cut; skillful construction; a nice color or print; beautiful hardwearing fabrics. Rest assured, you'll find all these elements here. Meanwhile, the diversity of individual designs means that there's likely something to suit every man's tastes.
For me though, Bevilacqua's stand-out pieces are to be found among its range of old school pinstripes and exotic, non-kitsch, florals.
Mismo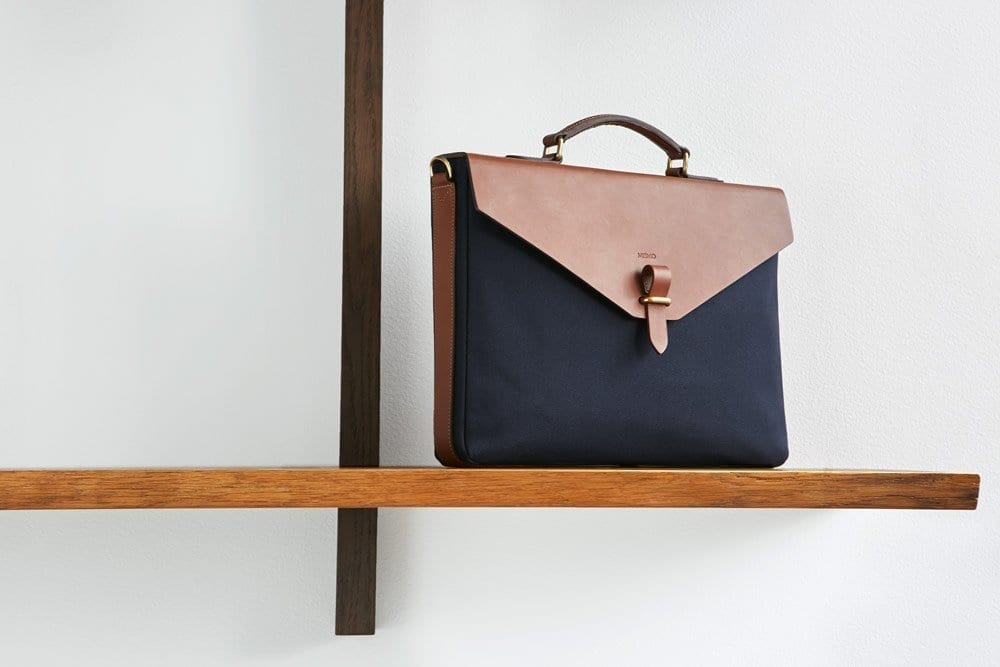 Although Mismo only came onto my radar some time last year, the Danish accessories brand has in fact been producing elegant, classically-styled bags since 2006. Prior to Pitti 94 though, my previous encounters with their designs had been limited to the digital realm, so I was pleased to get an opportunity to check out their products in person. They didn't disappoint.
Made in the EU, or, as label founder/partner Adam Bach told me, "as close as possible", Mismo's bags exude quality. Meanwhile, the designs are beautifully functional and aesthetically balanced – just as we might expected from a high end Scandinavian brand.
The label offers 3 principal lines. One of which is a little too sporty and "technical" (read synthetic) for my personal tastes, but nonetheless includes several attractive products. Meanwhile the ripstop nylon and Italian canvas "Legacy" collections are pretty much faultless, coming as they do in a variety of great designs. For SS19 the colorways in the Legacy range are particularly compelling.
Mismo's prices are out of my reach, but there's certainly no faulting their products: these are truly nice bags.
Fortela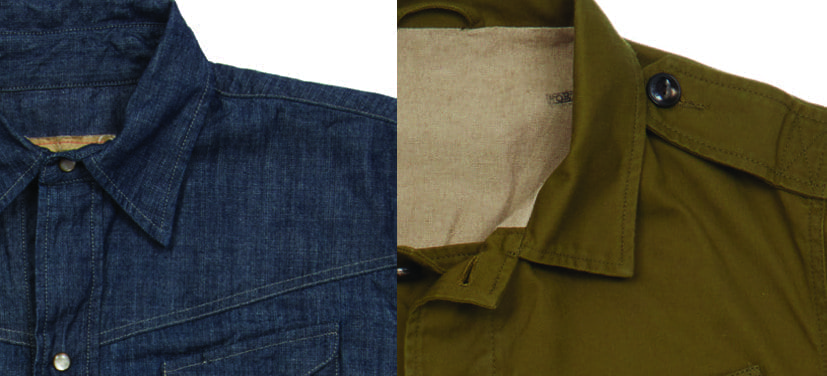 Anyone who's given even the most perfunctory attention to menswear hashtags of late will likely have come across the ubiquitous street style personality Alessandro Squarzi. As so many "influencers" often turn out to be vacuous nobodies with few actual credentials beyond good bone structure and an evident surplus of free time, you may or may not be aware that Squarzi is in fact also an important entrepreneurial figure in the menswear industry. Indeed, in his role as an agent alone, Squarzi has a huge roster of well-known brands under his wing. But as if this weren't enough, in the last few years he's also launched several successful labels of his own. Of these, Fortela is likely the most interesting.
A major collector of vintage clothing, Squarzi's designs for Fortela are firmly rooted in the classic thrifting territory of denim, workwear, and militaria. Yet although Squarzi may permanently keep one eye fixed on the past, he also prides himself on being able to spot a potential trend long before it blows up. This means that the cut of Fortela's designs tend to be very much attuned to what's happening on the street. Not only the street, but also out in the piazza at Pitti: several of the more on-point Pitti Uomo street style looks this season were undoubtedly built around a rugged piece of Fortela or two.
The brand's products are put together by hand in Italy using vintage military and civilian fabrics, or cut from purpose-made cloth woven on antique Japanese looms. As production runs are highly limited, some pieces even come with vintage buttons sourced from flea markets. With such artisanal credentials, it's little surprise that Fortela has quickly gained a strong Korean and Japanese following.
Knitbrary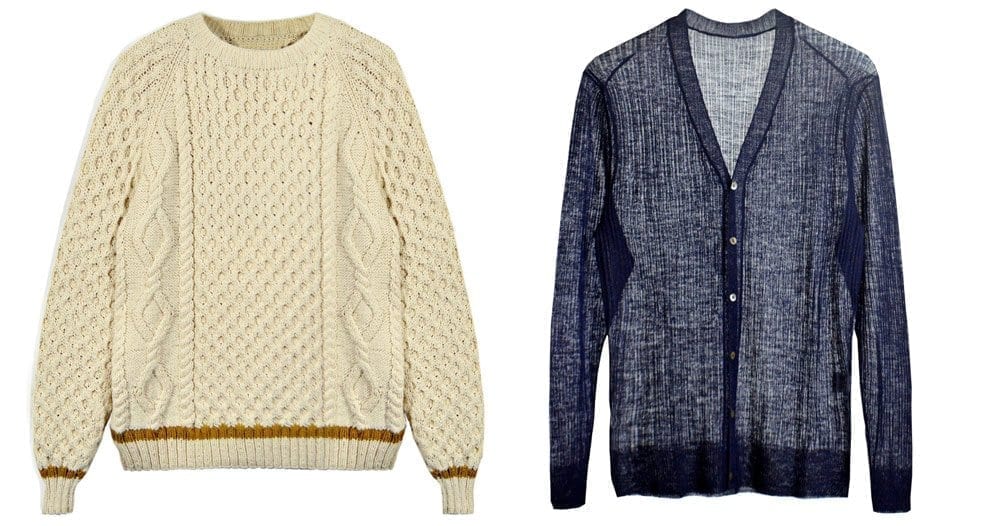 You just have to look at Knitbrary's creations to know that these are in another league of quality to your run of the mill knitwear. Although just how far removed from the average sweater a Knitbrary number is will only become fully apparent upon touching it. Even just brushing my monkey paws across a few of these pieces at Pitti was a turn on, so I can barely begin to imagine what wearing one all day feels like: must be a fully sensual experience.
So, yes, these are truly lovely items. The problem? They come with price tags to make you cry.
Of course, the reality is that good quality clothing genuinely costs quite a lot to manufacture, particularly when produced using top-quality fibers. Even more so when made by hand in civilized working conditions, as is the case here. Just check out the manual dexterity of the people making these pieces and it will be obvious why such work deserves high recompense.
Still, even if I was disgustingly wealthy, I'm not sure I could bring myself to spend almost $1,000 on a single piece of knitwear (and the cats would have to be put up for adoption first: don't want to see no claws anywhere near a garment that expensive).
Looking for the pinnacle of knitwear? You've found it.
Now all that's left is to remortgage the house.
ts(s)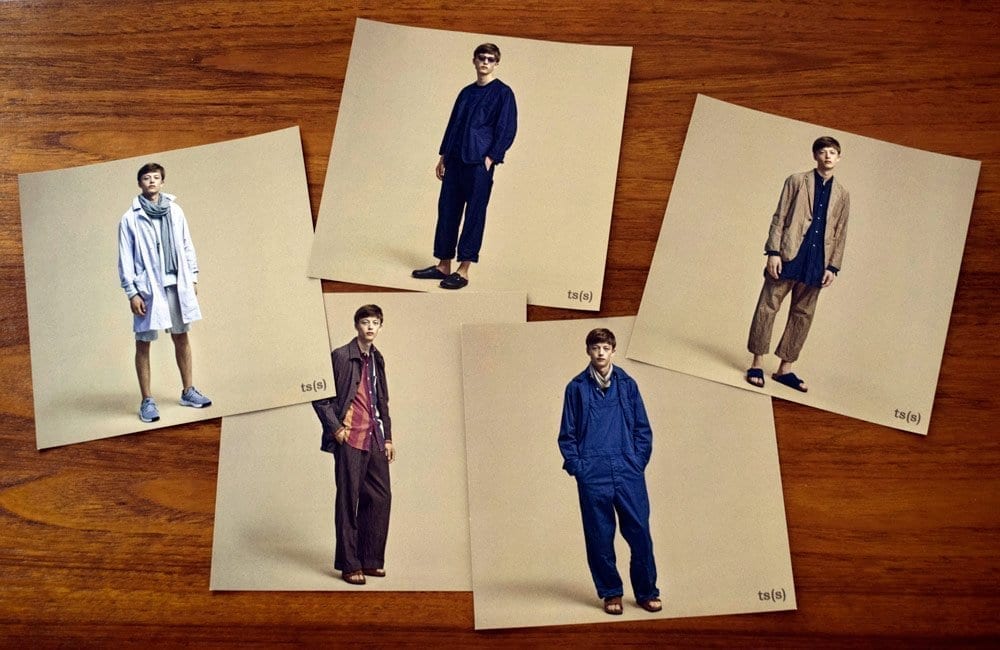 By no means a new comer, many of you will already be aware of Takuji Suzuki's ts(s) label. Even if you're not familiar with the name, you may well have previously encountered Suzuki's designs in his collaboration with Italian brand Boglioli.
ts(s)'s collection for spring/summer 2019 continues the workwear-inspired direction that has made the label an insider's choice for those looking for understated Japanese minimalism. Once again we're presented with a series of extremely wearable items: slouchy, garment-dyed shirts, overalls and work jackets in sea island cotton, linen and silk.
Flatteringly cut from excellent quality cloth, the SS19 collection testifies to the fact that good design is not about fussy gimmicks or superfluous flourishes, but instead should simply meet two fundamental requirements: flatter the wearer's body and feel good against the skin.
Gloverall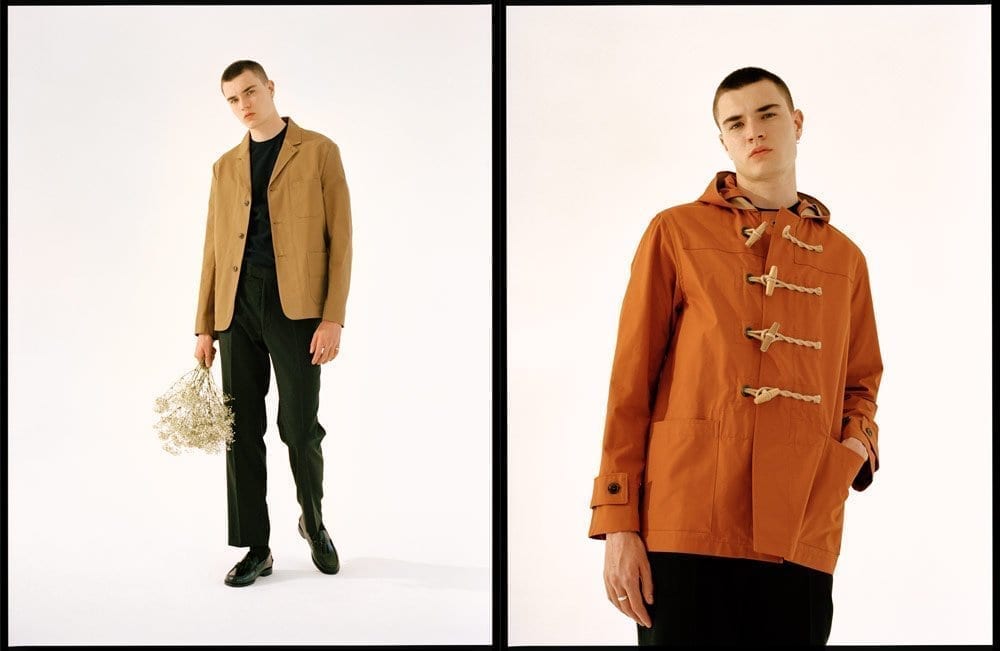 Still relatively unknown stateside, a growing degree of appreciation for Gloverall among the Hip Hop fraternity may very soon change this situation. Meanwhile, over the pond, Gloverall has been producing top quality coats and jackets in the UK since the early 1950s. Consequently it's a label that will require little introduction to discerning Brits.
Despite this impressive heritage, Gloverall's designs for SS19 are a far cry from the staid beige traditionalism of better-known British outerwear brands such as Aquascutum, Burberry or Barbour.
The British are often said to prefer gardening to sex, yet this season Gloverall manages to combine the two, by taking inspiration from a floral palette of khaki, mustard, ginger and burnt umber while keeping cuts on the more youthful and seductive side of things. The result is a vibrant and wholly contemporary take on British outerwear: waxed and treated twill raincoats and trenches; showerproof cotton duffle jackets and car coats; herringbone overshirts. Perfect for enjoying "wholesome physical pursuits" in the great outdoors.
Le Mont St. Michel
Le Mont St. Michel is quite a traditional and longstanding French brand that was taken over and rejuvenated in the late '90s. Thankfully the new owners did not restructure the label to an offshore production model, and the manufacturing of nearly all items remains in France even today. With 100 years of archives to rummage through for inspiration, the present incarnation of Le Mont St. Michel updates classic Gallic "bleu du travail" workwear and Breton fishermen's designs for the present times.
For SS19 this means an expansion into knitwear using recycled yarn. The result is a series of ecru sweaters that, despite having a raw look to them that reminded me of fresh bread dough or papier mâché, are really quite beautiful and luxurious. Present too are various reworkings of the original heavyweight and tough-wearing chore jackets in denim, twill, and moleskin.
Although the classic indigo iteration of these workshirts is objectively very attractive, I've seen too many of them in recent years to ever consider spending a serious amount of money on one. However, the black variation is truly special, with brick, green and red models coming a close second. For the more extrovert, there's even one in fluoro-yellow.
Also new for SS19 is a "vintage washed" line of workshirts. Although it beats me why anybody would pay new prices for a pre-aged product such as this when authentically faded and moth-eaten French workwear can be had on the secondhand market for a fraction of the price. Otherwise though, these are sturdy, practical items that will stand the test of time. So if you like the look of vintage workwear, but donning someone's cast offs just isn't for you, Le Mont St. Michel has the solution.
---