In many ways Battistoni is the archetypal high-end Italian menswear brand: from traditional hands-on manufacturing to global success in just a few years. All the while maintaining the rigorous production standards and attention to detail that made its tailoring so attractive in the first place.
Having just taken consignment of an impressive collection of very lightly worn Battistoni suits, we thought it an appropriate moment to take a closer look at this fine Italian tailoring house and the history behind it.
Battistoni Then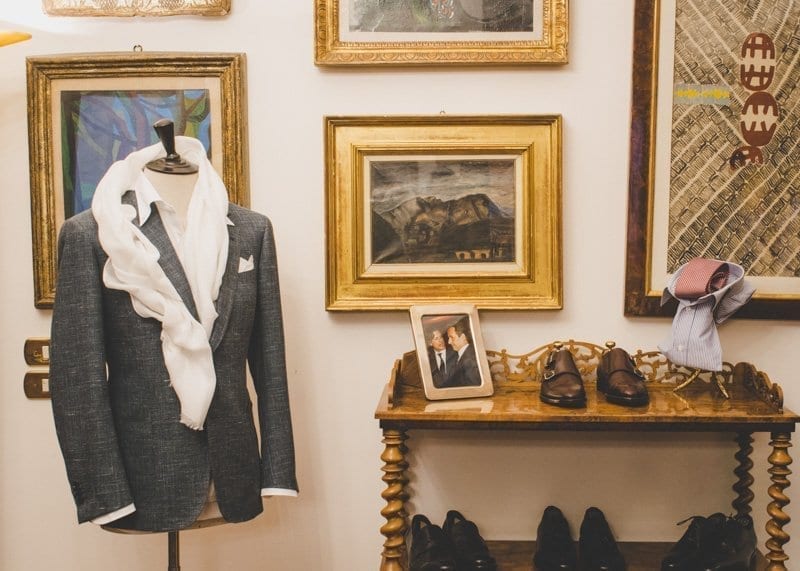 Battistoni came to life as a simple shirtmaking operation in the heady days of postwar Italy. High on liberation from 20 years of fascism, and in the midst of unprecedented industrialization and associated economic boom, to many Italians at the time it must have seemed like anything was possible. And for those who were ambitious, skilled, and hardworking, success was both rapid and unprecedented.
Guiglielmo Battistoni initially took up shirtmaking to pay his way through art school, but soon found that he'd became more enthusiastic about his side job than the career path he'd originally planned for himself.
Nonetheless, Battistoni remained fully entrenched in artistic circles and many of his art-world contemporaries would not only remain close friends but also become some of his most high profile customers in those early years. Indeed, even today, the showroom that Guiglielmo Battistoni established in a courtyard off Rome's Via dei Condotti back in 1946 is filled with art works from some of Italy's greatest 20th Century artists.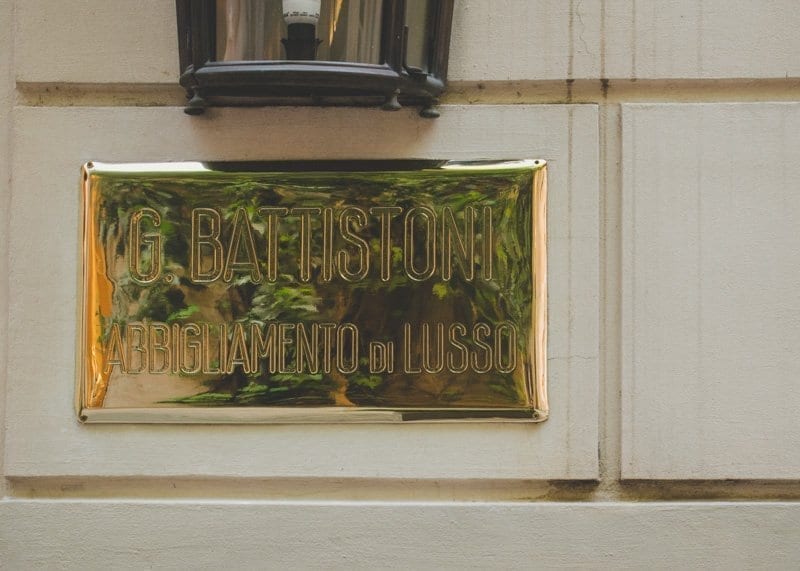 Where artists lead, others tend to follow: soon Battistoni's salon was host to everyone from European aristocracy such as the King of Savoy and the Duke of Windsor to cinematic icons Marlon Brando, Humphrey Bogart and Audrey Hepburn.
Indeed, over the years, the arched entrance to Battistoni's showroom has been graced by a disproportionate number of individuals who make up the last 70 years of European and North American history: John Steinbeck, Jean Cocteau, Richard Burton, Gianni Agnelli, Anthony Hopkins, John Kerry, Karl Lagerfeld, Cole Porter, Ben Kingsley, Luchino Visconti, Kirk Douglass, Ingrid Bergman, Pablo Picasso, Richard Gere, Modigliani…the list is almost endless.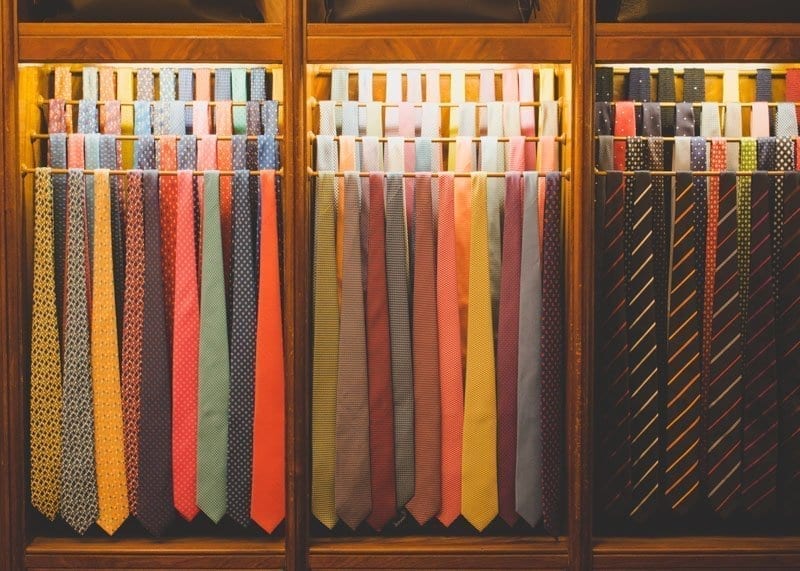 Hollywood in particular has always had a thing for Battistoni. Guiglielmo's success coincided with Italy's "dolce vita" years, a time when US movie productions regularly decamped from LA lots to Rome's Cinecittà studio complex. Could a Hollywood star really say he'd been to Rome if he didn't come back adorned in at least one of Battistoni's creations?
Such high profile appreciation cemented Battistoni's reputation in the US, where the company has had a cult following ever since. Indeed, the name Battistoni even makes it onto Hollywood celluloid (albeit pronounced incorrectly), as Jude Law's character enthuses about the beauty of "Battistonay" jackets in 1999's The Talented Mr. Ripley. "Battistoni, Battistoni" repeats an enchanted Matt Damon.
Battistoni Now
It's difficult to say with any confidence precisely when it happened, but at some point Battistoni changed from being a person to being a brand. Most likely it was when Guiglielmo passed the reins to the next generation of the Battistoni clan, his children Gianni and Simonetta.
Or maybe it occurred with the sale to Italian investors of a majority share in the company? Or the opening of stores in LA and London? Perhaps even the appointment of a social media monitoring department and the advent of a dedicated Battistoni stand at Pitti Uomo last year?
For some, these steps may feel like a sell-out of Guiglielmo's artisanal tailoring beginnings. For others its simply the reality of survival in the 21st Century: just updated versions of the marketing and business maneuvers that Guigielmo himself would likely have employed in his heyday.
Whatever the case, it's evident that those at the helm of Battistoni, the brand, have no intention of allowing such concessions to modern day business practices to interfere with the stringent standards of quality and craftsmanship that served to establish the company's exalted reputation in the first place.
Battistoni's ready-to-wear offerings may no longer be made in house, but the quality of cloth, workmanship and details remains absolutely fantastic. There may now be three Battistoni stores, not just one intimate salon, but Battistoni's Rome showroom is still tucked away in the same hidden interior courtyard location that it has occupied for the last 70 years.
A selection of Battistoni suits may now be available from Barney's, but they are all custom tailored, and bespoke orders still occupy a large portion of the company's business. Guiglielmo himself may no longer be behind the designs, but he evidently taught his offspring well, as the brand continues to produce the same elegant strain of classically cut suits, shirts and ties that has made Battistoni one of the most esteemed names in Italian tailoring.
Rome was once filled with fine tailors. Sadly many are long gone. The ones that survive today are those who've been able to adapt to contemporary conditions in order to keep doing their thing. So be it: what is important is that there is still quality and substance behind the image. With Battistoni that is very much the case.
---