Do you grow faint at the sight of a set of matching vintage suitcases? I get it. I too have been known to scroll through endless eBay listings looking for classic designer luggage.
There is nothing like the thrill of the hunt after all. And anyone who has spent hours searching vintage luggage and then coming across the perfect set knows that the hunt is part of the fun.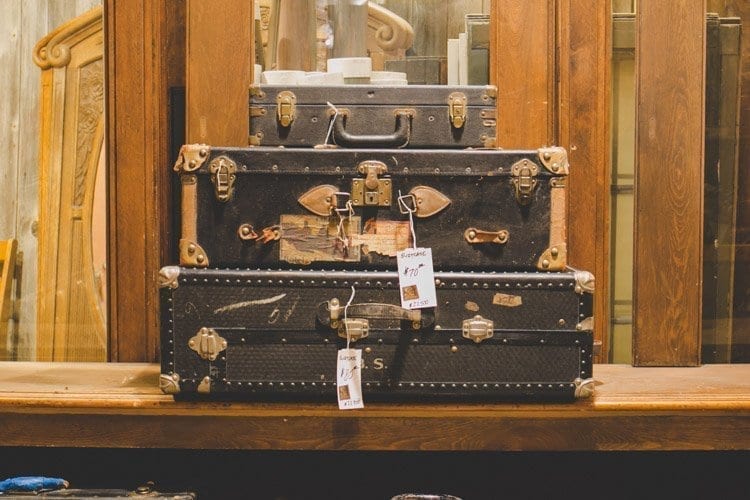 Whether you like the way a Louis Vuitton Keepall looks draped over your arm or you have some of your own vintage luggage to move, you landed here because you want the best value for your dollar, whether you're buying or selling that retro luggage look.
So the real question is, what are the best vintage luggage brands to buy and sell?
You're in luck! We did the hard part for you, and we put together a list of the top 8 vintage luggage brands for resale. Not only do these brands hold value well, but these classic luggage brands are also designed to last a lifetime. And these are both crucial factors, whether you want to sell or buy vintage luggage online.
1. Louis Vuitton
In 1854, Louis Vuitton open its doors selling trunks covered by waterproof canvas to its Parisian customers. The LV monogram was created by Vuitton's son, George, who used the designer's initials interlocked in a repeating pattern with a Japanese-inspired floral.
As rail and automobile travel grew in popularity, so too did Vuitton's business. Today, the company is a global luxury brand with possibly the most recognizable logo on the planet. Their luggage remains one of the highly coveted brands on the market.
2. Gucci
In 1921, Guccio Gucci, started designing travel bags and opened the House of Gucci in Florence, Italy. He quickly earned a reputation for his high quality leather goods with classic styling. During WWII, Gucci, constrained by material shortages, began using canvas instead of leather. While designing with canvas, the company debuted the Gucci crest which featured a double G symbol with prominent red and green bands.
Gucci still uses its signature GG Supreme canvas for many of its purses, duffle bags, backpacks, tote bags and suitcases. The Gucci name means quality, and the brand remains highly desirable, particularly for its vintage luggage sets.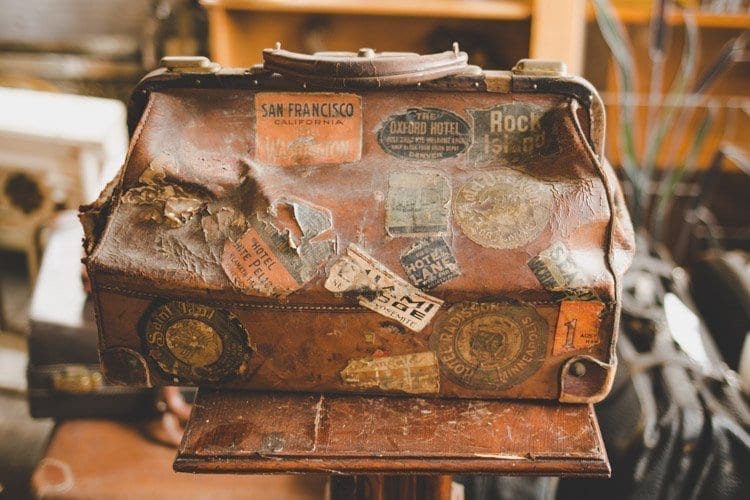 3. Hermès
Founded in 1837 by Thierry Hermès as a harness workshop, Hermès later began to create saddle bags known as Haut a Courroies bags. He then started designing saddles, and eventually he moved on to clothing, accessories, handbags and more.
For many, Hermès is the top tier of luxury leather brands. Carrying a Birkin bag is the ultimate status symbol. A 2016 study showed Birkin bags were a more sound investment than stocks or gold over the last 35 years. Classic Hermès men's satchels, like the Sac a Depeches, are popular buys for both vintage and new Hermès leather good collectors.
4. Goyard
François Goyard was trained by famed French trunk makers, and he passed on his knowledge to his son, Edmond, who took over the company in 1885. Edmond elevated the brand to an elitist leather goods house with worldwide recognition. He also designed the signature, hand-stenciled Goyardine canvas.
In 1998, Jean-Michel Signoles bought Goyard brand from Edmond, and the brand was again re-established as a leader in timeless craftsmanship and exclusivity. The high-end brand is known for having decades long relationships with clients like the Duke and Duchess of Windsor, Karl Lagerfeld and Pablo Picasso. The iconic Goyardine canvas and leather makes its trunks, hard-sided luggage, trolley cases, vanity cases, hat cases and weekender bags a smart buy for the serious, vintage luggage collector.
5. Fendi
In 1918, Adele Casagrande opened a leather workshop in Rome, Italy. Seven years later, she married Edoardo Fendi, and they opened small boutique next door.
The Fendi family began working with Karl Lagerfeld in 1964. Shortly after, the company created the famous black and brown double F Fendi logo. Lagerfeld also helped propel Fendi into a world-renowned luxury brand that it is known as today. The double F logo is still used on Fendi tote bags, backpacks, messenger bags, suitcases and travel bags, making these premium leather goods instantly recognizable and much sought after.
6. RIMOWA
In 1898, Paul Morszeck founded RIMOWA luggage in Cologne, Germany. Morszeck offered innovation in the form of sturdy, lightweight luggage. Paul's son, Richard, continued to innovate and introduced the first aluminum trunk, 39 years later.
The company debuted an aluminum suitcase with grooves in 1950, and this distinct RIMOWA design remains one of the most identifiable elements of the brand today. RIMOWA was also the first company to use lightweight and durable polycarbonate for luggage design. The parallel-groove design and durable construction makes RIMOWA luggage not only sleek-looking, but also a long-lasting investment for the jet-set class.
7. Asprey
In 1781, William Asprey opened a silk printing business in London, England. Asprey began producing other luxury goods, including expertly crafted leather dressing cases. The cases earned Asprey a Royal Warrant award from Queen Victoria, in 1862.
The company continues to epitomize British luxury, and its leather goods are crafted using time-honored techniques and exotic materials. A buyer or seller who finds a piece of vintage Asprey luggage has stumbled across a true investment piece.
8. Dunhill
Alfred Dunhill inherited his father's London-based saddlery business, in 1893. Cars were becoming increasingly popular, and Dunhill developed a line of car accessories like car horns, lamps, leather overcoats, timepieces and goggles. All his designs were incredibly detailed, and he paid special attention to quality and craftsmanship.
By the 1970s, dunhill offered over 3,000 luxury products in stores throughout the world. Today, the company still sells quality goods with thoughtful construction and masculine details. A Dunhill bag provides the perfect compliment for the contemporary gentleman's wardrobe.
---