In the northern English city of Salford there exists an anachronistic relic of the Victorian age: the redbrick factory of Cooper & Stollbrand. Birthplace of the industrial revolution, the Greater Manchester area was once entirely filled with similar enterprises. Here were mills for the spinning of silk, cotton, and wool; industrial cathedrals echoing with the infernal din of power-looms; grim, noxious plants dedicated to bleaching and printing; vast factories transforming these textiles into sturdy garments.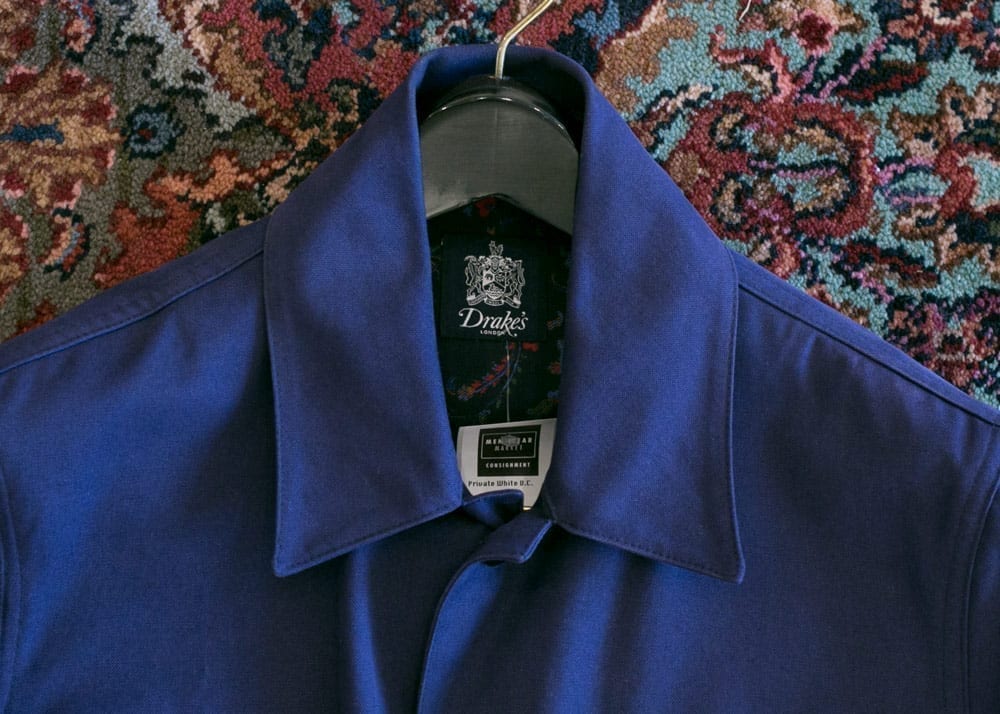 Today, the majority of Salford's "satanic mills" have either been torn down or converted into offices and luxury apartments. Almost none are still home to the industries that first brought this city fame and fortune. Yet it's here that Private White V.C.'s highly sought-after products are made. And invariably also using cloth and haberdashery sourced from the immediately surrounding area.
It's this insistence upon local manufacturing, and emphasis on superior primary materials, that has quickly helped to establish Private White V.C. as one of Britain's most prestigious purveyors of outerwear. And with renowned London shirt and neckwear brand Drake's onboard too, the Drake's x Private White V.C. work shirt comes with an exceptional pedigree.
A heavyweight and tough-wearing overshirt, it is cut from durable bias-weave drill in 100% cotton, and features reinforced elbow patches for extra robustness. The design incorporates classic workwear elements such as roomy external pockets with hidden button fastenings, and interior zippered-pockets for the safe storage of valuables. Meanwhile, sleeves end in trim shirt-style button cuffs, matching the elegant proportions of the collar and pocket flaps.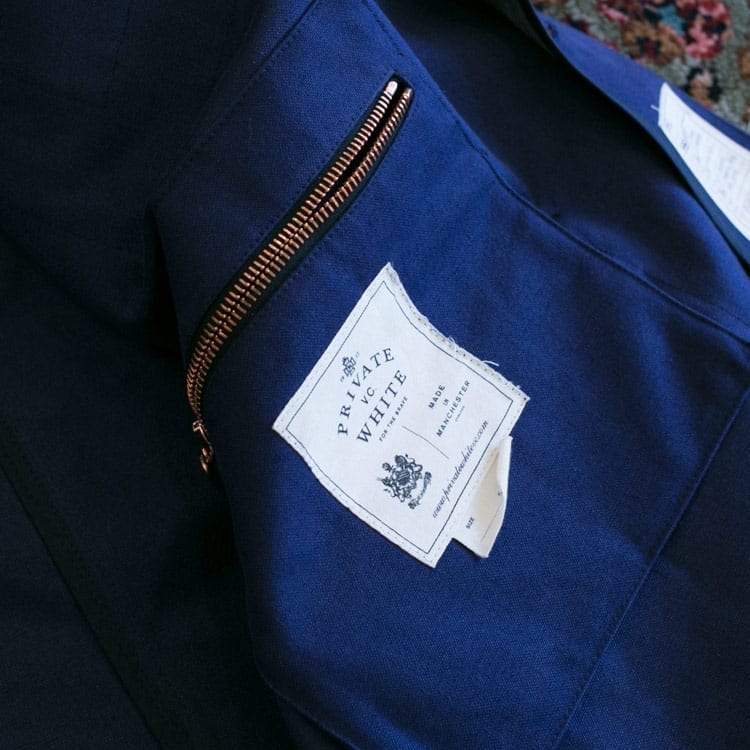 For those unfamiliar with the label, it may come as some surprise to discover that the creative force behind Private White V.C. is Nick Ashley: son of Laura Ashley, producer of the dreary neo-Victorian floral prints that for decades have furnished the homes of curtain-twitching middle-England.
However, the Ashleys themselves were much more eccentric and colorful characters than their average customer. Indeed, Mr. Ashley senior is said to have been prone to the occasional rock 'n' roll-style tantrum, and Nick was once asked to tour as drummer with The Clash (he turned the punk legends down, preferring instead to hang out with aristocrats at ritzy balls in London's exclusive Mayfair district).
Prior to assuming design duties at his parents' company, Nick started out as a runner at star-tailor Tommy Nutter's on Savile Row. Building on these experiences, he progressed to numerous well-known fashion houses, including Kenzo and Dunhill. Meanwhile, the eponymous menswear label he set up in London in the '90s garnered a strong following in Japan, largely on the strength of exceptional production values.
Private White V.C. came about more recently, as Ashley teamed up with two of his vendors: Michael Stoll and James Eden of apparel manufacturer Cooper & Stollbrand. Eden is the great-grandson of the Cooper & Stollbrand factory's founder, Jack White: a private soldier awarded the Victoria Cross for his bravery during the First World War. On return to England after demobilization, White founded his manufacturing business in Salford, and the company went on to produce outerwear for many major names in British fashion right up to the present day.
Although the Private White V.C. label came into being less than a decade ago, private Jack White lives on as inspiration for his namesake brand both in terms of its hard-wearing military aesthetic and the channeling of the young soldier's heroic spirit.
The Drake's x Private White V.C. work shirt is a tough, British-made, and hand-finished garment. The example we currently have in store is very lightly used and displays little noticeable signs of wear, so there are clearly still many years of good use to be had from it. Meanwhile, Drake's input is apparent in the form of the brand's signature paisley lining, adding a touch of subtle peacockery to Private White's more sober utilitarianism.
---