It's long been rumored that Karl Lagerfeld was something of a hoarder; his Paris apartment was not only filled to the brim with luxuries, but also with books, magazines, CDs, photos, sketches and other clutter. To the point that the furniture was no longer visible; much to Karl's annoyance. "Lagerfeld complains that his desk kept getting 'buried'. To deal with the problem, he recently bought four more desks. They got buried, too," reported The Guardian in 2007.
Lagerfeld's shopping habit truly came to light after his passing. Now that 1,000 lots of items from Karl's residences in France and Monaco have gone up for auction at Sotheby's, we decided to have a bit of a rummage through the listings ourselves.
Inside the Maximalist World of Karl Lagerfeld
Karl had eclectic tastes. But what unified much of the decor in his homes was a clear appreciation for the finer (read eye-wateringly expensive) things in life. Paintings and sculptures by Baldessari, Kusama, and Koons were just a few of the cheaper works of art up for grabs at Sotheby's.
Higher prices typically went to the incredible antique furniture, chandeliers, and other luxury lighting fixtures that Lagerfeld had accumulated over the decades. From Napoleonic and Louis XVI period items to 19th and early-20th Century designs from Europe, Scandinavia, and Asia. There were works from Scarpa, Le Corbusier, Jensen, and the Memphis group, through to more contemporary designers such as Marc Newson, Philippe Starck, Zaha Hadid, and a lot of Martin Szekely.
Sketches made by Yves Saint Laurent and dedicated to Karl himself were expected to fetch between two and three thousand Euros each. Instead one sold for €37.800 and the other for a cool €63K (for perspective, though, nearly everything at auction sold for well over list price). Meanwhile a portrait of Karl done by the late Gianni Versace sold for €94,500, and Karl's self portrait for slightly more.
Lagerfeld claimed not to keep any of his sketches. But this was clearly an exaggeration, as there were a few of Karl's individual sketched designs up for auction – mostly of shoes. Meanwhile, one set of three scrapbooks went for over €150K, a second set of two sketchbooks fetched over €200K, and a final lot of four books hit €315,000!
Unsurprisingly there were numerous items of clothing from Fendi, Dior, and Lagerfeld himself up for the bidding too. But alongside these were also many garments from Commes des Garcons (he particularly seemed to like Junya Watanabe's designs), John Richmond, and even Margiela. All black of course. And mostly tuxedos.
Finally, Lagerfeld also had a thing for Margiela champagne buckets. And left behind rather a lot of vintage Chateau Lafite Rothschild wine.
So far, though, this is all rather predictable. Indeed, most of it could have been in the estate of virtually any ultra-wealthy connoisseur. And while some of these luxuries certainly serve as an illustration of excessive consumerism, they don't fully confirm the popular image of Karl as a neurotic hoarder.
To be sure, the bags of unread newspapers Lagerfeld was said to have amassed in his Paris apartment have yet to make it under the auctioneer's hammer. And nor have the 509 iPods he reportedly kept stockpiled in his apartment seen the light of day (so far). But there certainly were some bizarre lots up for grabs at Sotheby's. Here are seven of the more entertaining or slightly creepy items sold at auction.
Oddities and Icons from the Lagerfeld Estate
Gloves
Karl was of course known for maintaining an iconic look that remained strictly unwavering throughout the decades. Although fingerless gloves may not come to mind immediately when you think of Lagerfeld, they were an important part of that look.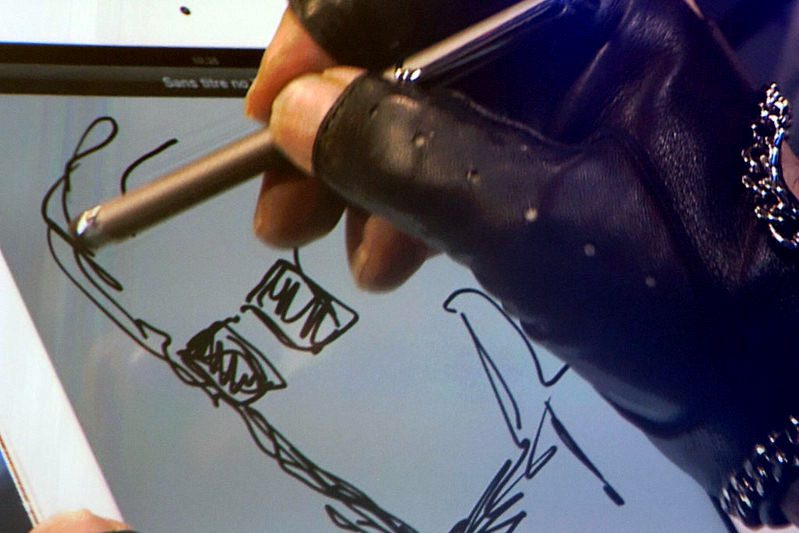 Just how important gloves were to Karl is underlined by the sheer number of them on sale in the estate auctions. Lots #392 through to #397, #706 through to #701, plus lots #2056, #2057, #2131, #2132, #1016, #1027, #1127, and #1131 were all made up entirely of these gloves; totaling over 170 individual pairs. Many of them from Chanel.
Some lots sold for as much as €10,000 for just ten pairs!
Cat Paraphenalia
One of Lagerfeld's more famous eccentricities was his relationship with his cat, Choupette. Indeed Karl once said that if it was legally possible, he would happily marry his pet (what Choupette thought of this proposal, however, remains unclear).
Some of Choupette's items, including a very expensive scratchpad, made it to auction. In another lot were five of Choupette's feeding dishes – one silver plated and engraved with the animal's name. These sold for over €3,000. Meanwhile an entire lot of 32 miniature cat figurines fetched a similar sum.
For the record, Choupette outlived her owner and now has 40,000 Instagram followers.
Tablecloths and Bed Linen
Lagerfeld seemingly owned a sufficient quantity of tablecloths and napkins to host the entire fashion industry for dinner at a single sitting. Although, to be fair, there were also rather a lot of tables up for auction too.
As you might expect from a man who was said to change his (identical) white shirts three times daily, Lagerfeld also got through a lot of bed linen (did he also set his alarm to get up in the night and change beds?). Hence a disproportionally large number of lots contained Karl's bedsheets. Often monogrammed.
Lot #659 comprised of "two hundred and seventy pillowcases. In cotton of which many in lace and embroidered monograms. Various sizes, around Height 30 in; width 30 in for most of them." Yours for just €12,348.
Excessive? There were cheaper options: in fact, for a mere eight hundred bucks you could now be sleeping on the man's used bed linen.
Want to get even closer to the legend? You could have had twelve KL monogrammed handkerchiefs for €3K.
Tote Bags
It's hard to imagine that Lagerfeld ever had to face the indignity of grocery shopping for himself, but several lots contained tote bags of a kind well suited to precisely that. Of course, one was in pigskin and sold for €1,260, and another went for almost twice that.
Perhaps he used them when stocking up on Caviar?
A Silver Monkey Skull
Karl owned a considerable number of skull-design items, but lot #2159 was undoubtedly the most unusual; a box containing a monkey skull cast in silver.
Travel Cases
Fashionable shopping addicts need adequate storage, and Karl was no exception. Luggage was perhaps the most numerous category on the auction block. The auctions featured lot after lot of luxury suitcases, travel cases, and trunks in all shapes and sizes from the likes of Goyard, Louis Vuitton, Fendi, and Dior. Many in either crocodile or alligator skin.
Naturally Karl spent a lot of his time on the road. But he couldn't have managed to fit even half of these cases in his three – yes, three! – Rolls Royce automobiles (also up at auction). Rather, in order to move all the trunks and cases Lagerfeld had accumulated over the years, you would literally need a shipping container (not up at auction)!
Mini Karls
From dining plates to luxury designer dolls and toys, a Steiff teddybear, and even a construction helmet, perhaps the least surprising of all the items on auction were collectibles featuring Karl's likeness. In fact it seems that pretty much every contemporary designer and her dog has at some point produced an effigy of Lagerfeld. And Karl of course had at least one of each of these trinkets in his collection.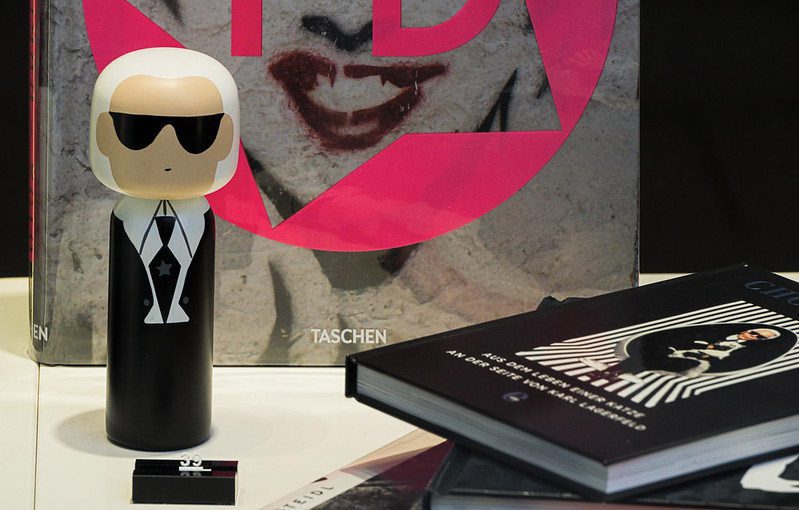 Sad you missed out? No worries, there's still time to get in on the action, as the final auction of Karl Lagerfeld's estate will take place in Cologne, Germany, in March 2022.
Photos courtesy of 7C0, Paul Farla and Leweb shared under Flickr Creative Commons CCBY2.0