Where to Buy Vintage Fashion for Men Today?
It's hardly breaking news that social media has radically transformed the way we live. But even a few years ago, if somebody had told you that you would soon be able to buy vintage fashion for men on Instagram just by tapping your phone, you would likely have been highly skeptical. Clothes need to be touched and tried-on in person. And vintage clothing in particular can be a risk.
At least that's how the thinking used to go.
But its also a well-studied fact that many men – even some men who truly love clothes – don't especially enjoy the experience of entering a clothing store. And so perhaps no sector of the market was more ready to make the shift to online shopping than consumers of menswear.
And if shopping for new clothes online has become the norm for most people now, there's little reason why it shouldn't also be the case for used clothing.
And that's exactly the way things have gone, with many dealers having moved to selling vintage mens clothing online. Indeed, vintage menswear is no longer purely the preserve of musty old brick and mortar stores selling wide-collared '70s shirts in loud shades of polyester. Instead all kinds of vintage fashion for men can be purchased via the web today. And what with the web being "world wide" and all that, the choice of vintage garments on offer can be pretty astounding, too.
Many people shop for vintage menswear online via apps such as Depop or Etsy. But with a clean design aesthetic that lends itself well to displaying clothes – not to mention its total ubiquity – Instagram is actually highly suited to the buying and selling of vintage menswear. And for vintage dealers willing to do business via DM, there's also the advantage that no fees are involved. It's no wonder, then, that many sellers of vintage fashion for men have turned to trading directly from their Instagram accounts.
Whether you are hunting for vintage formal menswear from the 1940s, '50s, '60s, or '70s; vintage military field jackets and fatigue pants; obscure vintage french workwear; '80s and '90s sportswear; rare vintage denim; collectable band tees; or any other kind of vintage fashion for men, the chances are there's an instagram vintage store catering to your exact needs.
But with the app having become increasingly crowded in recent years, and many people now selling used clothes on instagram – alas, much of it fast-fashion junk – it can be quite a challenge to sift through all the clutter to get to the true vintage goods.
Fear not, in this guide we take you directly to ten of the best vintage clothing Instagram accounts selling used mens luxury fashion and designer clothing, tailoring, denim, militaria, vintage workwear, and a lot more besides.
Let's get to it!
Which Are The Best Instagram Accounts Selling Vintage Fashion for Men?
Bowie Coke Mirror
Nest of Manure
Tenth Meridian East
Le Zouave
Swiss Vintage Finds
Ragparade
Richard's Fabulous Finds
The Major's Tailor
ID Secondstore
Twoface
1 Bowie Coke Mirror
https://www.instagram.com/bowiecokemirror
Shop For
Old band tees, WWII and Vietnam era vintage military clothing, vintage workwear, denim, sportswear, Navajo blankets, even old prison garb; if it's rare, stylish, and can be thrifted from the bottom of a bin, Bowie Coke Mirror probably has it on his feed.
Our Pick
An early 20th century New York Central Railroad jacket in denim, fully lined with checked cotton, and featuring chunky brass buttons with the initials N.Y.C.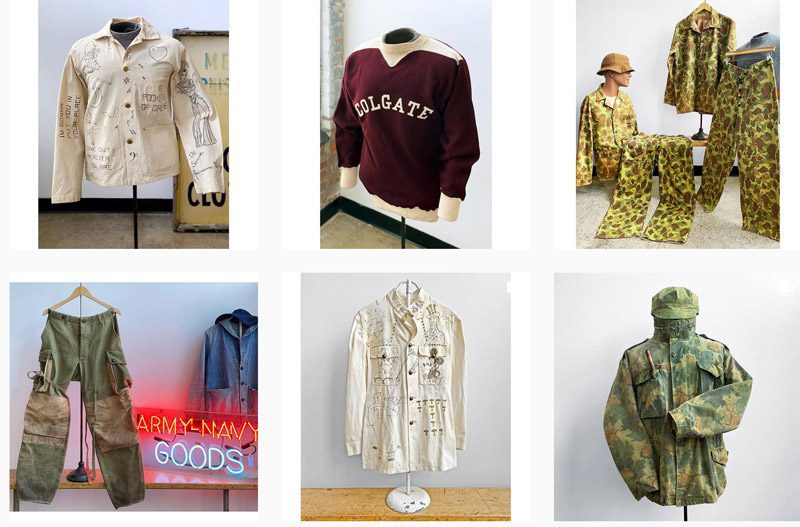 Bowie Coke Mirror (Sam to his mom), is a Boston-based thrifter who started out dealing solely in vintage t-shirts. And while he's since expanded into many other areas of vintage mens fashion, his Instagram is still a great place to score rare band tees.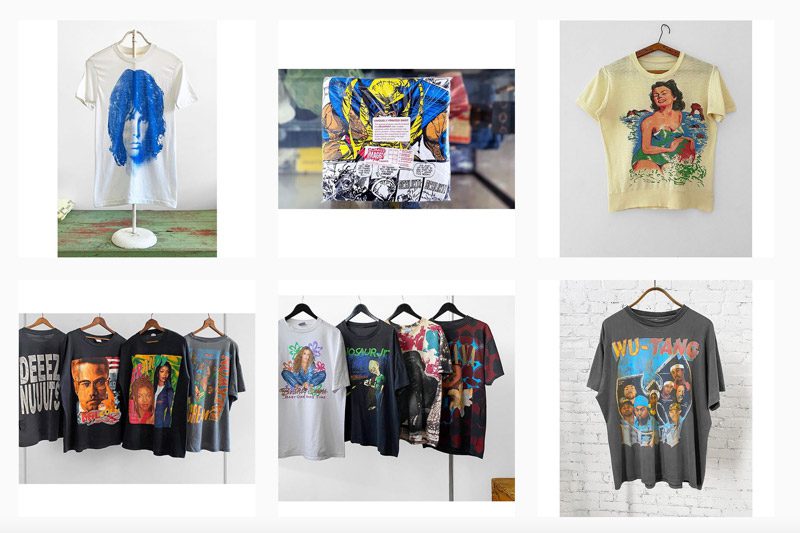 However, Bowie Coke Mirror has a lot more going for his IG these days than just old punk and hip hop merch. And some of the true vintage gems on offer here are grails of the kind that even many full-on collectors might wait a lifetime for and still never get to see in real life. We're not just talking about standard US Army or Levi's rarities either; those looking for some more unique or exotic items – think customized graduation clothing, or vintage workwear with hand-painted designs – will not be disappointed.
Bowie Coke Mirror can often be found running a booth at vintage markets and meet-ups across the US, such as the legendary Rose Bowl. But if you can't make one of these in-person events, purchasing on the 'Gram via DM is undoubtedly the way to go.
2 Nest of Manure
https://www.instagram.com/nestofmanure
Shop For
Vintage French workwear, but not your standard Renault worker's indigo chore shirts. Instead this is the place to get yourself a rare fin-de-siècle firefighter's coat, or a heavily patinated hunting jacket – the more worn out and patched up the better – that's been transformed into a veritable work of art.
Our Pick
A mid-century French livestock-dealers "Gris de Travail" work coat in linen/cotton twill. Carefully patched, darned, and given a new lining in the way that only Japanese artisans know how. What was once a humble item of clothing for the common working man becomes a one-off statement-piece worthy of an avant-garde contemporary designer.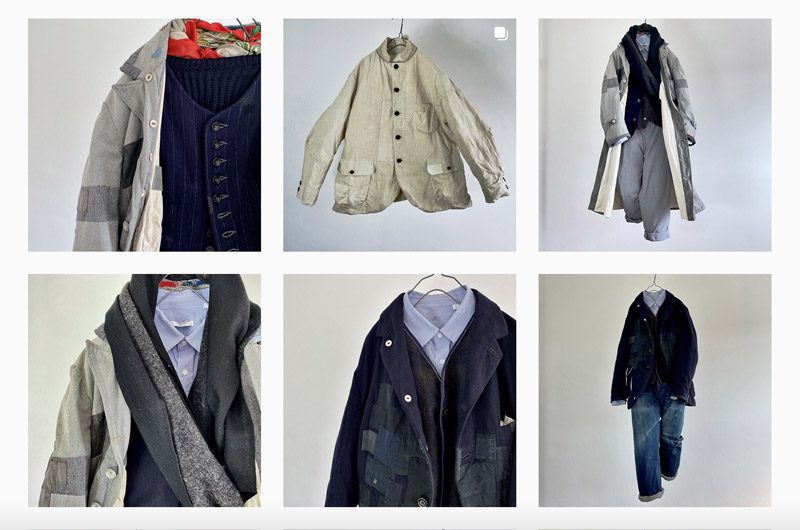 Anyone who has spent time in Japan will have noticed that many businesses have English names. Apparently the more bizarre the better. The world of vintage mens fashion is by no means an exception, but first prize for the most unusual choice of moniker must surely go to Osaka-based Nest of Manure.
However, given the distinctly rustic nature of the vintage mens clothing on offer here, perhaps a "nest of manure" is where many of these old threads originate from?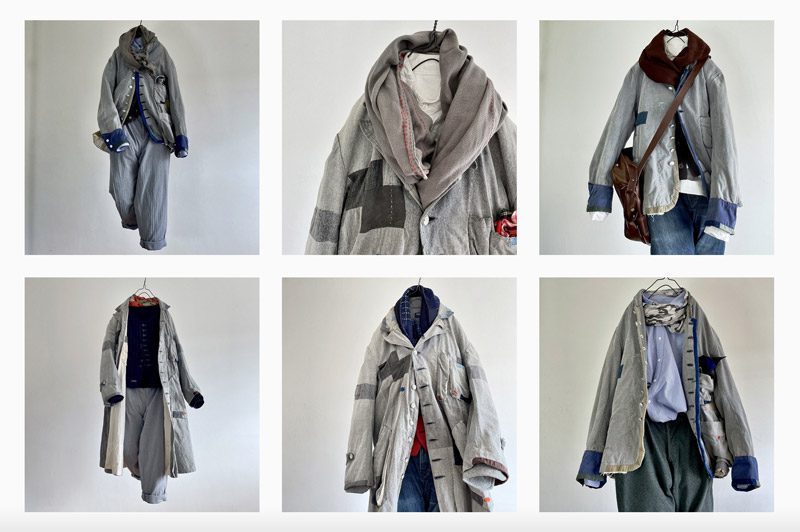 In fact, I imagine that many of these once entirely functional garments may have lain discarded for several decades – perhaps left to rot in a Normandy cowshed. Today, though, they have found a new lease of life as objets d'art. And whereas many of these pieces might, to the untrained and unappreciative eye, appear to be little more than rags, the caring hands of Japanese restorers and some excellent styling elevate them to their rightful position as unique and highly desirable sartorial treasures.
As is the way with such things of course, this change of context means that you can now expect to pay well over $1K for items that in all likelihood last changed hands for a few loose coins. But at the higher echelons of vintage mens fashion, selection and curation is everything. And those of us who lack the eye (or the necessary contacts within the French dairy-farming industry) to track down exclusive items of this nature in the wild, must content ourselves that there are people out there, such as Nest of Manure, able to provide this service for us.
With its innovative – not to mention sustainable – take on vintage workwear, Nest of Manure is undoubtedly one of the most interesting and unusual vintage clothing instagram accounts out there. Items can be reserved via DM or purchased from the dealer's Etsy store and website.
https://www.etsy.com/people/nestofmanure
3 Tenth Meridian East
https://www.instagram.com/10th.meridian/
Shop For
Resist the temptation to pull the trigger on the mass-market Made-in-Italy fare on offer here, no matter how attractive, and instead dig out some of the really beautiful vintage tailored coats, suits, shirts, ties, and even knitwear that are available from this account. Often at very reasonable prices, too.
Our Pick
A mint bespoke double-breasted tuxedo made in the 1950s by Sicilian master tailors. The pinnacle of Italian sartorial excellence.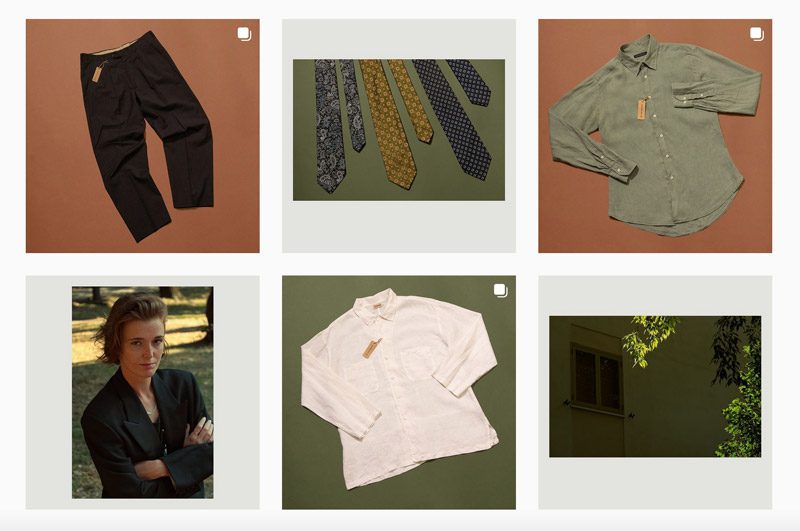 Specializing in vintage mens fashion from Italy and continental Europe, and with a firm emphasis on bespoke tailoring, 10th Meridian East will undoubtedly appeal to all men of an elegant and refined nature. Yet it's not unheard of for this Florence, Italy, based vintage dealer to throw a few items of Italian workwear and hunting gear into the mix from time to time too. Making for quite a modern take on vintage Italian menswear.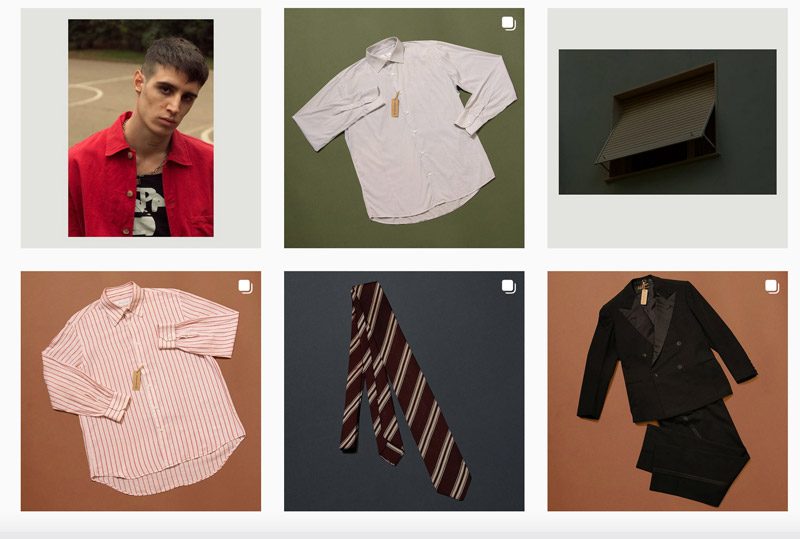 This, combined with some impressive photography, and quite contemporary styling of vintage outfits on models, makes for one of the best vintage instagram feeds out there. Indeed, the account is well worth following just for vintage style inspiration alone. Yet with so many beautiful vintage garments from Italy's sartorial heyday on offer here, and international shipping available via FedEx, chances are you'll want to do more than merely goggle the merchandise.
Tenth Meridian appears not to have a brick and mortar store, and nor is there a website. But items can either be purchased directly on Instagram via DM, or from the dealer's Depop account.
https://www.depop.com/10thmeridian/
4 Le Zouave
https://www.instagram.com/le.zouave/
Shop For
Deadstock 1920s-50s vintage French workwear and hunting jackets. Beautiful early-1900s gypsy-style printed scarves and bandannas from the south of France. Silk handkerchief escape-maps dating from WWII. European militaria in general.
Our Pick
A French Airborne jacket in heavy cotton canvas from the 1950s. Similar to the famed British SAS Denison smock, but in rare French "lizard" camo.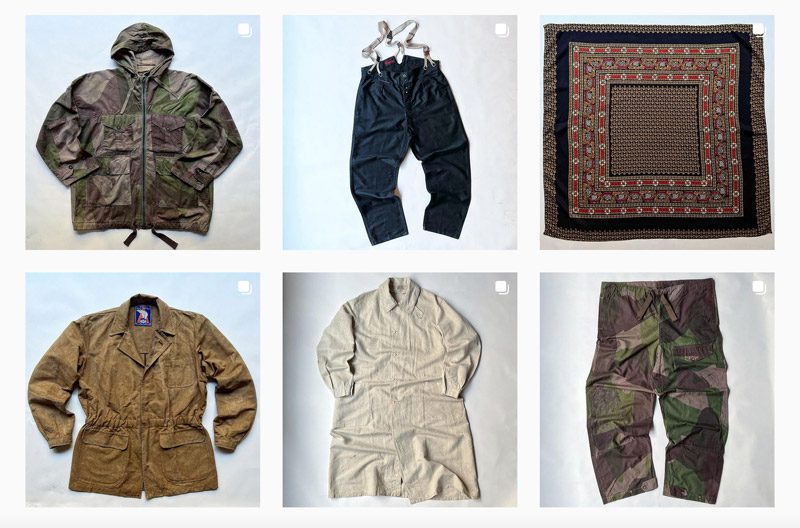 While based in France and specializing in French militaria, Le Zoave also covers a pretty broad range of vintage military clothing. Everything from ultra-rare Vietnam-era US Army fatigues to unusual WWII European items. Basically if it's stylish milsurp, it fits the bill.
This in itself makes Le Zouave's Instagram account well worth following. But perhaps even more interesting are the items of vintage French workwear that show up on the page from time to time. These are not your run-of-the-mill Bill Cunningham-style bleu de travail though, but invariably much rarer beasts.
Although Le Zoave has a website, at the time of writing there wasn't any stock on it. And nor does the dealer seem to have a physical store anywhere. So Instagram is your only means of access at present. Ships worldwide.
5 Swiss Vintage Finds
https://www.instagram.com/swissvintagefinds/
Shop For
Swiss and French vintage formal menswear, including tailored items. Italian ties. Elegant Swiss military outwerwear. Shoes from European luxury brands such as Bally, and even a few pieces of handmade footwear.
Our Pick
A vintage bespoke single breasted jacket from storied Swiss tailoring house Ed. Basset in pure wool. Featuring a single button fastening, hand-sewn button holes, and the sharpest peak lapels this side of the Alps.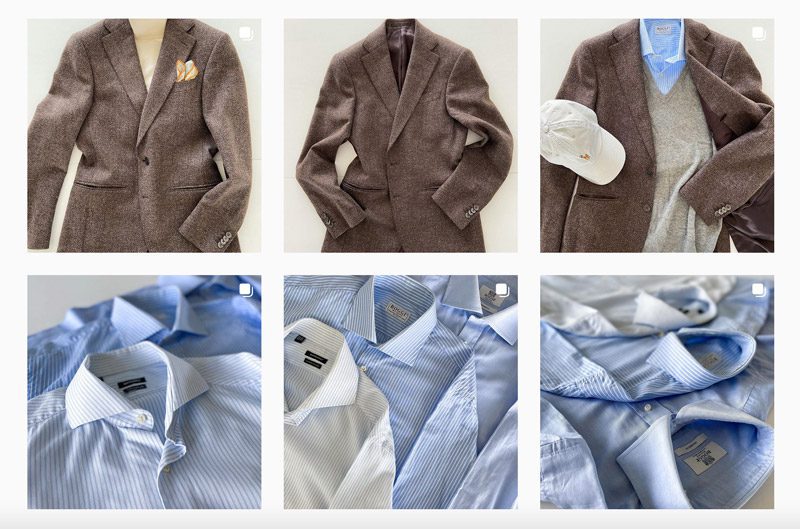 Often the most interesting Instagram accounts dealing in vintage fashion for men are "just" side-hustles. That certainly looks to be the case with Swiss Vintage Finds. At least judging by the somewhat infrequent restocks,
Take a quick look at the quality of garments on offer here, though, and it will be obvious that this isn't just some kid raiding Goodwill and flipping on eBay. Indeed, if anything the slow updates are a sign of a discerning collector taking his time to track down only the finest vintage men's luxury clothing.
Of course, the Swiss have a reputation for order and precision. So it should come as little to surprise to discover that the items on sale here are invariably in tip-top condition, too.
There's apparently no physical store or website, so a DM is the only way to reserve an item. Ships worldwide.
6 Ragparade
https://www.instagram.com/ragparadesheffield/
Shop For
Alongside the numerous US Army vintage menswear classics available from Ragparade, there are also plenty of more obscure garments from European outdoor/sportswear brands and lots of hard-to-find British Army and Royal Navy outerwear.
Our Pick
A pristine 1950s British Royal Air Force Cold Weather Parka in cotton ventile. Perhaps the holy grail of stylish Brit military clothing.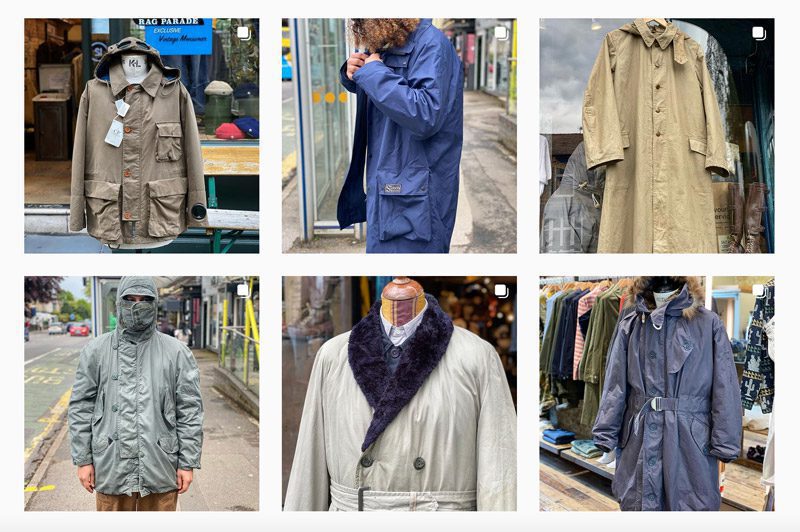 Ragparade is the Instagram alter ego of Jojo's General Store; a physical retail space in the city of Sheffield, UK, selling specialist vintage fashion for men. While the products on offer in this vintage instagram feed don't vary massively from the tried and tested formula of old workwear, mountaineering gear, and vintage military clothing, the stock is well-researched, often quite rare, and the items themselves are invariably in excellent condition. Better still, many of them are really rather beautiful.
No wonder, then, that when the grandaddy of British neo-militaria, Nigel Cabourn, wanted to offer some rare and original milsurp items in his London store, he turned to Ragparade to source the goods.
"Jojo" himself seems to be highly active on Instagram, regularly posting new stock and engaging in frequent interaction with followers. In fact, as he often posts photos of himself wearing vintage outfits, you could even call him a vintage influencer. So if you spot an item you like, a quick DM might be all it takes to secure it.
7 Richard's Fabulous Finds
https://www.instagram.com/richardsfabulousfinds
Shop For
Imagine the style of clothing that would best fit with a rarefied antique-filled interior, and you should have a pretty good idea as to the kind of elegant vintage fashion for men that's on offer here. Three-piece suits; peak-lapeled woolen coats; tweed hunting-jackets; bowties; pocket squares; cufflinks. Richard is clearly a highly discerning gentleman.
Our Pick
A 1930s three-piece suit in ivory herringbone. Suave!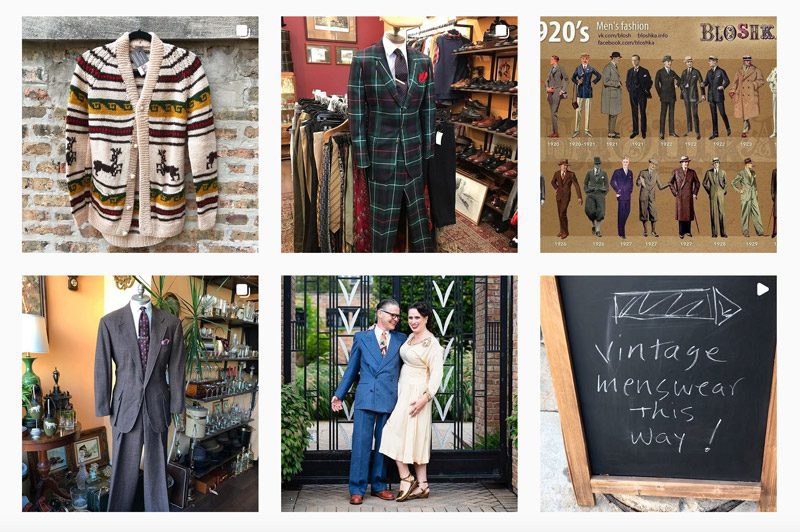 Richard's Fabulous Finds is a brick and mortar store. But it's no franchised behemoth. Rather this is a small and independently-owned vintage emporium in Chicago selling, well, all the fabulous items found by a chap named Richard, funnily enough.
Now, Richard's finds aren't always clothes. He actually stocks quite a broad range of things including antique furniture, homeware, art, and stylish old bric-a-brac. But when they are clothes, they are invariably of a rather classy variety. Indeed, we reckon that Richard's store is one of the best places there is right now to check out a curated selection of vintage formal menswear and luxury clothing from decades gone by.
Nowhere near Chicago? No problem. Richard is highly active on Instagram and happy to ship to you. As the legend reads: "Direct purchase via PayPal with USPS shipping." No international shipping though, people, US only.
8 The Major's Tailor
https://www.instagram.com/the_majors_tailor
Shop For
Militaria. Almost all British or American. Some occasional items of vintage hiking or mountaineering clothing. All rare. None likely to be cheap.
Our Pick
A deadstock 10th Mountain Division WW2 reversible ski parka; olive drab on one side, white on the other. It's extremely unusual to find these coats with the white side still in clean condition, but the Major has one with the white as bright and unsullied as virgin snow.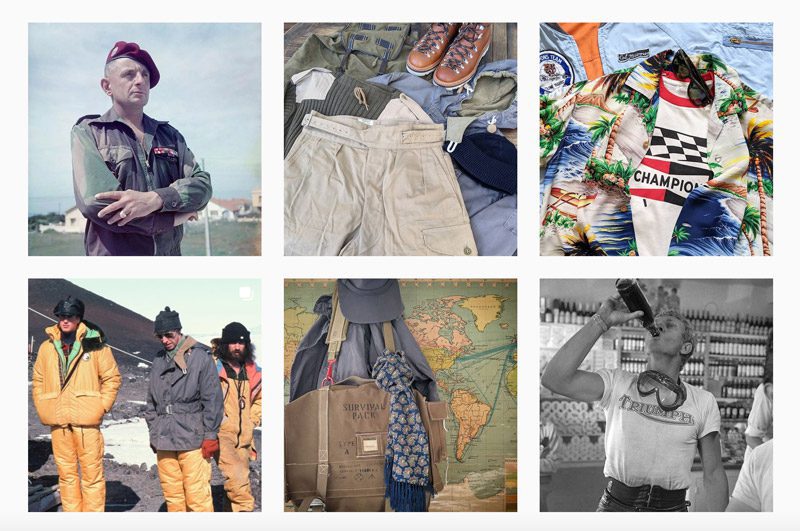 As the name suggests, The Major's Tailor is an Instagram account specializing in vintage military clothing. In practice this means a fairly even balance between posts featuring "product" vs vintage photos of army gear out in the field.
I thoroughly enjoy most of the posts on this page. Yet I can't help feeling a little uneasy when, for example, I see posts celebrating violent colonialists for their swagger, or read comments raving about the style-chops of a B52 air crew on the tarmac – but not a single commentator appears to have the slightest qualms about the death and destruction these men are about to unleash on the world.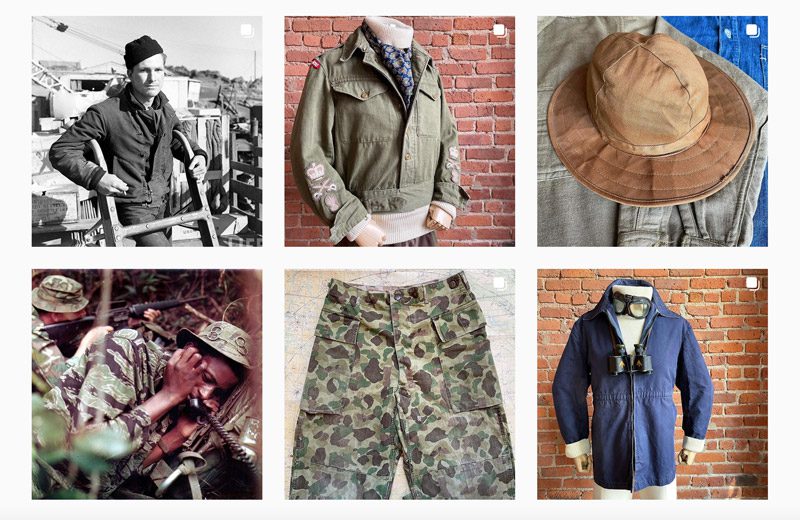 True, if we were to erase all the contributions made to modern menswear by the unsung designers of military apparel, fashionistas would be left with little to wear. But the line between, say, admiring the rugged design and functionality of a vintage field jacket, and the glorification of lethal violence, if not actually fine, is perhaps narrower than we'd like to admit. Vintage military clothing can be extremely stylish, but let's not pretend that it's anything other than workwear for the business of killing.
Putting these ethical reservations aside, however, The Major's Tailor is undoubtedly one of the best Instagram accounts both for looking at and purchasing rare vintage army clothing. Shop direct on Instagram, via the website, or at occasional IRL popup events
9 ID Secondstore
https://www.instagram.com/id_secondstore/
Shop For
A bit of everything; if it's vintage and stylish then ID Secondstore will happily sell it to you.
Our Pick
A shearling-lined Schott BadBoy jacket from the 1990s. Made in USA,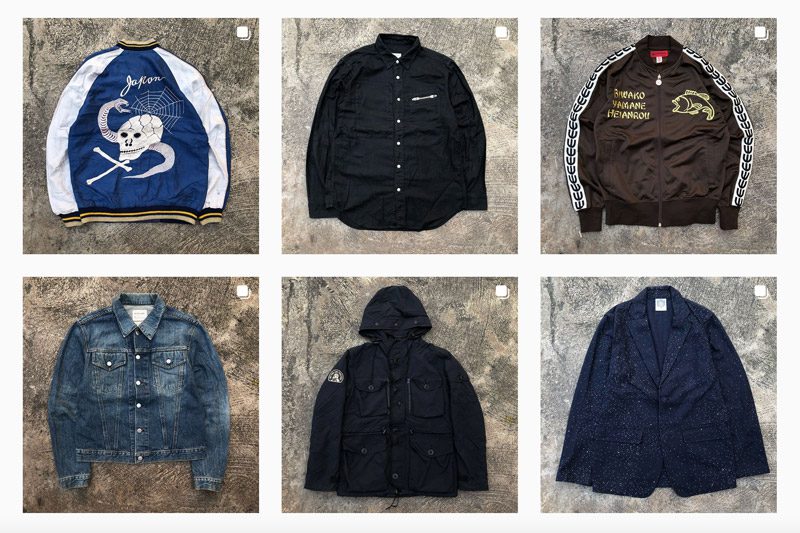 According to the BBC, the average American throws out over 80 pounds of clothing every year. A portion of these garments make it to Goodwill, estate sales, and fleamarkets within the US. From here some of the more interesting items are perhaps picked up by professional thrifters and then flipped on Depop, Grailed, eBay, Instagram vintage stores, or elsewhere.
This is just the tip of the iceberg though. And in fact the vast majority of our discarded clothes are packed into bails and shipped overseas. For used clothing wholesalers, accustomed to selling clothes by the container-load, it just isn't worth the effort of picking through everything and pulling out the gems before the garments are shipped. This means that the good stuff is as likely to end up in Amsterdam or Bangkok as it is on the Instagram pages of US-based vintage fashion dealers.
Enter Instagram vintage shops like Indonesia's ID Secondstore. Having combed their local used clothing wholesalers for the tastier imported pieces, and paid peanuts for them by weight, they are in a position to sell those clothes back to us at a considerable mark-up.
The thing is, though, with the local Indonesian currency being so weak against the dollar, a "considerable mark-up" for them still works out being a total steal by US standards.
What's more, Southeast Asian countries like Indonesia and Malaysia evidently also receive Japan's cast-offs. So alongside old designer gear. vintage workwear, militaria, and other American-made items, you've every chance of finding, say, old Yohji or some stylish pieces from Japanese department store Beams here too.
10 Twoface
https://www.instagram.com/twoface_kum
Shop For
Denim, denim, and more denim. With a sprinkling of militaria and old college sweatshirts. Some are new items from obscure Japanese denim producers, but most are vintage.
Our Pick
A pristine and unfaded "big E" label Levi's denim work jacket featuring some very tasty design details.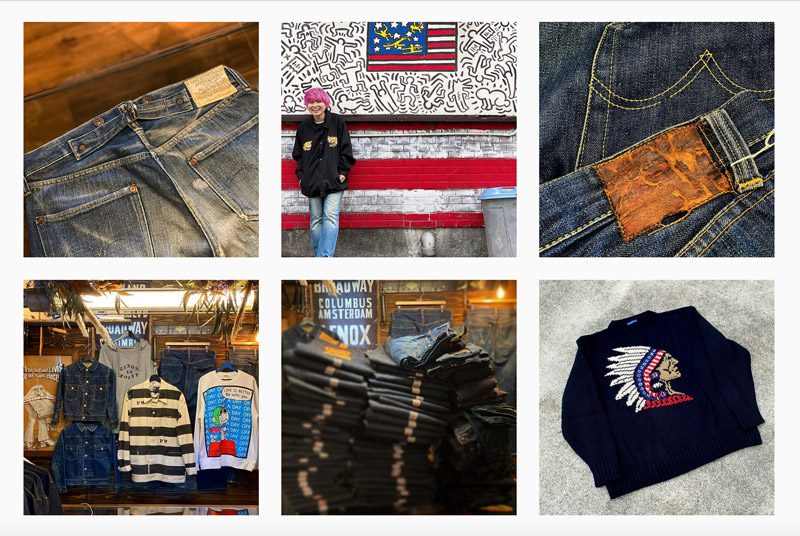 Although you might be forgiven for thinking that @twoface_kum is a niche YouPorn video category, it's actually the Instagram account of a vintage mens fashion store in Kumamoto, Japan, called Twoface (there's also a Fukuoka city branch, but I decided it was better not to even check what its IG handle is…).
While it might seem like an odd choice to order used American clothing from the other side of the world, it's a well known fact that the Japanese have some of the best vintage clothing stores out there. Not to mention a long history of obsessing over and archiving US-made jeans and other Americana. And for denim lovers, Twoface is Mecca, so if you can't find that ultra-rare "big E" Levi's jacket here, you probably won't find it anywhere.
To purchase, DM on IG, or visit Twoface's webstore.
Our Selection Criteria for Choosing the Top Vintage Instagram Accounts
In putting together a guide to the best Instagram accounts dealing in vintage fashion for men, it was clear from the outset that we'd need to establish some strict criteria for deciding which vintage sellers to include in the list. The guide would be of little use to our readers if it merely included ten already very well-known brick and mortar vintage clothing dealers who also happen to have Instagram accounts.
The fashion landscape on Instagram has changed considerably in recent years. From primarily being a way for big brands to promote their products, it has also become a platform for smaller companies and individuals to not only reach a more niche audience, but also to sell their products directly to that audience. This change has been particularly noticeable among those dealing in vintage mens fashion.
This being the case, we decided that any seller who largely trades vintage fashion for men elsewhere, and then simply promotes their business on Instagram, would not make the grade. Instead, to allow you to discover new vintage sellers who you might not encounter otherwise, we narrowed our search down to only those smaller operators using Instagram as something more than a mere marketing tool. I.e also as a way to communicate with their customers on a one-to-one level, and indeed to make direct sales.
Most of the sellers we've chosen are happy to take orders via Instagram direct messages or email. However, a few will redirect you towards other platforms such as Depop or Etsy in order to close the deal. Which in any case can be reassuring for anyone hesitant to send their money to a total stranger.
What we've left out, however, are vintage menswear sellers who do the majority of their business elsewhere. I.e. through a shiny e-commerce website, a brick-and mortar store – or even a whole chain of stores – and then just occasionally post on Instagram as a means of promotion.
Not that there's anything wrong with such vintage traders. But, firstly, the stock on offer from the bigger vintage clothing operations tends to be fairly generic; think '90s Champion sportswear, run of the mill Levi's, and Hawaiian shirts. This kind of vintage mens clothing is fairly ubiquitous, and nobody needs to read an in-depth guide in order to track it down. And secondly, on the rare occasions in which a store like this does have an interesting item in stock, you can bet that it won't be in stock any more by the time they get around to checking their DMs; Instagram simply isn't a priority.
Having said this, a couple of the vintage clothing sellers included here do have physical stores or websites. Others show their stock at trade shows or popup events. But in these cases we've chosen only sellers who make it clear that trading on Instagram isn't merely an afterthought. So if you do message them directly on Instagram about a vintage item they've just posted, the chances are that it will still be available by the time they reply – assuming you message them before anyone else, that is. Mostly, though, we've tried to stick to vintage fashion sellers who in all likelihood wouldn't be in business at all if it wasn't for the opportunities offered by social media platforms such as Instagram
Of course, the most important consideration when choosing which Instagram vintage stores to feature here was simply that they should offer amazing products that you would struggle to find anywhere else. Instagram can be a great place for tracking down rare and unusual vintage fashion for men, but there is also a lot of mediocrity out there. However, rest assured that picking unique vintage menswear stores that offer unusual pieces was our top priority. We hope you enjoyed checking out a few of our favorites above!
Vintage Fashion for Men: The Bonus Ten
Finally, although it should go without saying, a list as short as just the top ten best Instagram vintage stores for men will necessarily leave out many highly qualified contenders. Indeed, lack of space meant that we often had to decide between two vintage mens fashion dealers offering fairly similar stock. This is inevitable, and it doesn't mean that any Instagram vintage stores not included here aren't equally worth checking out. That being the case, you might also want to check out the following accounts, either to buy true vintage clothing or simply for a little vintage style inspiration.
11 – Toro Vintage is a great Instagram vintage store offering a really fun and colorful range of products, from funky knitwear and old American quilts to '60s psychedelia.
https://www.instagram.com/torovintageclothing/
12 – And while we're at it, the somewhat similar store Samaki Vintage is also worth a look at, too.
https://www.instagram.com/samakivintage/
13 – Instead of Nest of Manure (#2 above), we might have chosen the excellent Mindbenders&Classics, who also do an interesting line in obscure vintage French workwear – albeit without transforming them into original contemporary pieces.
https://www.instagram.com/mindbendersandclassics/
14 – American Reboot is a store focusing on vintage Americana run by a couple who are regular faces at the legendary Rose Bowl fleamarket. As it happens though, they also do a lot of their trade on Instagram.
https://www.instagram.com/american_reboot/
15 – For Barbour jackets, Eddie Bauer, vintage field jackets, flight jackets, rare camo shirts, Ralph Lauren Navajo-style knits, denim, college sweats, and whole lot besides, Japanese dealers Acorn are well worth following.
https://www.instagram.com/acorn_vtg/
16 – For general military clothing, vintage workwear, Americana etc. – all the usual vintage mens fashion suspects, basically – Hang Up vintage is also a good source.
https://www.instagram.com/hangupvintage/
17 – Working Class Hero Vintage is great for European outdoors and sportswear brands such as Fjallraven, Berghaus, Fila etc.
https://www.instagram.com/workingclassherovintage/
18 – Japanese vintage seller Mr. Grace has lots of classic hunting and work jackets from American brands such as LL Bean, Filson etc.
https://www.instagram.com/mr.grace_vintage/
19 – British vintage sellers Salvage and Sawdust stick to a fairly safe selection of vintage gear, but nonetheless have many nice items among their inventory.
https://www.instagram.com/salvageandsawdustco/
20 – Finally, Decision Used is a small Japanese vintage clothing dealer with some great stock available.
https://www.instagram.com/decision_used/
And that wraps up our guide to buying vintage fashion for men on Instagram. Hopefully you've found something among our recommendations that corresponds with your vintage menswear interests. Happy digging!