Wingtip shoes are like Starbucks, atoms, ninjas and haters; they're everywhere. Before you go and drop a few hundred on a fresh pair, stop by a thrift store and look for a quality pre-owned pair. You can pick up some great wingtips for cheap and save your cash for the more extravagant shoes you'd like to own.
Also known as brogues, wingtips are identified by a decorative wing-shaped design on the shoe's cap. They often have perforations and serrated edges that decorate the different pieces of the shoe. Styles include "shortwings" and "longwings," differentiated by how far the wings extend along the side of the shoe.
Look for….
High quality leather: You'll find a lot of cheap shoes with plastic-looking leather. Avoid those and find something better, such as calfskin or shell cordovan.
Leather or Dainite Soles: In most cases, you'll want to avoid rubber soles. Look for stitching around the edge of the sole, and watch out for imitation leather soles with coated rubber.
A Beautiful last: Buy the shoes that are sleek and attractive. A great dress shoe is a work of art.
Made in USA, England, Spain, or Italy. The majority of high end men's shoes come from makers in these countries.
These are some of the most popular wingtips on the web. if you can't find these, just find some shoes that closely resemble them.
Crockett & Jones
Ralph Lauren sells this Crockett & Jones Pembroke Wingtip under the names "Darlton" and "Marlow." The Pembroke is a derby shoe with a Dainite sole. It's available in scotch grain or smooth calf leather. (I believe the Ralph Lauren version has a full leather sole).
It's hard for most people to justify $500 wingtips when there are so many alternatives at a fraction of that price. And these aren't likely to turn up at a thrift store, but you might find some secondhand options online.
You can also watch for sales on Barneys.com, as they regularly stock a few models from Crockett & Jones, and then you won't have to pay International shipping rates.
Allen Edmonds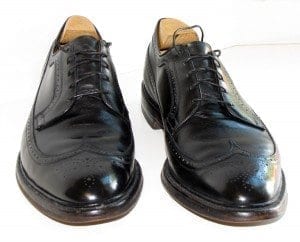 The Wisconsin-based company has churned out loads of nice wingtips over the years, including this vintage pair that sold in our Etsy shop long ago.
Allen Edmonds shoes feature Goodyear welting, fine leathers, and many classic designs. Because they're such a high quality shoe, any used pair is more likely to have some life left. If you find a real bargain and absolutely love the way they look, send the shoes back for recrafting.
Check out their MacNeil, Mctavish, McAllister, Player's Shoe, Long Branch, Dalton, Hinsdale, and Jefferson shoes. You can buy factory seconds (with barely noticeable defects) at the Allen Edmonds shoe bank, or watch eBay for your size.
Florsheim

Florsheim Imperial and Kenmoor Longwings are the traditional iconic gunboat wingtip that dates back to the late 50s. People still love these shoes today.
"One of my favorite shoes of ALL time," writes style blogger Mister Mort. "Florsheim Wingtip Imperial for all men who want to be wearing hard bottoms!"
Up until the 1990s, Florsheim was a dominant company in the American market for men's shoes. So it's extremely easy to find a pair of Florsheim wingtips, but quality varies. Look for the older models that weren't produced overseas.
The Florsheim company is making moves to restore their reputation as a quality shoemaker, and you can find some affordable wingtips in their current selection.
The Florsheim Veblen, for example, is a timeless wingtip design – hefty like a vintage Imperial, but sleeker than a vintage gunboat.
Alden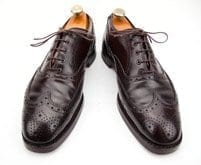 Sometimes brand loyalty is rather wise when it comes to buying shoes, especially when your brand-of-choice is a family-owned operation in Massachusetts, with roughly 100 workers who may even be 2nd or 3rd generation employees. You can put your trust in a brand like this.
No, you don't need to obsess over brand names or drop $500 on wingtips, but it's helpful to know where the bar has been set in terms of quality.
Alden wingtips aren't exactly rare; the company has been around since 1884, so there are plenty of shoes floating around out there, sometimes even in secondhand stores. (The pair in this picture was found on eBay) But you'll notice that demand for these shoes is high, so act fast if you find some Aldens in your size.
Get out the shoe polish
Once you find your new old pair of wingtips, make them your own by applying some cleaner, conditioner and polish. Part of the fun of secondhand shoes is breathing new life into their tarnished outer shell.
More advice to enhance your shoe game: