Among the many products you can buy online, used footwear may sound like an odd choice. Nonetheless, people are buying pre-owned sneakers and dress shoes constantly on websites like eBay, Etsy, Poshmark and more. In this article, I'll explain the trend and offer 7 steps to sell your own used designer shoes.
There are only 2 general reasons to buy a used pair of shoes:
1) You want a lower price. Pre-owned shoes are usually cheaper. Used shoes, even those worn once in their original box, may cost a third of retail price or less. When retailers and boutiques charge $600 or more for designer shoes, that's a big deal.
2) You want a rare or discontinued style. If quality has declined at your preferred brand, you can shop resale for gently used or new old stock shoes from a past season.
It's important to keep these reasons in mind when planning to resell your own collection.
Sell Your Own
If you're hoping to sell some shoes, here are 7 steps to get started. With some effort and luck, you can recoup the cost of expensive footwear that never made it into your rotation.
Step 1: Style + Brand Evaluation
The first step is to examine the style of your shoes.
Some shoes have a timeless style; others may be collectible or have a nostalgic appeal.
Some shoes, however, are just plain ugly, dated, or poorly made. How many people want to to revisit the square-toed trend of the '90s? If you're thinking about reselling used shoes like these, think again. Certain styles and brands experience a short burst of popularity, and then people come to their senses and the fashions change.
What sells the best is a current or timeless style from an iconic shoe brand. Attempting to sell other shoes is usually a waste of time.
Step 2: Estimate Value
What are used shoes worth? The answer depends on several factors, first of which is the original retail price (i.e. MSRP).
Suppose I have a pair of 3-year old Converse Chuck Taylor shoes. The original price was around $55 USD. Used clothing and shoes are typically priced at half of retail or less. With that in mind, I price them at 27.50 and include free shipping (to remain competitive), and I might net $15 after the sale. So it turns out there isn't much value in my Converse sneakers, at least not enough to justify the work of selling online. You can use this shortcut formula for any current (still available in stores) shoe you have: cut the retail price in half, then deduct $12 for shipping and another 10% for listing and payment fees. If this number is still above $50, then you may have shoes worth reselling.
Sometimes, with older designer shoes or hyped sneakers, the original retail price is just irrelevant. A different pricing approach is then required in which you review sales of comparable items from the past year. In our shop, we do this using our own sales data, in combination with aggregate sales data from different resale websites.
Step 3: Condition Check
You'll need to double check used shoes for problematic signs of wear.
Is the heel flat and square?
Is the sole securely attached?
Do the shoes have any odor?
If the shoes are still presentable with defects, remember that you'll need to disclose them to any potential buyer. Defects aren't always a deal-breaker.
Special, rare, high end shoes can retain some value even if they are damaged. But if you're trying to sell common designer shoes, they need to be in very good condition if you're going to be successful with resale.
Step 4: Size Check
Sizing is the most difficult aspect when it comes to selling shoes online. Each brand has its own peculiar sizing issues to consider, often depending on the shoe last and the country of manufacture.
To make a successful sale and avoid a dispute, you'll need to communicate sizing accurately. As original owner, you should share your own experience with the size and fit. Not the owner? Start by looking at the maker's website and size chart, followed by other retailers who carry the brand.
While they're not always useful, measurements are the least you can do to provide size guidance to a potential online buyer. Take measurements at the widest and longest part of the outsole.
Common sizes sell faster and more often. If you have smaller (e.g. size 6-7) men's shoes or something with a narrow width, you'll have to wait much longer to make a sale.
Don't overlook the width (it's the letter following your numerical size) D or M is the standard width in the United States.
Step 5: Write a Product Description
Every online listing requires a product description and photos.
I always recommend that you write the description first. Start by listing all key features, especially the brand, model name and country of manufacture. Include the size markings and other information from the inner lining.
When selling online, I don't add personal opinions about the shoe style or its quality. Buyers have their own opinion and can decide for themselves, and facts are more convincing anyway. If you want to push for a sale, list the features of the shoe and how it will benefit the buyer, e.g. "Patented water-resistant upper keeps feet dry."
Step 6: Take High Quality Photos
When it comes to photos, you can learn a lot by studying the ultra-clean images of mega shoe sites like Zappos and StockX. That said, as an amateur seller, you need to focus less on perfection and more on basic clarity. By that I mean proper lighting / exposure, correct color and attractive subject framing.
Start by dusting and cleaning off the shoes. Set your camera white balance to Auto mode. Place the shoes outdoors or in the natural light of a window. Remove any distracting junk from the area, and then capture photos. Don't use a flash (unless you have experience) and don't rely on indoor light bulbs.
Capture your cover photo by isolating one or both shoes with nothing else in the photo – that means no box, and no clutter (if the box is included, include that with an extra photo).
Crop the image to effectively zoom in on the product profile, but don't cut the border too close. Allow some room for the product to breathe in the frame. Add detail shots of the bottom (outsole), insole, and branding. That's it! Keep it simple, with a few clean photos, and don't apply any Instagram style filters to the image.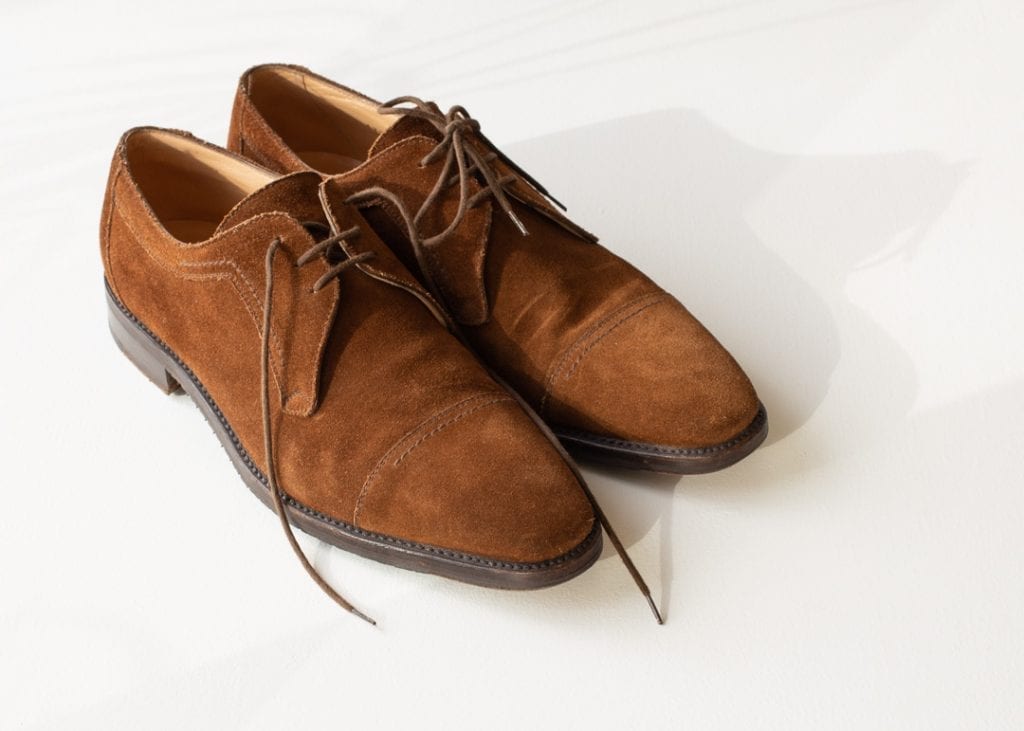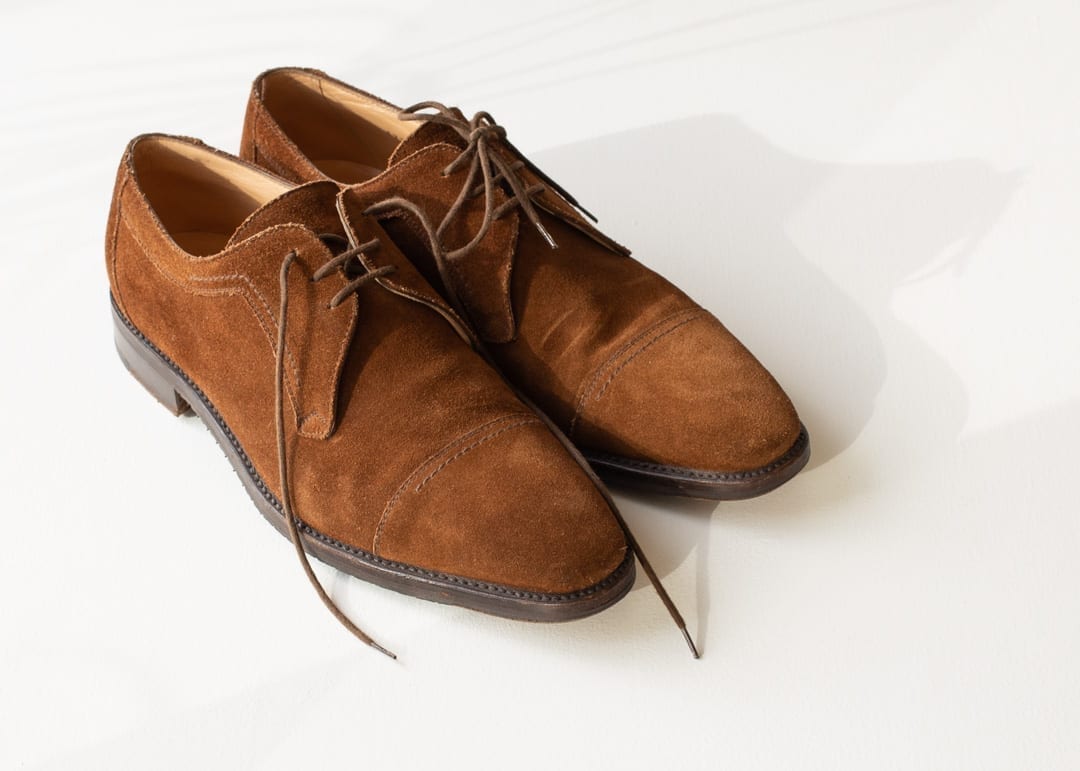 Step 7: List Your Shoes Online
Wondering where to list shoes? Consider your target audience. Who is likely to wear your style of shoe? If possible, find a niche website where your ideal buyer would shop. If you can't locate a niche resale website for your shoes, then eBay.com is likely the best option.
If you are a brand new member to such a website, then it's going to be difficult to make a sale. Customers look for established sellers with a proven track record. To overcome this, you can spend some time buying/selling inexpensive items to boost your credentials, or find a partner with an already established selling profile.
---