In less than a week the international world of menswear will descend upon Florence for the latest installment of what has now become the single most important event in the industry's calendar: Pitti Immagine Uomo. But away from the spectacle of strutting peacocks and the feverish striking of deals down at the Fortezza, there's actually a lot more to menswear in Florence than just Pitti Uomo.
Indeed, as the original home of Gucci, Salvatore Ferragamo, Roberto Cavalli and a host of other prestigious names, Florence has a long – and rather glamorous – history of producing high-end menswear. Meanwhile, not only is the nearby satellite town of Prato one of the most important centers for garment manufacturing in the world, but having long been a major destination for used clothing (specifically woolen garments and rags for recycling), Prato is also a significant hub for the sourcing of vintage items too.
Prato itself offers numerous charms in its own right – and indeed many consignment stores of it's own. However, owing to the continuous flow of tourists and overseas visitors, it is usually Prato's bigger and better-known Tuscan sibling, Florence, that acts as storefront for Prato's enterprises. With a well-heeled and well dressed local population that can be relied upon to provide high quality hand-me-downs, and nearby Prato supplying a constant flow of vintage clothing from further afield, Florence boasts numerous excellent vintage clothing boutiques and flea markets for the retro-obsessed traveler.
In fact, despite Florence being relatively rather small, there are so many thrift and consignment stores in the town that it would literally take two or three days to visit them all. That being the case, we've narrowed down our selection to the most interesting and easily accessible for the casual visitor.
Whether you're traveling to Florence for Pitti Uomo 94 and have a few extra hours to kill or will be visiting the beautiful Tuscan capital at a later date purely for pleasure, here's our guide to the best vintage clothing stores in Florence for menswear, listed by district.
A Guide to Florence Vintage Clothing Stores
A Word About Street Numbers
Street numbers in Italy can often seem to follow some parallel and impenetrable form of logic. Florence in particular has a rather odd system whereby residential and business properties are numbered differently from each other. Meaning that on any one street, many door numbers will appear not once, but twice – and frequently with the two versions very far from one another. While this may seem utterly bizarre at first, it is at least a consistent system that can be quickly learned and universally understood (unlike in some parts of the country, where numbering often just appears to be random).
The difference between residential and commercial street numbers is indicated by a color code: residential properties are numbered in black/blue, commercial premises are red. That's all fine when on the street, but obviously doesn't help when you've just been given an address in a guide such as this. The key thing to remember then is that a simple number, e.g. "22" is a residential address, whereas a number followed by an "R" (for "rosso" or red) is a commercial address: e.g. "22R or "22/r."
As this is a guide to vintage clothing stores, clearly the numbers in most addresses will be for commercial properties, and therefore red. But that isn't always the case, so pay close attention to the address when looking for a particular store.
Finally, it's important to remember that, as there tend to be more store fronts than residential properties in the center of town, red numbers will generally climb much faster than residential numbers. This means that #22 may be half a mile away from #22R.
A Word About Opening Times
Without wishing to resort to stereotypes, Italy is of course a nation known for its rather relaxed attitude to life in general, and time keeping in particular. On top of this, for a certain kind of Florentine vintage store-owner, the sale of clothing to members of the general public is actually of secondary concern to the more important (i.e. more lucrative) business of sourcing rare items for fashion designers to draw "inspiration" from. Tracking down vintage gold of this kind is no doubt a process akin to alchemy, and understandably takes a lot of time.
This being the case, it is not uncommon to roll up to a Florence vintage clothing store during advertised opening hours, only to find the place shut. Often owners will leave a number to call, and will happily tell you that they can be found in the store after such and such an hour, and then spectacularly fail to show up even then.
Realistically then, you should probably not expect to find all of the vintage stores in our guide open on first try. Look on this as part of the adventure.
Center (West)
In the district south of Florence's main Santa Maria Novella station, and not far from the Fortezza da Basso, venue for Pitti Uomo 94, lies a cluster of good little stores. These venues run the full gamut from dirt-cheap thrifting through to designer consignment, vintage sartorialism and ultra-rare workwear finds dragged out of tumbledown Tuscan barns.
In short, if you've got just 30 minutes or so to spare before catching a train, then you could do a lot worse than spending your time here.
Charity Shop Arcobaleno
Address: Via Palazzuolo, 9
Opening times: Monday to friday 09:30 – 12:00 then 15:30 – 18:30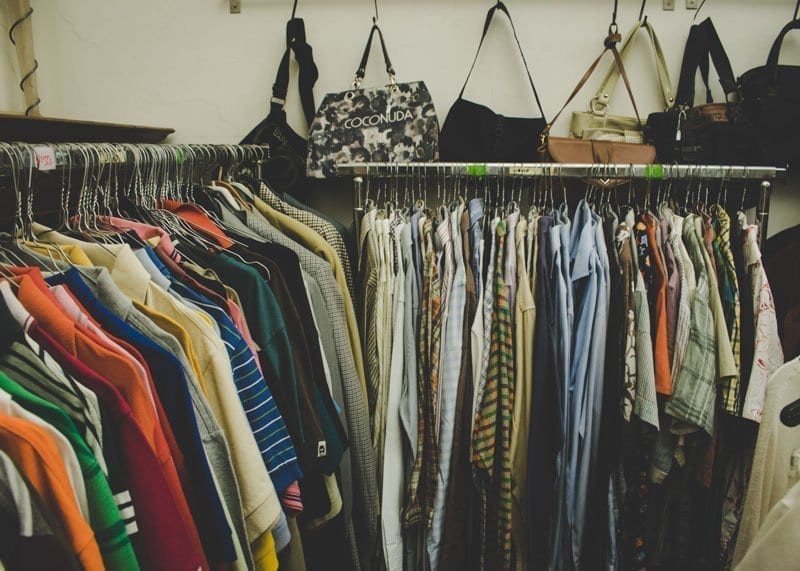 Run by various volunteers of "the third age" (or "the menopause clan" as the store's manager put it). Arcobaleno is a not-for-profit organization raising funds for various social projects through the sale of second hand clothing. Most of the items on offer are for women, but there are nonetheless two or three racks in the back corner dedicated to menswear.
Here dress shirts cost €5, and made-in-Italy linen or woolen suits are priced at between €12 and €20. Bear in mind that this is a Salvation Army-style joint, and it's really just a question of luck as to whether there's anything decent to be had when you visit. I left empty-handed, but would have certainly gone for a locally-tailored beige linen suit had it been in a smaller size.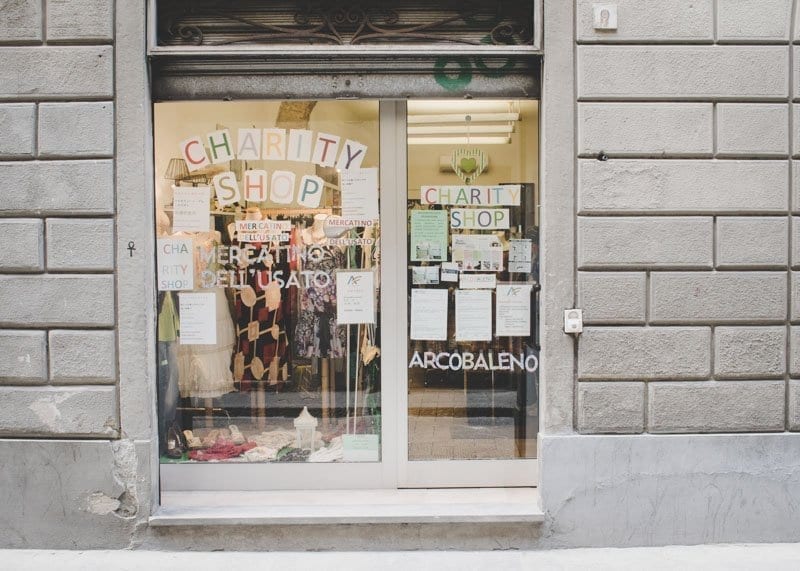 The small street this store is located in evidently has something of a problem with junkies and other delinquents, so the staff keep the door permanently locked. Knock on the door, and as long as you don't look like a "toxic", then you'll be immediately admitted and warmly welcomed.
Jules e Jim Lab
Address: Via del Moro, 56
Opening times: Who knows!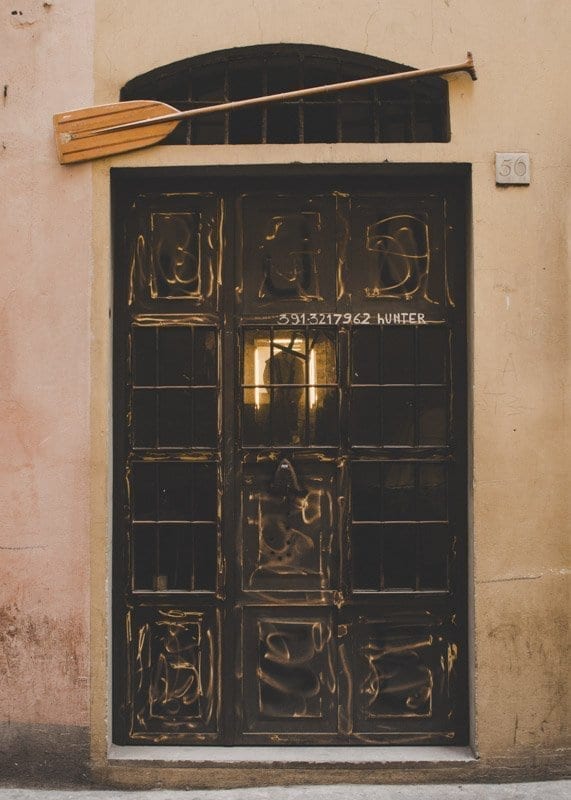 Jules e Jim is without a doubt one of the highlights of vintage menswear shopping in Florence.
That is, assuming you can coincide your visit with the owner's presence.
I personally went to Jules e Jim three times, and found it closed on each occasion. This despite the fact that, on my first visit, I'd encountered a friend of the owner in front of the store who was kind enough to call him and ask when he'd be there.
Only he wasn't.
I later heard from another store owner that "yes, I just saw him go past 10 minutes ago" and so promptly went there again. Still nobody.
After which, as I had a handful of other important places to visit before closing time, I gave up trying.
If you have enough time though, I would persist with this place for as long as it takes: just google it and you'll see why. As mysterious and eccentric as its owner, Jules e Jim Lab is some kind of bizarre dungeon dedicated to the esoteric arts of vintage trawling. Bring your scythe and wear hosiery.
Epoca Vintage
Address: Via dei Fossi, 6R
Opening times: 10:30 – 13:30 then 15:30 – 19:30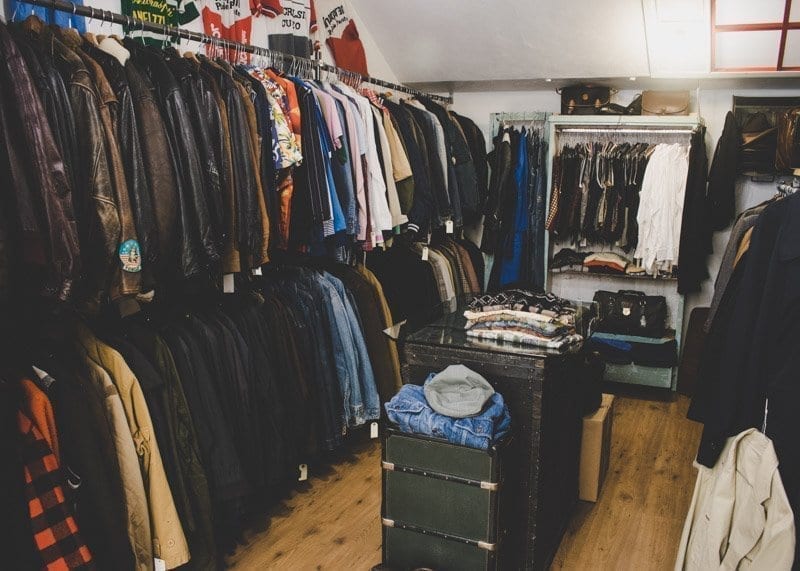 Epoca is thankfully a lot more straightforward than our last listing. This is a regular vintage clothing store, with regular hours, and you should have no problem finding it. Epoca also offers a good amount of stock, and is run by a knowledgeable, friendly, and talkative owner. Very definitely worth a visit.
As with most vintage clothing stores in Florence, there's more womenswear on offer here than there is men's. Nonetheless, Epoca dedicates an entire room (and some overspill) to menswear, and the selection of clothing is generally pretty good.
Prices are not particularly cheap by N. American standards, but are nonetheless pretty reasonable, especially given that this place is a stone's throw from the river, and literally right next door to the Margaret Howell boutique and production studio (on the downside, you can bet that the Howell team have already helped themselves to the best pickings…)
The large quantity of clothing of American-origin on display here will likely be of less interest to visitors from the States – think bowling shirts, Cuban collars and mechanic's uniforms. However, you'll also find some good Italian and other European brands on offer.
On my visit, the store had a wide selection of leather jackets (both US-made Avirex-style numbers and locally produced garments) and there was a nice range of vintage Fila and Bianchi sportswear, plus Burberry macs, and classic Loden coats at prices from about €40 upwards. I now regret not having bought a particularly nice vintage Pierre Cardin necktie.
Tartan Vintage
Address: Via dei Palchetti, 5-5a
Opening times: Monday to Friday 14:30 – 19:30, Saturday 12:30 – 20:30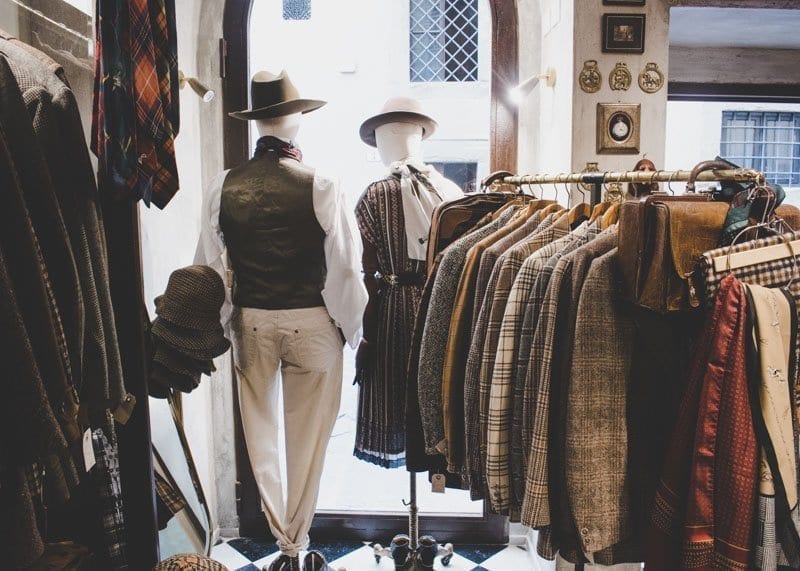 Located in a tiny side street behind the Etro and Gutteridge stores, and just around the corner from Jules e Jim (above), Tartan is undoubtedly another highlight of the Florence vintage shopping landscape. Despite this place being pretty small, it's crammed with carefully-curated finds of a distinctly classical bent. And what's more, for once the balance of stock is weighted much more firmly in the direction of menswear (indeed, there's just one small rail of merchandise for women).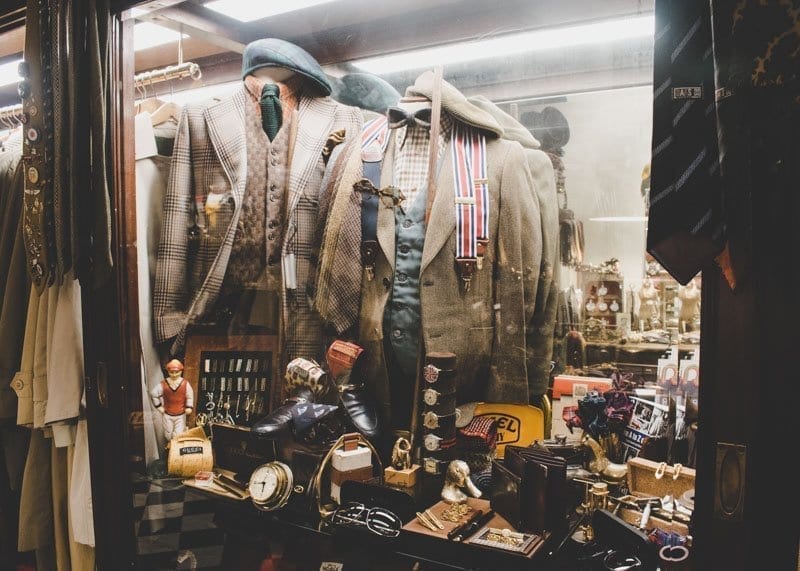 Tartan Vintage specializes in British tailoring, and offers an excellent range of classic tweed cuts. For example, handmade tweed sports jackets go for €150. However, you will also find some choice Italian items on offer here too: there were several rather nice Gucci neckties on display, and quality Italian wool coats were priced between €200 – €300. I may still go back for a very attractive pair of Italian-made leather walking boots that were on sale for €85.
La Corte Vintage Store
Address: Cortile Possombroni, Via dei Fossi, 7R
Opening times: 15:00 – 17:00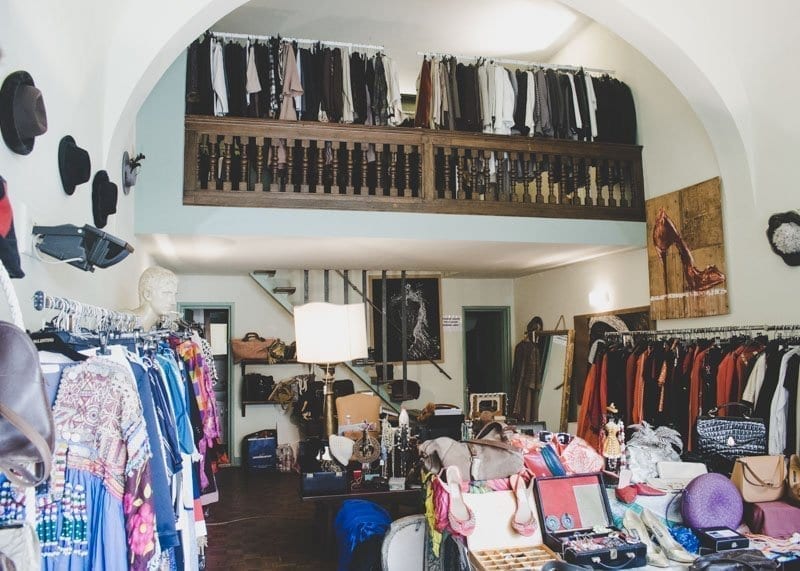 Hidden in a courtyard right opposite Epoca (above), and on the same side of the street as Liverano & Liverano, you will find La Corte. Although mostly dedicated to classy women's clothing, there's a rack of vintage designer menswear up on the mezzanine level of this vaulted-ceilinged boutique that is worth a quick look. Prices here are on the higher side of things, however this is quite understandable when one considers that the items on offer are of correspondingly high quality (no Hawaiian shirts or Dickies workwear here). Sample offering: Loro Piana wool blazer for €160.
This is a friendly and laid back place, with similarly laid back opening hours: owner Franca is often there in the morning from around 11am, and sometimes until late too, however if visiting outside of the fixed 3 – 5 pm opening slot, it's probably better to call: + 39 335 125 2058
Center
Whereas stores to the west of the center or across the Arno river invariably offer more niche goods – and accordingly tend to attract a greater number of vintage connoisseurs – the higher rents and preponderance of tourists in the center of Florence mean that vintage stores in this area tend to cater towards rather more safe and standard vintage tastes: Levis, Lee, Hawaiian shirts, polo shirts, varsity and flying jackets.
Nonetheless, there are still gems to found here. And a couple of stores are very highly recommended. If not always open when advertised.
The Quartermaster – Vintage Militaria
Address: Via San Gallo 95R
Opening times: Theoretically: Tuesday to Friday, 14:30 – 19:30. In practice: anybody's guess
The Quartermaster was one of the spots I was most keen to check out during my visit to Florence. Dedicated archival collectors and researchers of vintage military clothing, the Quartermaster also offer many of their vintage finds for sale via an e-commerce site as well as in this "temporary store" in the heart of Florence (their HQ is in Prato).
Sadly, though, this is evidently another venture where the owners have better things to do with their time than observe anything resembling fixed opening hours. Or indeed even bothering to affix a sign to the front of their popup space.
The Quartermaster's website claims that the store opens from 2:30 pm. However, at 3:30 pm all evidence was still to the contrary. The phone number I found online was either not working or was switched off, and inquiring in the bar opposite I was informed that "Oh, the army clothing guys? They come every now and then."
Still, if you're in town for Pitti Uomo 94, The Quartermaster claims to be awaiting your visit.
UPDATE: I finally managed to track down The Quartermaster and its owner Jonathan Targetti. Stocking some rare US Army items alongside more unusual Italian militaria and other exotic pieces, this place is well worth the visit. On top of which Jonathan is highly knowledgeable and was very helpful in putting me in contact with some interesting people in the Florence/Prato area.
Jonny assures me that the Florence store generally keeps regular opening hours and that I was just unlucky to have caught them in the frantic days of pre-Pitti preparation. Nonetheless, if you're time in Florence is limited you might want to give them a call prior to visiting: +39 340 365 4095
Rrose Selavy
Address: Via S. Gallo 111R
Opening times: Monday 15:00 – 18:00, Tuesday and Wednesday 10:00 – 18:00, Thursday and Friday 10:00 – 19:30, Saturday 10:00 – 13:00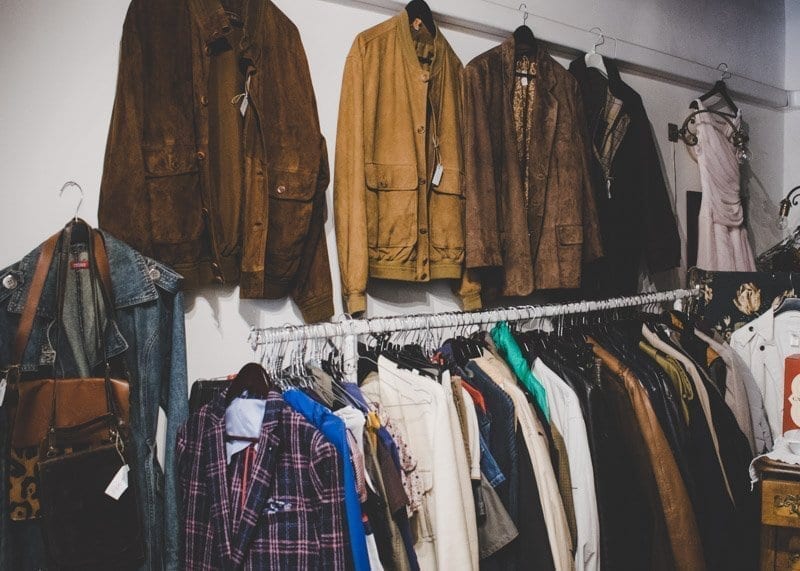 Looking on the bright side, the Quartermaster may have gone AWOL, but while waiting in vain for the lackadaisical militarists to open up shop, I chanced upon this fun and thrifty little store with the strange name.
The owner of Rrose Selavy was elsewhere, and the friend she'd brought in to helm the ship was engrossed in a book when I arrived. In fact, despite being housed between 4 walls, this place feels more like a fleamarket stall than a boutique. And beyond the nicely thought-out window display, it isn't much better organized than one either. But that's exactly its charm.
The selection of menswear was neither huge nor overly unique, but the shirts, suits, ties, and suede jackets on offer were at least priced at a point that would be worth paying if you were to fall in love with a particular item.
As case in point, when leaving the store, I spotted a slightly eccentric silk necktie from a long-forgotten Milanese menswear house tucked away at the edge of the window display. The helpful book-reading lady called her friend to ask the price and I happily paid €20 for the tie and went on my way.
Rewind Vintage Selection
Address: Via S. Gallo, 23
Opening times: Unknown (but seems to be open from lunchtime until late)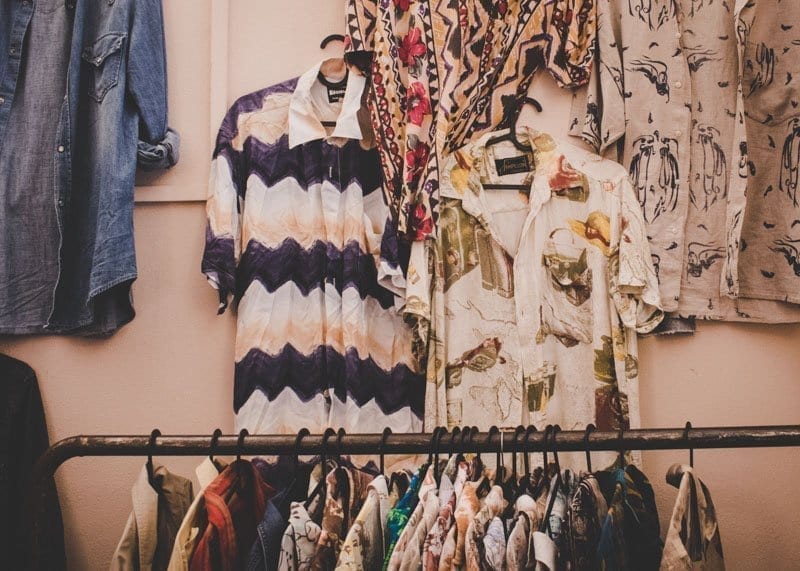 Further down the street from The Quartermaster and Rrose Selavy (above) is Rewind Vintage Selection: a tiny spot with minimal stock. However prices are good and the Neapolitan owner is friendly and happy to answer questions.
Come to Rewind for original vintage versions of fully on-trend items popular with "the youth": this mostly means Hawaiian shirts and sportswear for guys, and oversized denim jackets for gals. Prices run from €10 – €30.
Art&Fashion – vintage & low cost
Address: Via S. Zanobi, 37R
Opening times: 10:30 – 19:30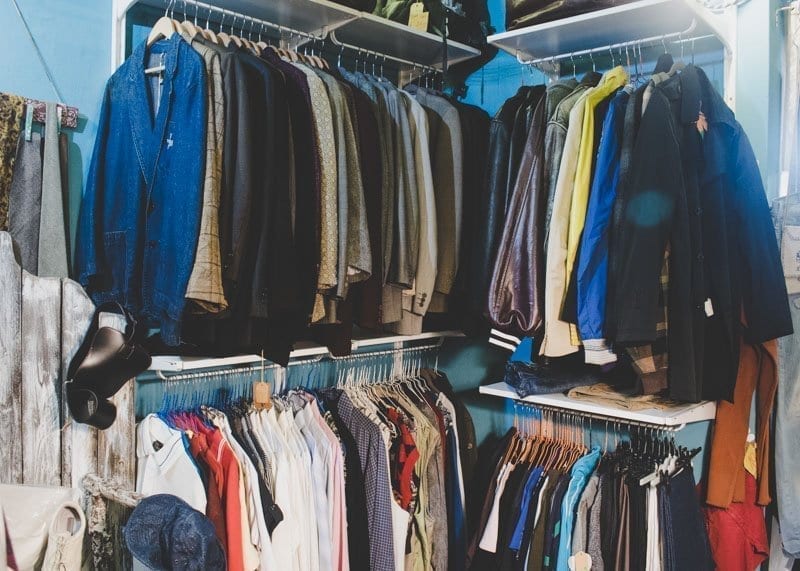 Once again, this a store offering a greater selection of womenswear than menswear. Still, with a friendly and amenable owner, and dedicated back room offering a nice selection of items for the sartorially-inclined gentleman, Art&Fashion is undoubtedly worth the visit.
What's more, prices are very reasonable: silk ties go for €15; made-in-Italy sports coats and blazers from €40; trenchcoats are around €60. The stand-out item here though was a spectacular locally made double-breasted suit in Loro Piana wool for €119. Too big for me though, alas.
Street Doing
Address: Via Dei Servi, 88R
Opening times: Monday to Saturday 10:30 – 19:30, Sunday 15:00 – 19:30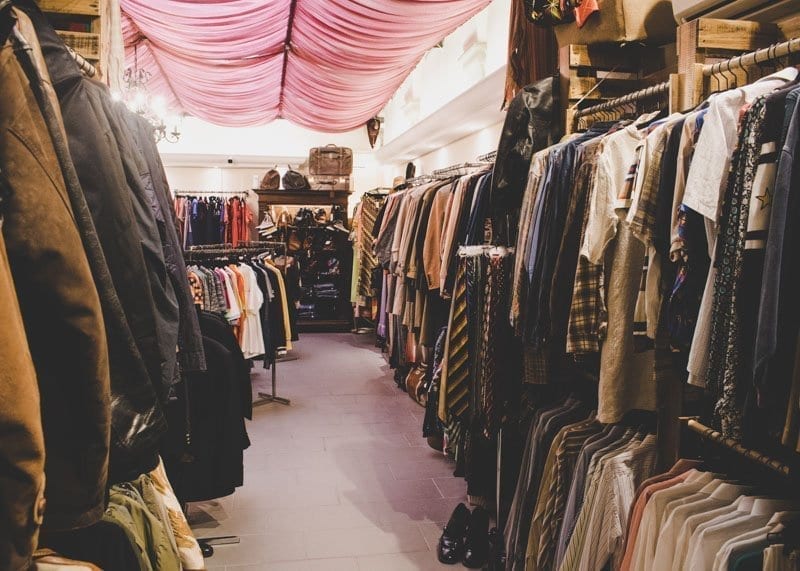 Street Doing "vintage couture" is one of the largest vintage clothing stores in Florence, and accordingly has a decent sized menswear department. As with many of the more mainstream vintage shops in Italy (and indeed elsewhere), there are a lot of fairly standard US-made goods on the racks here. And not at prices that would be particularly exciting to anyone traveling from the US (for example, an Avirex leather flying jacket at €285).
Indeed, price is generally not Street Doing's strongest point. But if you find the right item (say a Sartoria Partenopea suit) then you may well be willing to pay the premium (in this case, €450). A locally-tailored suit was going for a much more reasonable €160. Meanwhile, beyond the Avirex, there were also many other leather jackets from €100 and up.
Although I didn't buy anything, this place is pretty good for neckties, and has them grouped together by brand. Prices for ties were around the €70 mark. There's also a good selection of men's vintage leather goods and accessories.
No, I've no idea what Street Doing means either. Although it undoubtedly makes the place easy to Google.
Melrose Vintage
Address: Via de' Ginori, 18R
Opening times: 11:00 – 20:00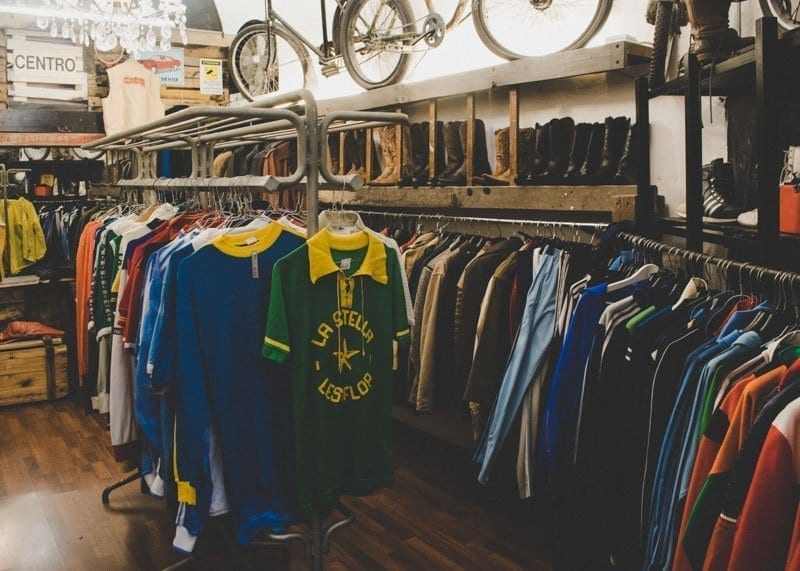 You do have to wonder about a store that spells its own name incorrectly ("Merlose") not just once, but twice, on its own website. But let's not hold that against what is otherwise a pretty good vintage store, offering a wide selection of menswear. Indeed, Melrose is something of a warren, and includes several different rooms dedicated to separate styles of vintage men's clothing: formal/tailoring; military and workwear; knitwear; vintage sportswear.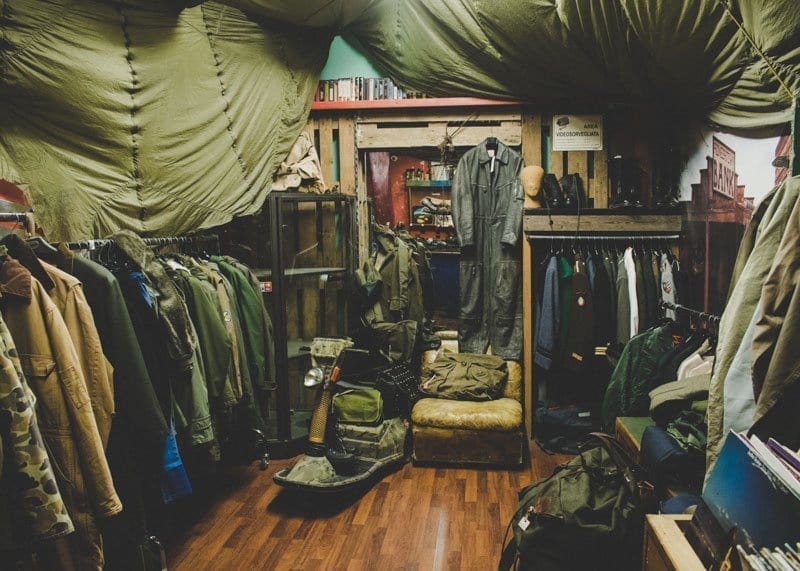 While this perhaps makes the place sound a little more interesting than it actually is (with the exception of a few Italian Army items, the military room was largely filled with run of the mill US fatigues), Melrose is nonetheless well worth the visit and its prices are generally not too bad (sports jackets: €70-100; Knitwear from €50; short-sleeved '70s shirts from €25).
Clochard
Address: Via dei Conti, 16
Opening times: Monday 15:30 – 19:30, Tuesday to Saturday 10:30 – 18:45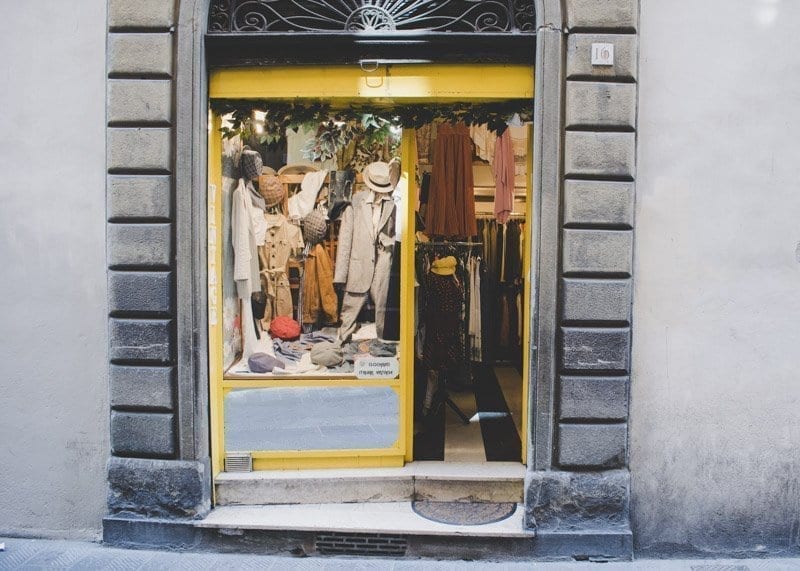 A five minute walk from Melrose is Clochard. Clochard is one of the oldest vintage stores in Florence. Indeed, as the owner pointed out, having first opened way back in 1979, it predates the use of the word vintage itself: back then, they were just second hand clothes. Although the present owner didn't establish the place herself, Clochard has been in her family since 1985.
Not only is Clochard one of the oldest vintage stores in Florence, but in my opinion it's also among the best. True, the space is quite small, and the menswear section even smaller. But the items on offer are largely interesting and the prices honest. Indeed, €85 for a Brioni or Canali suit is a steal, and if it had been in my size I would have been very tempted by a beautiful quilted Ferragamo leather coat for €220.
This is the kind of place where you could easily go several times and find nothing, and then the next time you walk in you fall in love with several pieces in one go. And that's probably what I found most appealing about Clochard: there was still an element of thrill to the hunt.
Vintage clothing stores today will mostly fall into one of three categories: on the thriftier end of the spectrum they may be cheap but are largely just filled with faded gap polo shirts and ugly beige slacks; then there are the mid-priced places offering the same tired old "funky retro" pieces you've seen a million times; and finally the ultra-curated industry-insider spots selling Siberian train conductor's jockstraps and 1930s beekeeper's suits for more than my monthly wage. In none of these is there much chance of finding something truly well-made and unique at a bargain price.
Although I spent only five minutes at Clochard and purchased nothing, they were five fun minutes in which I felt I might have chanced upon pretty much anything. What's more, the owner was friendly and evidently has a good eye for an attractive window display. Recommended.
Desii Vintage
Address: Via dei Conti, 17
Down the street from Clochard is Desii Vintage. One can only assume that the store's emphasis has somewhat shifted in the years since the business was named, as most of the menswear on offer here today is new. If visiting Clochard, it's probably worth sticking your head in at Desii just in case, but otherwise the place doesn't warrant a separate trip (at least not for vintage menswear: the new items are nice enough though).
Dolce Vita – New Vintage Lab
Address: Via del Giglio, 39
Opening times: 10:00 – 19:45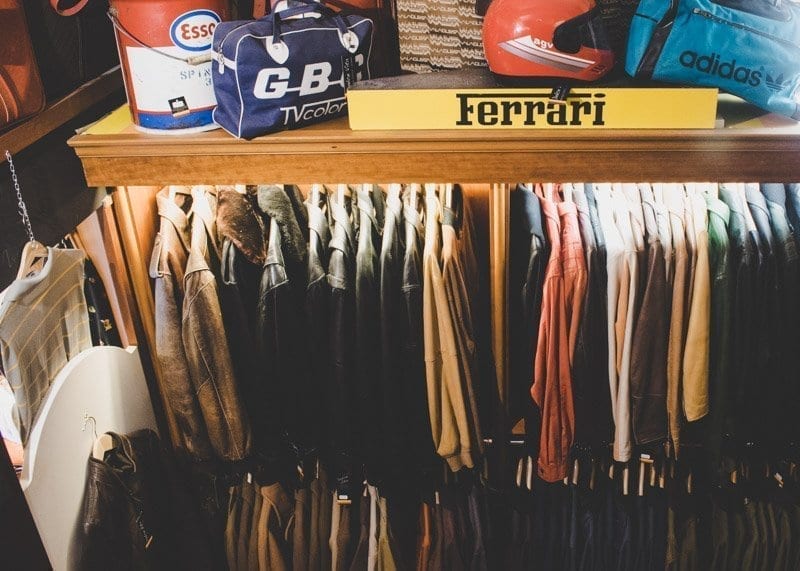 A five minute walk from Desii and Clochard is Dolce Vita. In many ways this place is similar to both Street Doing and Melrose: a large store containing many run of the mill vintage pieces for the masses. What differentiates Dolce Vita Vintage from these two though is largely price.
Like Street Doing, Dolce Vita offers a good range of ties organized by designer. Unlike Street Doing, these are priced between €20 – €35. I.e. cheaper than the competition by a good 50% or more. There were also some very nice looking Italian-made leather jackets going for €65 and then all the usual military, denim and sportswear suspects were well covered too. While I didn't actually buy anything here on this occasion, I could easily see myself doing so.
Charity Shop – Bottega Del Dono Solidale
Address: Via Guelfa, 28R
Opening times: Monday – Thursday 9:30 – 19:00, Friday 9:30 – 13:00, 1st Sunday of Month 10:00 – 13:00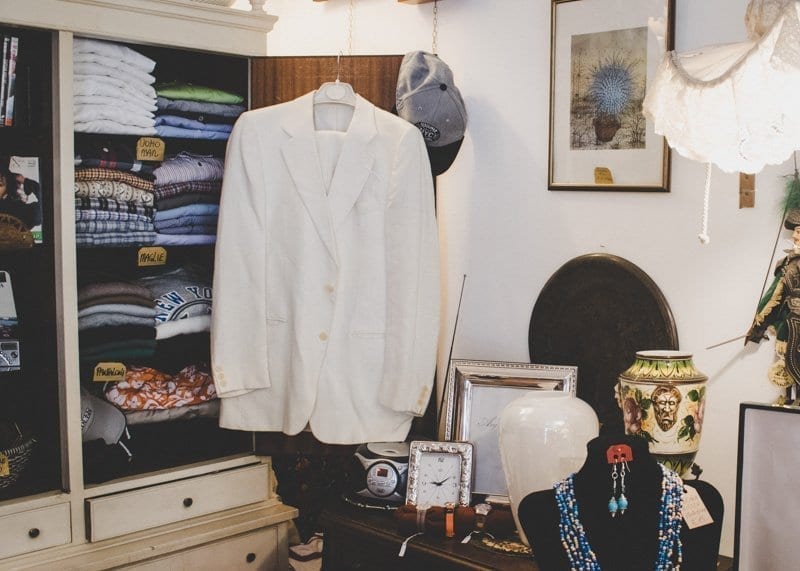 Given that rents in the tourist goldmine that is central Firenze must be stratospheric, it's hardly surprising that all but one of the stores we've listed here so far have been private money-making enterprises, rather than socially-concerned peddlers of prime vintage menswear at bargain basement prices.
While the Bottega del Dono Solidale is barely even large enough to stroke a cat in, never mind swing it, thankfully this charitable organization opted to forego the feline and instead squeeze in a small menswear section. Effectively this comprises of one tiny rack in the back room, and some neckties and other items draped near the cash register. But as ever, it's the quality not quantity that counts, and in the end I bought a very nice silk tie for €8.
I also wished I had the balls to wear the sharp white suit that was hanging behind the ladies on volunteer duty that day.
OLTRARNO
The Oltrarno ("beyond the Arno") area is Florence's Left Bank. Boasting much fewer spectacular Renaissance sites than the center, it is relatively (and I must stress, only relatively) quiet and laid back when compared with the tourist-hell over the river.
With traditionally lower rents and more room to breath, the Oltrarno has long been an area of artists and artisans. Things have changed recently though, especially since the Lonely Planet dubbed the district of San Frediano one of "the coolest neighborhoods in the world." Sure, it's a nice enough part of town, but such hyperbole can only ever disappoint. And in the long run the dubious honor will likely also prove to be the neighborhood's kiss of death.
When it comes to shopping for vintage clothing in Firenze though, the Oltrarno is still one of the city's highlights. Whereas vintage stores in the center of Florence likely make a good part of their income selling to backpacker Millennials with Woodstock/'90s Rave fantasies, the Oltrarno's Vintage stores tend to be more selective in their merchandise and basically geared towards a more stylish clientele. In short, the kind of people who will be visiting Florence for Pitti Uomo 94.
Momo Vintage
Address: Via dei Serragli, 7R
Opening times: 10:30 – 19:30
Momo (also pictured at top of article) is the antithesis of a thrift store: this is not a place for digging through piles of lice-infested old rags in the hope of uncovering some overlooked gem in need of fumigation and a trip to the dry-cleaners. Instead, you come here knowing that the hard work of searching out vintage rarities and restoring them to pristine condition has already been done for you. And you should expect to pay accordingly.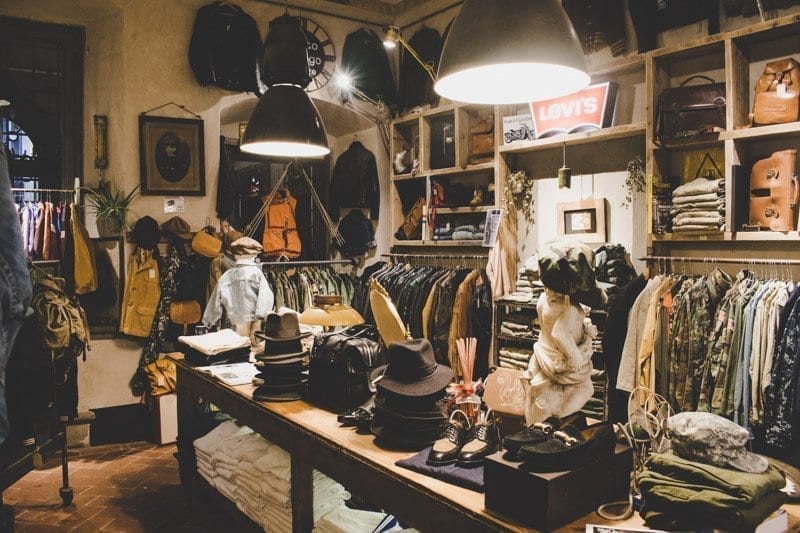 Personally, I really like the excitement of potentially uncovering diamonds in the dirt, and so tend to gravitate more towards the fleamarket-type of vintage store. But when I see something I like, and the price is fair, I'll buy it all the same.
And that's what happened here at Momo: I walked out with a really nice bit of old Italian workwear that had been sterilized, labelled, and hung in a beautifully stylish environment alongside other carefully selected vintage items, and then sold by friendly and knowledgeable staff. The item wasn't especially cheap, but I wanted it, and was prepared to pay the asking price. Momo is that kind of vintage store.
Ceri Vintage
Address: Via dei Serragli, 26
Opening times: Try your luck mid to late afternoon
If San Frediano is the coolest neighborhood in the world (and that's of course a big if), then this is one of the coolest stores in the coolest neighborhood in the world. A little self-consciously so, of course, but that's OK with us.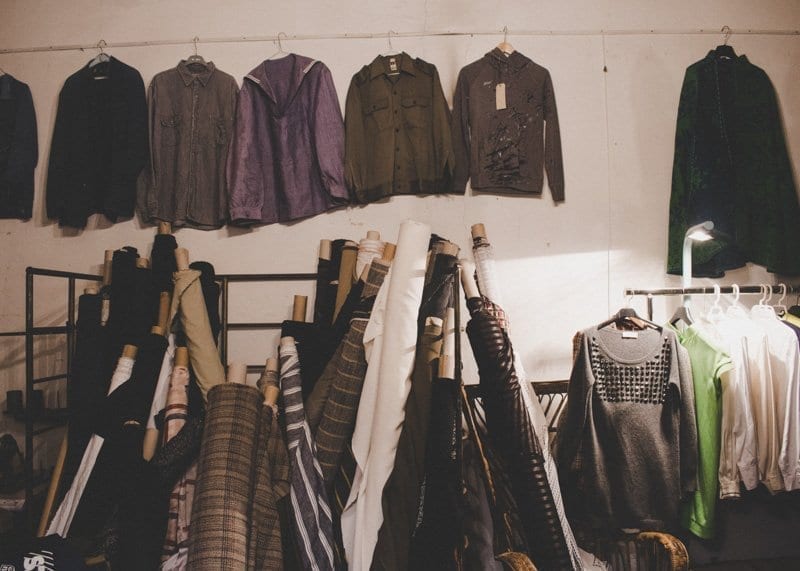 There's a certain kind of establishment – be it bar, restaurant or vintage clothing store – where the less money the owners have spent on the decor, the more money you'll be expected to pay for services/products. With it's exposed walls, gloomy lighting, and rustic farmyard-salvaged furniture, Ceri looks like exactly such a place.
Add to this the fact that a Google search for Ceri Vintage in English also reveals the name written in Japanese, and you can be forgiven for imagining that this is a store pitched towards serious (i.e. very wealthy) collectors only.
Looks can be deceiving though, and despite the radical-chic vibe, prices in this stylish little boutique were actually no higher than elsewhere. In fact, there was even a rack of €20 pieces for those on a budget.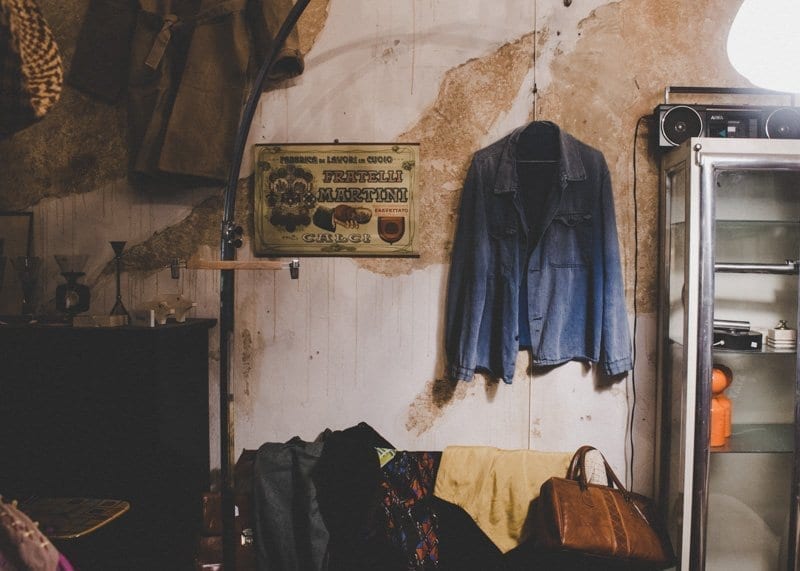 In keeping with the general mood on this side of the river, Ceri mostly deals in vintage workwear and old military items, with some woolen coats and denim thrown in for good measure. The store also offers a selection of vintage Tuscan-made fabrics at €10 per meter. Japanese vintage aficionados will not be disappointed.
Basically Ceri sells the kind of things you might expect find on the dusty shelves of a Tuscan village hardware or haberdasher's store that has remained under lock and key since it closed down in 1974.
Accordingly, Ceri is not somewhere you should visit expecting to find the kind of regular vintage Americana on offer in the center of town. Nor will you likely uncover any fine Italian tailoring or designer menswear here either.
Ceri's owner, Danilo, has his hand in many pies. These include research, consulting, and even organizing an "off" event during Pitti Uomo 94 by the name of Casa Craft. Busy as he is then, it will come as no surprise to learn that Ceri is a store with somewhat erratic opening hours. Late afternoon will be your best bet.
Stondo
Address: Borgo della Stella, 7R
Opening times: Try late afternoon, but shuts at 19:00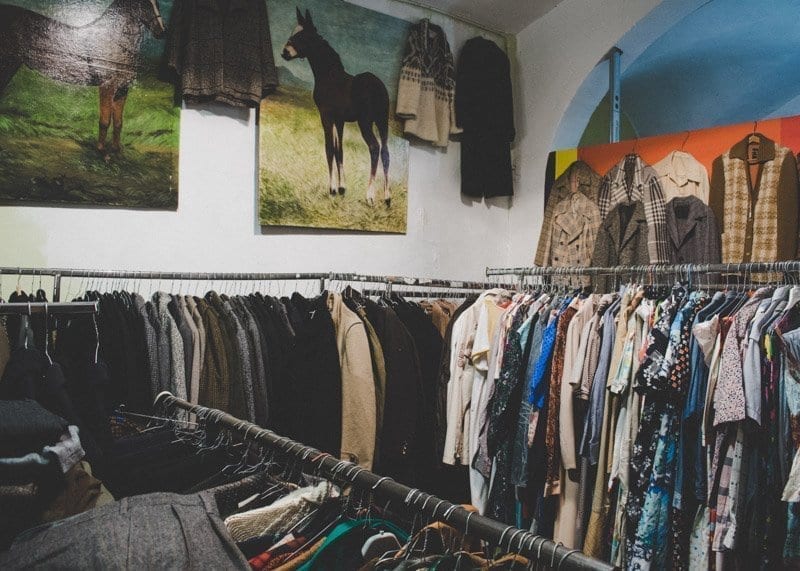 Stondo is a great little spot down a side street off the Via dei Serragli. As with Ceri, this is a good place to come to for workwear. Owner Lillo is a little more diverse in his tastes than Ceri though, and so you'll also find wool blazers from €75 – €180, suits from €120 – €200, and cashmere coats from anywhere between €130 – €300.
There are also paintings of horses. Quite a lot of them.
As Stondo's very likeable Sicilian owner notes, the place is "more of a storeroom than an actual store" and is only open to the public when Lillo isn't busy elsewhere with consulting/research/digging. As ever, afternoons are always going to be the best time to try.
__
If you've just stepped out of Pitti Uomo 94 for a dash around the vintage spots, you'll likely be in a rush to get back. But if you've got time to relax, then there are much worse places to hang out than San Frediano.
It's also worth noting that there are several other vintage stores in the San Frediano/Santo Spirito/Palazzo Pitti area, however I ran out of time before I could get to them. A little investigation, and you'll no doubt be able to find them for yourselves. Nonetheless, a trip south of the river is justified by the above three spots alone.
See you at Pitti Uomo 94!
---