There are many reasons why eBay often sucks. From a vintage fashion shopper's point of view, the main objection is just the quantity of ugly trash you need to trawl through before uncovering a stylish gem. And even if you are looking for a specific product or brand on the site, this can still prove frustrating, owing to the number of sellers listing their cheap-ass junk as, say, "not Gucci," precisely in order to show up in searches for Gucci.
And if you're merely casually browsing for a jacket or a suit for example, without a particular designer in mind, the problem will likely be ten times worse, as any genuinely interesting items will be preceded by page after page of hideous no-name schmatte.
Thankfully though, when it comes to buying vintage and used designer clothing, eBay is no longer the only game in town. And while some would-be challengers such as wiseling.com have long since fallen by the wayside, there are in fact quite a few serious alternatives to eBay for secondhand fashion shopping right now.
---
Read more about resale:
---
Unsurprisingly, many of these platforms look and feel a lot like the 'Bay itself in terms of layout and user experience. Meanwhile, a couple – notably those with a slightly younger market in mind – have taken a design approach that is much closer to Instagram.
What most of the eBay alternatives we list here have in common though, is a more fashion-focused and selective inventory than is typically offered by eBay. So for those seeking a curated shopping experience, or simply looking to broaden their buying opportunities, here are 15 of the best alternatives to eBay for secondhand fashion shopping.
1stdibs
Although 1stdibs will let you buy everything from an original Helmut Newton photograph to a mid-century Arne Jacobsen teak desk, when it comes to clothing the site trades exclusively in womenswear. Primarily of a highly valuable and collectible nature.
Got $22K to spend on a Versace mink jacket? Or $40K for an Hermes clutch bag? Perhaps 1stdibs is for you.
Looking for deals under $100? Well, there may be a few.
Under $50? Better keep reading.
ASOS Marketplace
Well-known purveyors of wear-once-and-chuck-it fast fashion, ASOS also offers used and vintage clothing items via its Marketplace. Here independent sellers from across the globe can open a "storefront" and flip their men's and women's flea market finds to an appreciative audience of hip Millennials.
The stock on offer on the ASOS Marketplace is overall much more stylish and selective than on eBay, and most products are presented in a similar manner to the main ASOS site: i.e. worn by surly adolescent models rather than shot as white background studio flatlays. This helps to give a much better idea of cut and fit than can be gained from the average eBay listing.
While the ASOS Marketplace is not about rare vintage workwear or luxury designer pieces, it's a great place to pick up more fun street styles at honest prices. It's also a particularly good destination for fans of '90s sportswear from brands such as Adidas, Fila, Fred Perry, Nike, Reebok, Sergio Tacchini etc.
Bonanza
If Bonanza sounds familiar, it's likely because it's been around for a while but first launched under the name Bonanzle – only rebranding to the present iteration of the name a few of years back.
In terms of user interface and search functions, Bonanza feels quite a lot like eBay. Not only this, but as far as shopping for vintage clothes is concerned, it also suffers from the same principal defect as eBay: i.e. while there's an enormous quantity of products available (narrowing my search to only vintage men's clothing brought up nearly 160,000 listings), there's absolutely no filter on quality.
Thankfully prices are often quite low; but so too is the general standard of merchandise on offer, so you'll need to do plenty of digging in order to unearth vintage gold. Still, with a Loro Piana wool suit going for less than $100, the rewards can be significant for those with time, patience, and an eye for a bargain.
Depop
UK-based, and still more popular on the eastern shores of the Atlantic than stateside, Depop is a fashion-dedicated social marketplace enabling easy and direct chat between buyers and sellers. Unlike eBay itself – and indeed contrary to the majority of the eBay alternatives we look at here – Depop is not a principally desktop platform, but instead most of the action takes place by means of an Instagram-style app.
The app itself is super easy to navigate, and the purchasing of products is very straightforward. Particularly handy is the ability to narrow down searches to only items in your immediate vicinity, allowing you to avoid shipping costs by collecting the clothes from local sellers in person.
While most of the items on offer here are true vintage. rather than just last season's fast-fashion regrets, the merchandise tends to be highly on-trend and will largely appeal to a sub-25 customer base.
However, as is so frequently the case where clothing is concerned, there's a lot more womenswear listed on Depop than menswear. Still, with perhaps 20 – 25% of products falling into the menswear category, and a generally quite high level of garments available overall, stylish gentlemen will not be disappointed. You can even pick up some mid-century vintage furniture while you're at it.
Etsy
The fact that you're reading this article suggests that you likely possess (A) eyes and (B) a device connected to the internet. This being the case, it seems unlikely that you haven't previously come across Etsy. Still, with the site's strong focus on handmade crafts, it can be easy to forget that Etsy is also a great place to pick up vintage and used fashion items too.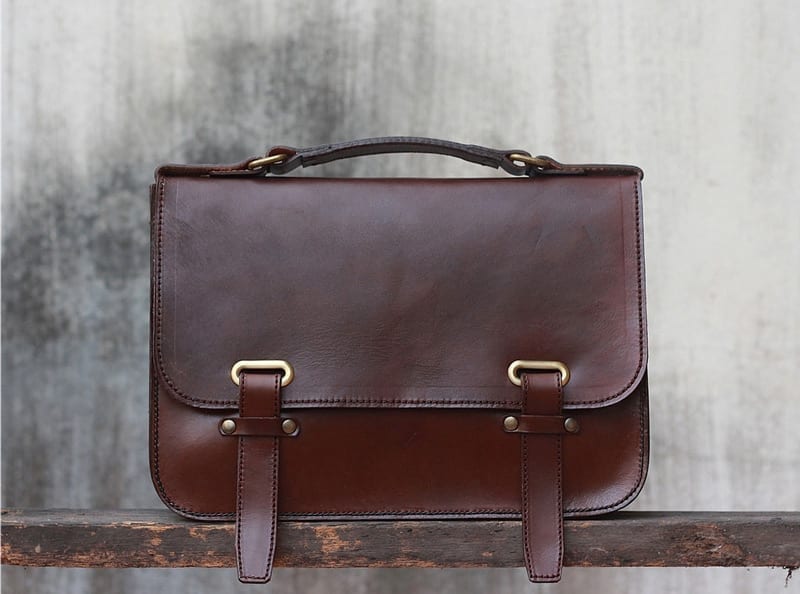 Briefcase via Etsy Seller JooJoobs
Overall, the quality of clothing on Etsy is pretty good, the prices quite reasonable, and the search function largely effective. What's more, when compared to eBay, there's just generally a lot less ugly new tat to mine through before hitting a vein of sartorial tantalum.
Grailed/Heroine
While plenty of sellers complain vehemently about using Grailed, it's still one of the best places to track down hard-to-find designer gems. And, unusually for a fashion enterprise, Grailed focuses on menswear only (although a sister site, Heroine, now exists for womenswear too).
Slept on an amazing piece of Rick Owen's? Regret not picking up that Kapital Ring Coat on your last trip to Tokyo? In need of another Bathing Ape fix? You'll probably find it here.
Expect to pay out top dollar for it though, as Grailed is definitely a destination for shoppers in search of rare and hyped products rather than those looking to do some thrifty digging. With that said, prices tend to drop considerably on unsold items as time goes by, so sometimes bargains can be had if you're willing to bide your time. Just watch out for scammers, as many users have reported a less than satisfactory experience with Grailed's customer protection policies.
Lyst
Lyst is unique among the eBay alternatives reviewed here in that it is neither an eBay-like sellers' platform nor a consignment store, but strictly speaking a search engine that aggregates items currently available for sale on various other websites. The idea being that buyers can purchase from thousands of designers via a single shopping cart.
While Lyst offers a great many new products – even some that come direct from major luxury brands (indeed, Lyst itself is part-owned by LVMH) – there's also a good number of vintage fashion items available here too. This includes a decent selection of menswear: everything from vintage classics to more contemporary labels such as Acne Studios.
Lyst is more about style and quality than uncovering hidden bargains though, as prices are definitely towards the higher end: it is not a virtual thrift store.
Poshmark
Boasting "25 million items and 5,000 brands," over the last few years Poshmark has quickly risen to become many people's go-to destination for buying vintage and secondhand fashion online.
Alongside womenswear and children's clothing, Poshmark also offers plenty of men's used fashion items too. However, a large portion of this inventory consists of mid range brands: there's neither a preponderance of luxury style here, nor too much in the way of grubby thrift to rummage through either. Think J. Crew, Old Navy, and Gap clothing, with the occasional helping of more upmarket offerings such as Gucci and Dior.
Nonetheless, even if only, say, 10% of menswear listings are for unusual and interesting garments, this still means hundreds of thousands of eligible items. Indeed, it doesn't take too much effort to get beyond the discarded Obama t-shirts, generic Ralph Lauren hoodies, and dreary late-'90s Patagonia fleeces that flood Poshmark to uncover more interesting clothes at quite reasonable prices.
Rebelle
Based in Hamburg, Germany, but with language options in English, French, Italian, and Dutch, Rebelle offers high-end women's fashion items in top condition. But with prices to match.
As with a few of the other eBay alternatives at the classier end of the spectrum, Rebelle provides an "authenticity checked" service for buyers' peace of mind. Shoppers can also browse the closets of "influencers", purchasing their luxury cast-offs. Rebelle's strongest point is undoubtedly the quantity of luxury bags and shoes on offer in great condition. There's no menswear here though unfortunately.
The RealReal
As with Rebelle, luxury consignment store the RealReal pushes its "authenticated" product credentials in order reassure shoppers that they are getting the genuine article. However, unlike the German platform, in addition to womenswear there's also a lot of high-end designer menswear, watches, and accessories on offer here. Often from quite contemporary, desirable, and stylish brands too.
The RealReal's search function is fast, intuitive, and fairly comprehensive, making it simple to home in on whichever product you might be looking for. Prices range from "really quite persuasive" right through to "you've got to be kidding."
thredUp
Although thredUp started out as a platform solely dedicated to the online trading of men's dress shirts, unimpressive sales in this area meant that menswear was soon dropped by the site altogether in favor of women's and kids clothing only.
However, for those interested in purchasing the latter, thredUp claims to add 15,000 new items every day to its "curated" selection of products. Indeed, the platform positions itself as "the world's largest online thrift store." And despite featuring numerous high quality brands, pricing is actually quite moderate.
Tradesy
Tradesy is another womenswear-only eBay alternative offering a wide range of clothing items from luxury brands, both in new-old-stock and lightly-used condition. A sample search – for Balenciaga – brought up products ranging in price from mere tens through to thousands of dollars, with most typically in the mid hundreds. However, many were also significantly discounted from their original price.
Whereas many online luxury consignment stores do their veracity checking before products are shipped to customers, Tradesy keeps no inventory and instead the seller ships directly to buyers in the same way as they would do on eBay. This means that Tradesy's "authenticity experts" will intervene only if a product is returned. The result being that, unless you already have some suspicion that the item you've purchased might be fake, you'll likely never find out.
Nonetheless, the company reassures shoppers that it uses "advanced technology to automatically detect and remove any replica items" from the site. Let's hope so.
Vestiaire Collective
Now partially-owned by Vogue's Publishers, Condé Nast, French luxury goods platform Vestiaire Collective is all about the brands. Lots of them: "25,000 new items are submitted by our community of sellers every week," claims the marketing spiel. This makes Vestiaire Collective one of the most active market places for secondhand luxury fashion right now.
Vestiaire Collective has an unusual business model in that once you have purchased an item, the seller doesn't ship directly to you, but instead sends it to Vestiaire HQ to be checked for authenticity by "in-house experts" before it's forwarded on to its final destination. While this no doubt helps to reduce the number of fakes in the system, it must also add considerable expense and delay to shipping times.
What's more, perhaps owing to translation from the French, some labeling of products and categories on the site can be a little confusing. For example, when I checked, both a sports blazer and a denim jacket were listed under the category of "vest." Meanwhile, bomber jackets, a zip-up windbreaker, and a coach jacket were all masquerading as "peacoats."
Prices on Vestiaire Collective are generally quite steep, even for "unsigned" products (i.e. those from unknown brands). The name itself is pretty cool though, translating as it does as something like "communal closet."
Vinted
Although viewable online as a desktop platform as well as an iOS and Android app, Vinted is similar to Depop (above) in that it takes a simple Instagram-style feed as its format. Yet whereas Depop is more geared towards under-25s, Vinted's slightly less hip listings mean that the platform is also popular with some more "mature" shoppers too.
Vinted doesn't offer a huge amount of menswear at any one time, but turnover is fairly rapid so it's worth checking back often. Rather than offering much in the way of true vintage or designer consignment, Vinted's inventory is largely made up of nearly-new clothes from mass-market brands such as Urban Outfitters, Forever 21, Brandy Melville, and Gap. But it's also a place to track down used examples of "hyped" labels such as Supreme and Palace.
Prices range from around $15 through to $200 and beyond. Or directly exchange your garments with other users.
Zibbet
Zibbet offers a similar layout and functionality to eBay, but with much more limited search functions. However, for men at least, this may not matter too much anyway, as there's just not a great deal of menswear on the site in the first place: indeed when I last checked, all the listings in this category could be viewed across 2 pages of results. Zibbet is definitely worth a look at for womenswear though.
---