Away from the febrile posturing of social-media stars in the piazza, inside the halls of Florence's Fortezza da Basso the real action of Pitti Uomo 94 was taking place. Here buyers with the purchasing-power to decide what many of us will be wearing 12 months from now perused the booths of the world's leading menswear brands.
Some of the labels pitching their wares for SS19 were relative newcomers, others were long-established heavyweights back with renewed energy and a fresh twist. In this first installment of a two-part article on the best brands from Pitti 94, we round up a few of the designers that most caught our attention.
SEASE
Part showroom, part art exhibition, SEASE's "base camp" in the Polviera pavilion was without a doubt the most sophisticated brand showcase of Pitti Uomo 94. Indeed, dramatically lit and displayed alongside large-scale photographic artworks, in this context the label's creations appeared more like museum exhibits than sales samples.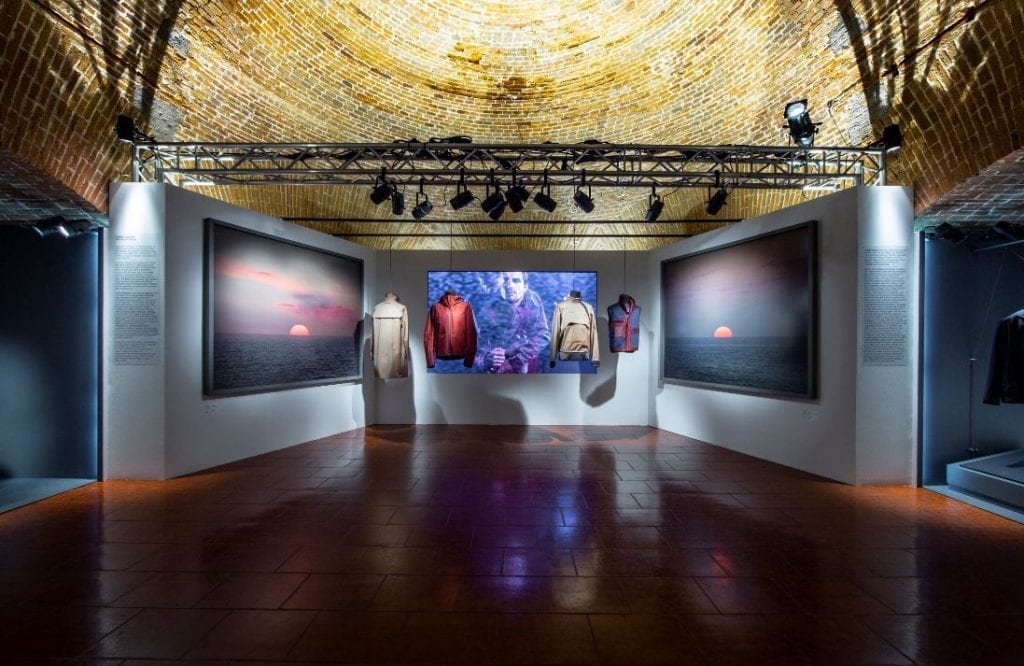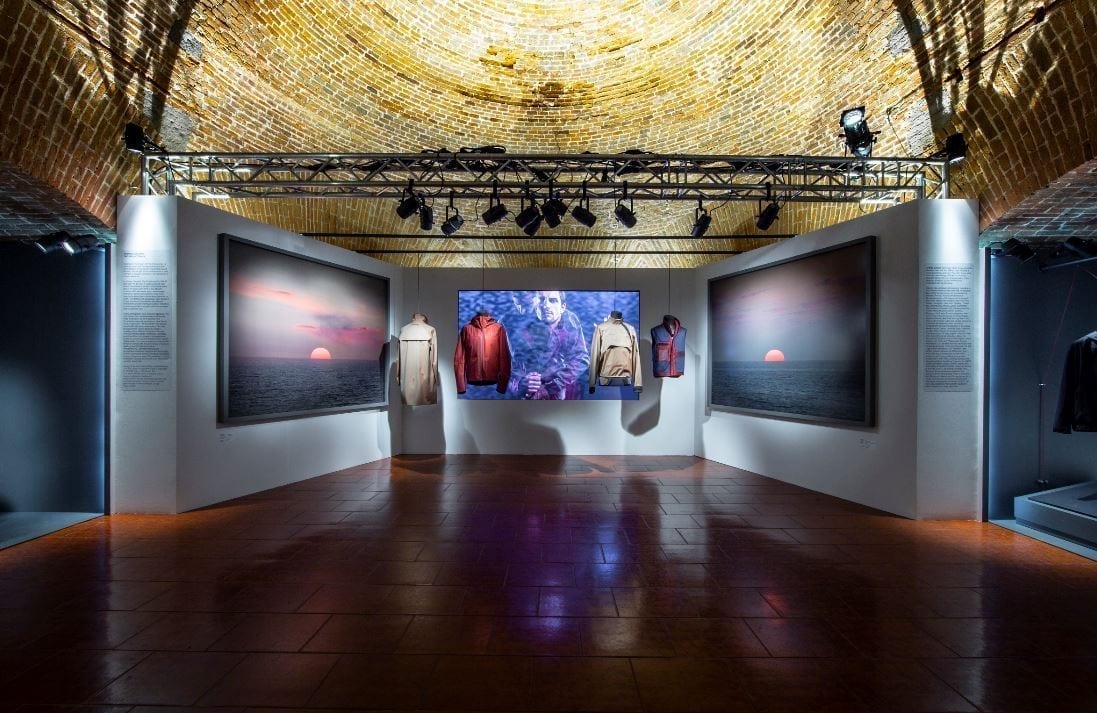 Recently launched by textile luminaries the Loro Piana brothers, Franco and Giacomo, SEASE fuses sportswear with more elegant luxury tailoring. Naturally, any project worthy of the Loro Piana name will place fabrics at the forefront, and SEASE's tech-wool and bio-nylon cloth made from recycled materials emphasize both technical innovation and a concern with environmental matters.
As expected from a label of this caliber, production of SEASE fabrics and garments takes place entirely in Italy. Combine this with a more stylish silhouette than your average outdoors-apparel, and you'll be as likely to spot SEASE garments slinking through the streets of Shibuya as scaling the Dolomites.
Comme les Loups
Belgian brand Comme les Loups ("like wolves") started life offering a small run of bow ties when Isabel Naesens – the architect-turned-neckwear-designer behind the brand – was unable to find a suitable design for her boyfriend to wear to a wedding.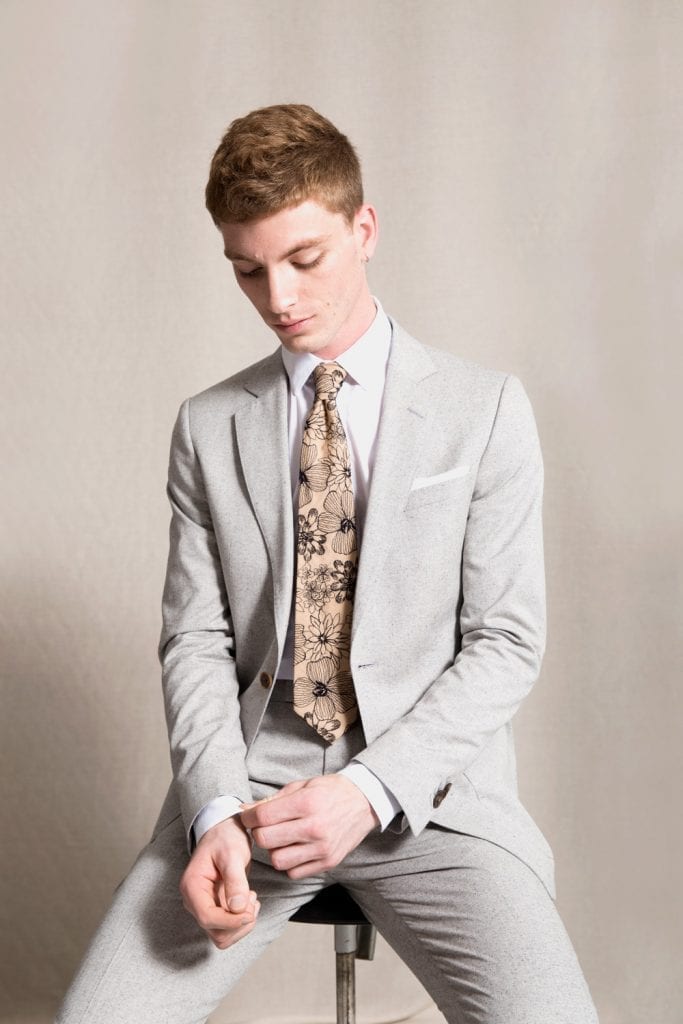 Since then this side project has developed into a fully fledged label, producing nice quality ties in France and Belgium using European and Japanese fabrics.
Personally I've never worn a bow tie in my life, and unlikely ever will. But with a subtle color palette and a thoughtful use of delicate florals, Comme les Loups' small booth at Pitti 94 instead caught my eye for its fresh and contemporary range of regular silk neckties.
While there's nothing resembling these particular designs currently available from the brand's e-commerce store, for anyone seeking an alternative to the stuffy trad looks that still tend to dominate this area of menswear it will be well worth checking back in for Comme les Loup's SS19 collection once it comes online.
IKIJI
Whether we're speaking of clothing, architecture, music, or any other form of creativity, opting for a minimalist esthetic means drawing even greater attention toward the few elements that remain after all has been stripped away. Clearly then, anyone going this route needs to possess a strong eye for quality and detail.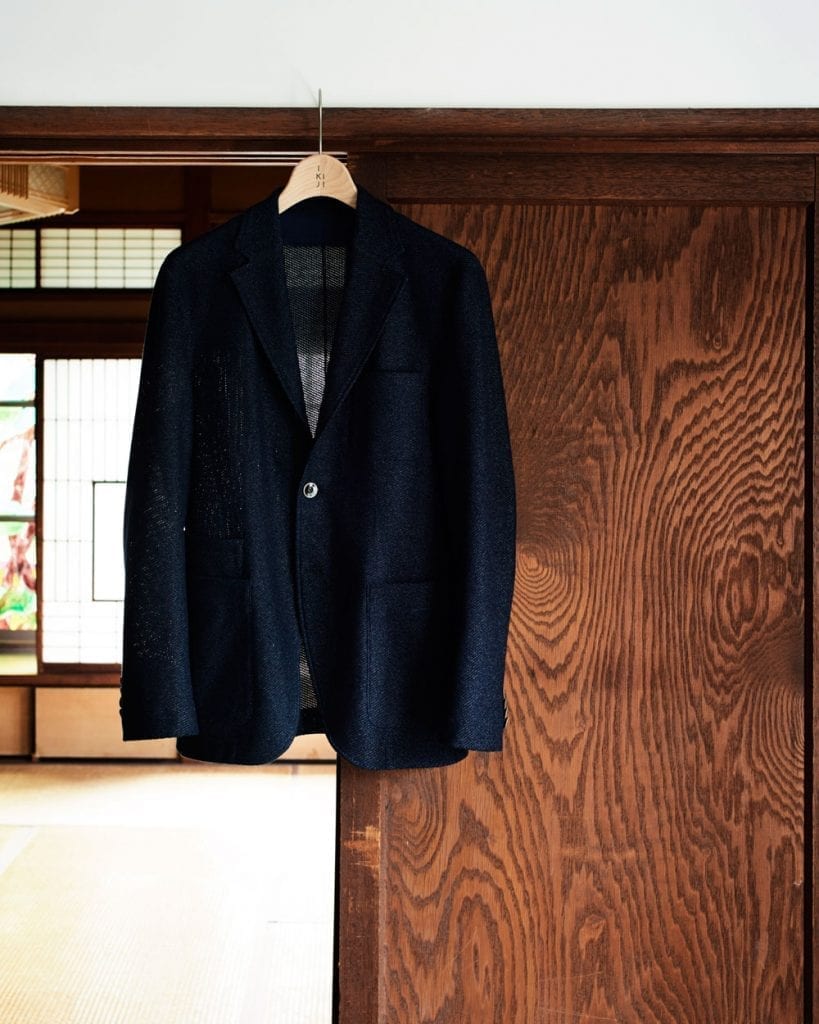 IKIJI's previous collections have indeed showcased some clever and original features. While most of these ideas have worked very well, a few of the more more outlandish designs perhaps tried a little too hard to innovate, and consequently fell a little flat.
However, with the spring/summer 2019 collection, it feels like these earlier creative experiments have fully paid off, and IKIJI has matured into something really quite special. These are not shouty, attention-grabbing garments, but altogether more subtle, sophisticated, and carefully considered items that will appeal to those with an eye for quality workmanship.
Not only are IKIJI's designs well thought-out, but also tested and prototyped way beyond the norm: one jacket from the SS19 collection was produced as a sample no less than 15 times before the design team were satisfied it was ready to go into production.
IKIJI designer Yuya Nakata told me that the name of the brand roughly translates as "chic". So while fellow Japanese minimalists at Pitti 94 – such as ts(s) and Teatora – explore the more rustic and formal ends of the pared-back spectrum, IKIJI's designs are at once both edgy and elegant.
For SS19 IKIJI offers shirts and blouson jackets in a very attractive persimmon-tone; relaxed tailoring in cool and delicate natural fabrics; knee-length shorts in a wool/silk blend; and lightweight cotton parkas. All made in Japan, naturally.
Hiromi Asai
Designer Hiromi Asai is based in the US, where she presented her first womenswear collection during New York Fashion Week FW16. Menswear was added more recently, debuting at Pitti 92 last year.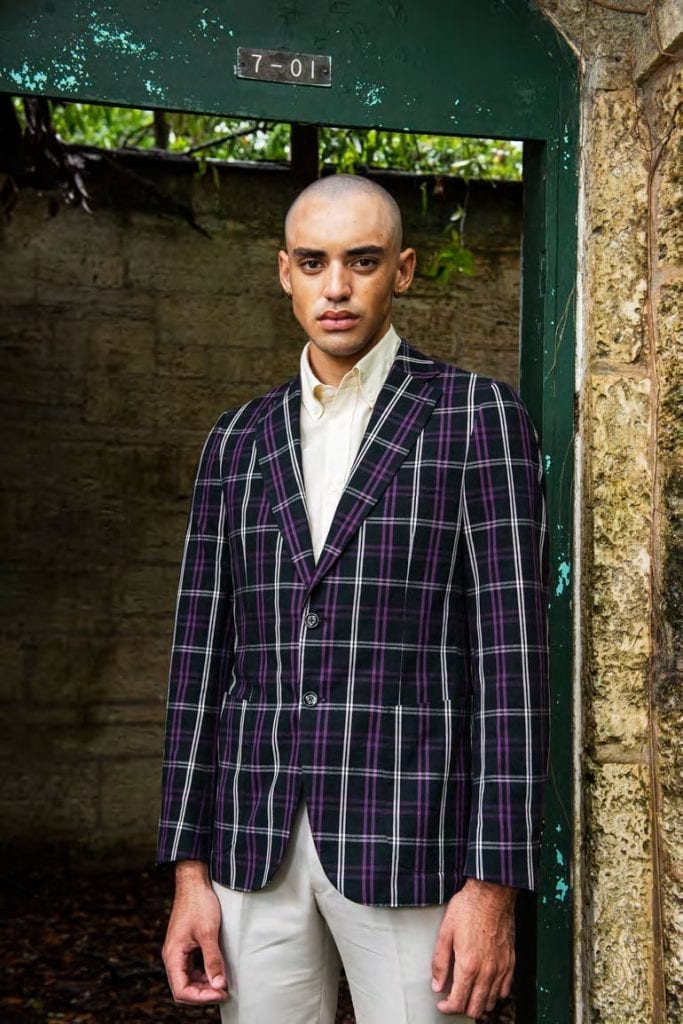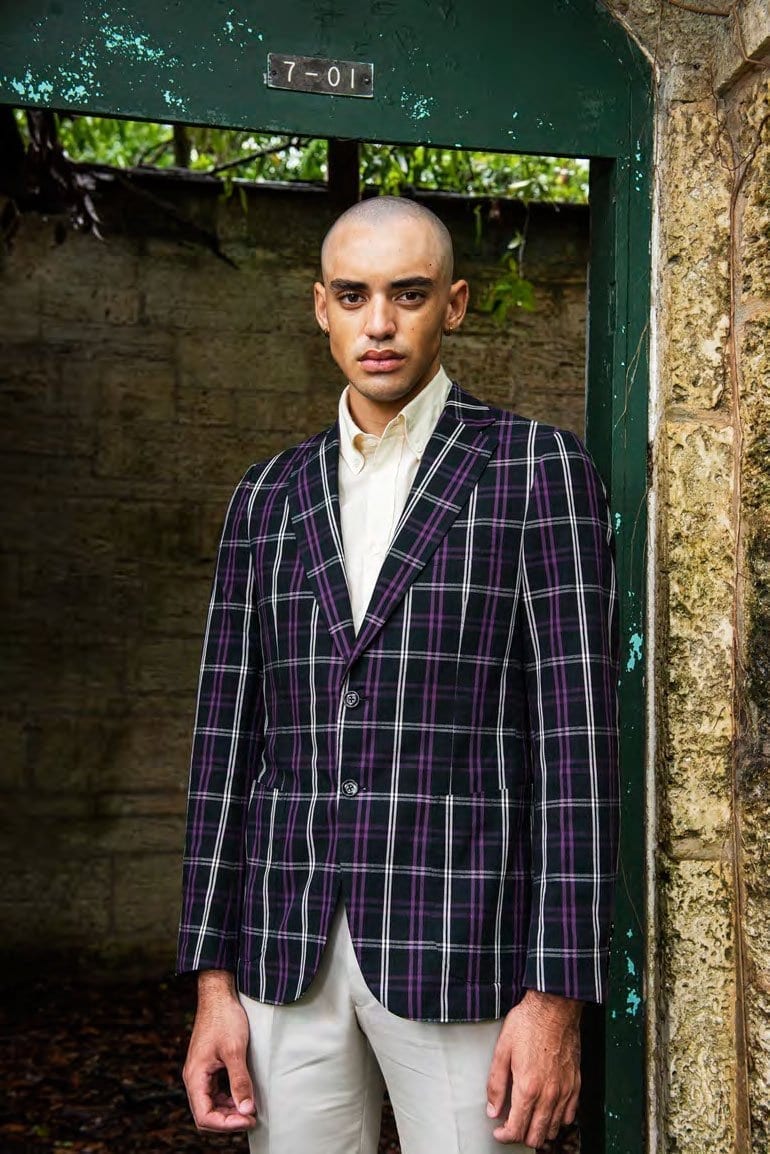 However, the unique pitch with Hiromi Asai is that all garments are made in Japan using traditional handmade kimono textiles. To be more precise, using fabric made on 100-year-old looms. This is no mere marketing gimmick though: the quality of the cloth is superb.
In theory, semi-formal shirts and sport jackets in bold colored plaid should look a lot like Ivy League Madras. In practice, the combination of a characteristically East Asian color palette with the traditional kimono weaving techniques produces an entirely different effect altogether.
Seek out Hiromi Asai for unlined and semi-lined sport coats in premium cotton fibers – constructed without interfacing for a better drape. Or go for the label's unique neckties in silk kimono fabric.
Haversack
While haversack's designs are heavily vintage-inspired, this is an entirely different vintage to the well-rinsed workwear, denim and Americana tropes which form the building blocks of most retro-obsessed labels today. Instead, over the last few collections, the Japanese brand's garments have all had a distinctly English feel to them, evoking in turn the fading days of British colonialism; WWII desert campaigns; cricket matches on the village green; and a retired Lawrence of Arabia knocking back gin on the veranda dressed in little more than his bathrobe.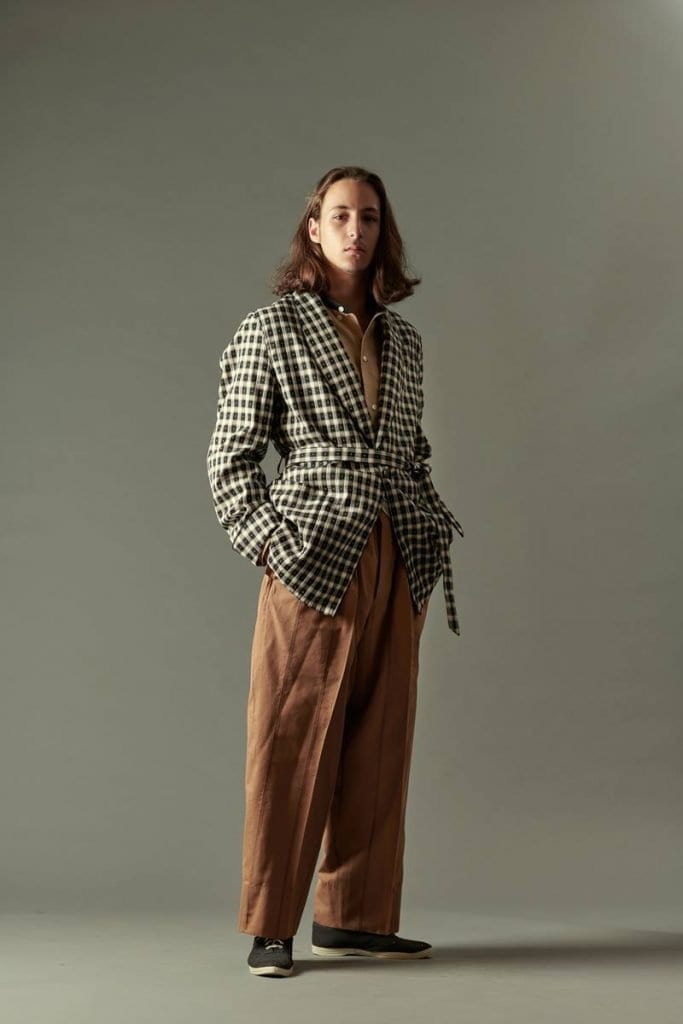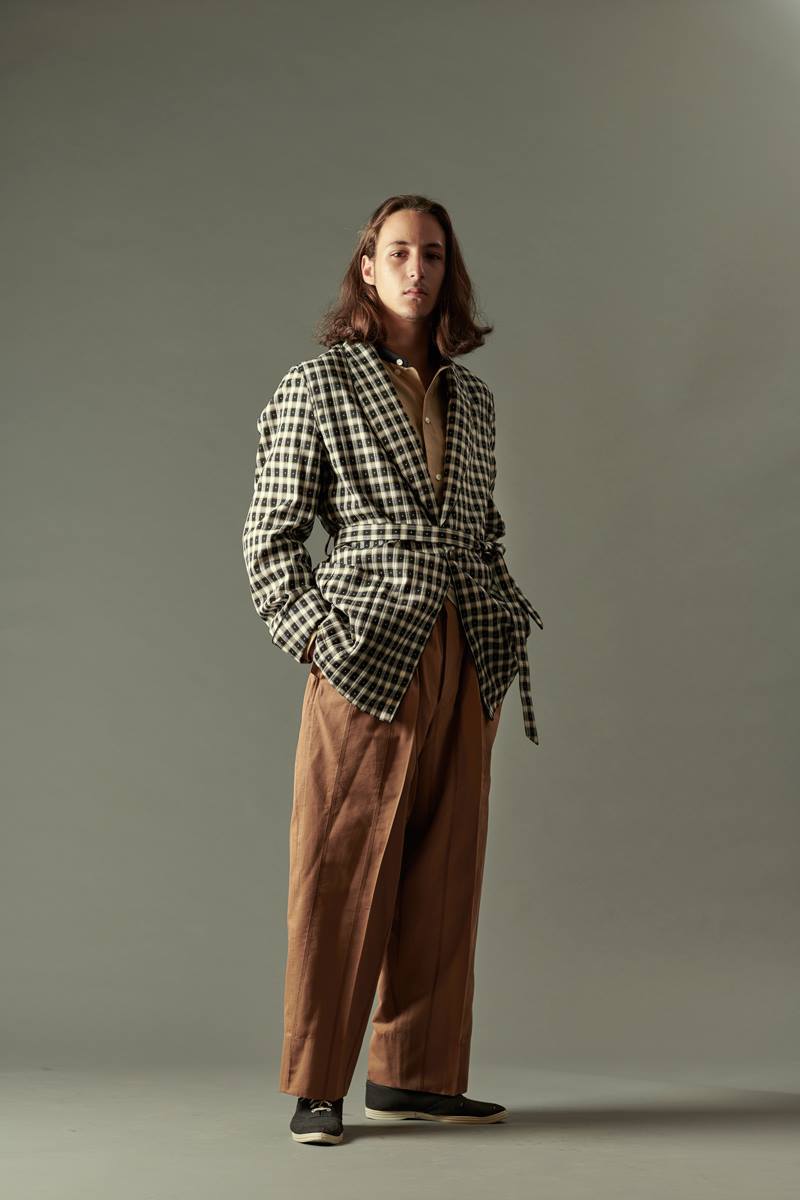 Sadly though, Haversack's visual branding doesn't always live up to the quality of its products (slightly amateurish photography; poor choice of models; a clunky old website filled with English language typos). But in an era when so many new labels put all their efforts into creating a slick brand image without concerning themselves with the "minor" detail of whether they've actually got a decent product to offer the world, Haversack's jerry-built marketing esthetic is perhaps more endearing than anything else.
Putting such superficialities aside, Haversack was a revelation to me with regards to the actual garments. Should I ever inexplicably find myself with a considerable sum of surplus income, I'd happily spend a chunk of it on Haversack's idiosyncratic, well-researched, and high quality offerings: clothes with one foot planted firmly in the present, and another on the footplate of a Cromwell tank as it retreats in disgrace from some former colonial enclave."¡Viva la resistencia!."
Se' by Icho Nobutsugu/Ma' Ry' Ya'
It's not entirely clear to me if these are two different lines by two different designers; two lines by one designer; or something else entirely. Either way, the Pitti booth under this (these?) name(s) contained some very nice products: primarily in the form of Italian-made knitwear, but also some sturdy Japanese-manufactured wide-legged jeans.
I would have liked to have spent a little longer clarifying precisely what I was looking at here, but the two individuals (designers?) holding the fort when I visited were very busy attending to a group of important buyers – and I didn't want to be responsible for a loss of sales. Sadly post-Pitti research about the brand(s) has not proven as simple or as informative as I might have hoped.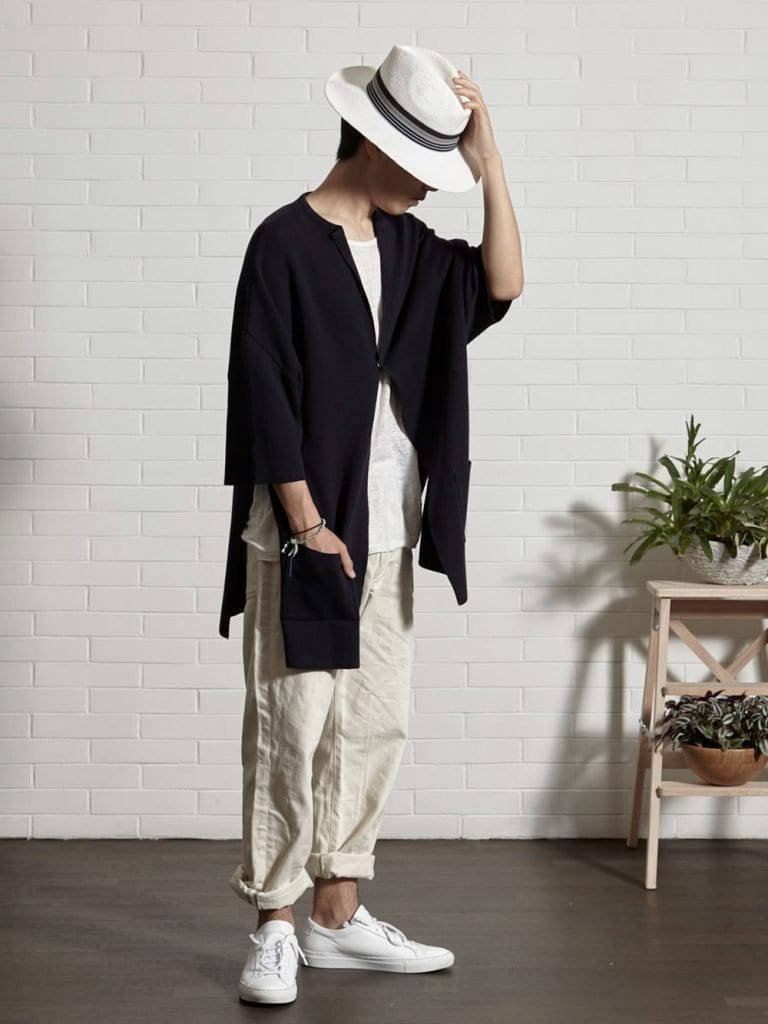 Beyond being impressed by the garments themselves, all I can gather is that Ma'Ry'Ya' is pseudonym of Milan-based designer Maria Icho, who designed knitwear for Giuliano Fujiwara for several seasons before venturing out on her own. Meanwhile, Icho Nobutsugu may, or may not, be a separate person.
Still, whatever the story, those who appreciate loose, draped, Japanese-style knitwear in premium quality natural fibers should go out of their way to track down some of this/these collection(s). Very pretty.
De Bonne Facture
Mostly constructed from Japanese cotton and linen (but also some Italian and British-made fabrics), De Bonne Facture's range of simple yet attractive designs will appeal to fans of fellow French label APC and other functionalist-minimalist menswear designers such as Margaret Howell, or even Barena.
De Bonne Facture essentially translates as "well made." I don't doubt that this is the case, as the products on show at Pitti seemed to be of extremely high quality and are all produced in France. However, an alternative meaning of the French word "facture" is a bill or invoice. So, more poetically, we might also interpret the phrase "de bonne facture" to mean something that merits a "good bill."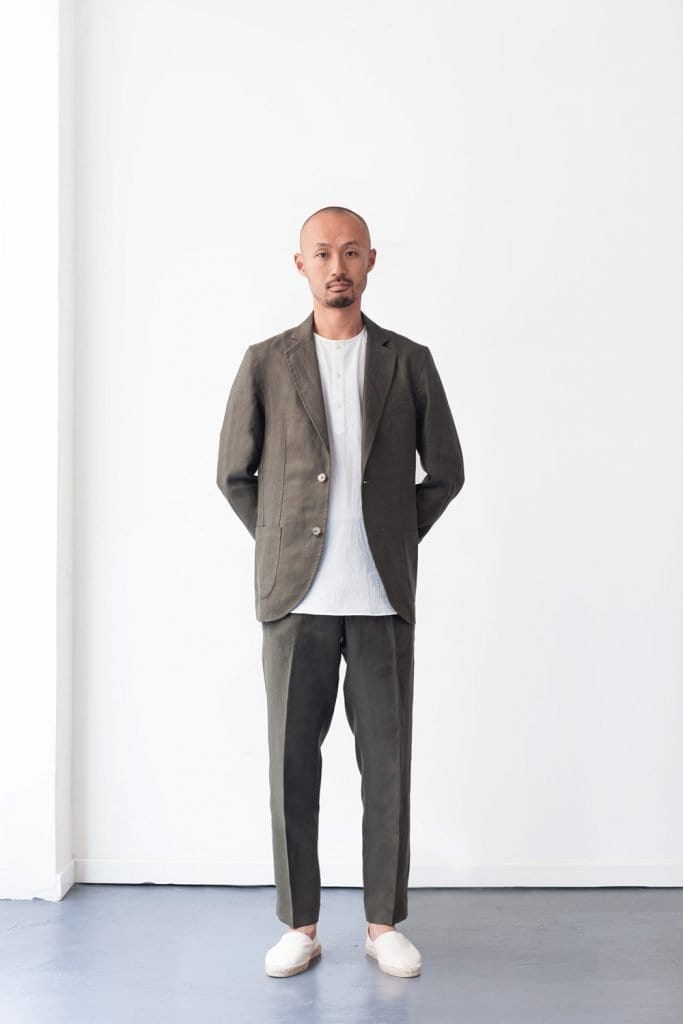 Which is a roundabout way of saying that De Bonne Facture's clothes are really rather expensive. Nice, but very far from affordable.
Still, you could likely burn your way through a lifetime's supply of poorly made fast-fashion junk before these items will show any serious signs of wear. Look on De Bonne Facture's understated but flatteringly-cut garments as a longterm investment.
Cohérence
Taking inspiration from European and Japanese intellectuals, artists, and other public figures, Cohérence's SS19 collection fuses classical men's tailoring references with more contemporary design and an emphasis on the innovative application of technology – particularly with regards to textiles – to create elegant outerwear of the utmost quality.
All Cohérence products are made in Japan, as are the fabrics the label works with – many of which are proprietary to the brand. As with all the best Japanese designers, there's a real attention to detail here, and production values are exemplary. Reflecting the label's focus upon updated classicism, I can just as easily envision Cohérence's macs and trenches being incorporated into quite sharp, edgy looks as I can imagine them draped over a CEO's shoulders as he passes from private jet to boardroom.
The label was at pains to stress that they are going for a "masculine look, not short or fitted." As someone who makes no attempt to disguise his willowy build, being told I'm somehow less masculine (whatever that might mean: my genitals aren't going anywhere) for choosing not to hide my skinny frame under billowing, tent-like clothing probably shouldn't make me all that sympathetic to Cohérence's cause. But this narrow and anachronistic concept of manhood aside, I have to say that I really quite liked the brand's products.
In any case, I didn't notice the cut of the garments to be especially voluminous. Perhaps something was lost in translation, and the intention was more a reaction against the pulse-restricting silhouettes that have dominated for the last decade or so. While I personally wouldn't consider either look superior to the other, creativity thrives when it has something to kick against, so I'm happy to let this one pass.
Indeed, elegant, well-proportioned, and beautifully constructed from high quality fabrics, there's a lot to like about Cohérence. Money being no obstacle then, I'd purchase from the brand in a flash. However, high production values come with prices to match, so it's quite unlikely that I'll be placing an order anytime soon. Ho hum.
Kings of Indigo
Kings of Indigo is an Amsterdam-based denim brand that I had not previously come across. For SS19 the label offers a quite fresh-looking range of jeans and casual wear in a strong and lively color palette. After decades in which high-end denim was pretty much only available in various shades of indigo, over the last few years the unbleached and un-dyed look has become the true mark of the fashion-conscious. And despite the color-committed moniker, Kings of Indigo has this angle well covered too, with a range of jeans, shirts and jackets in raw ecru.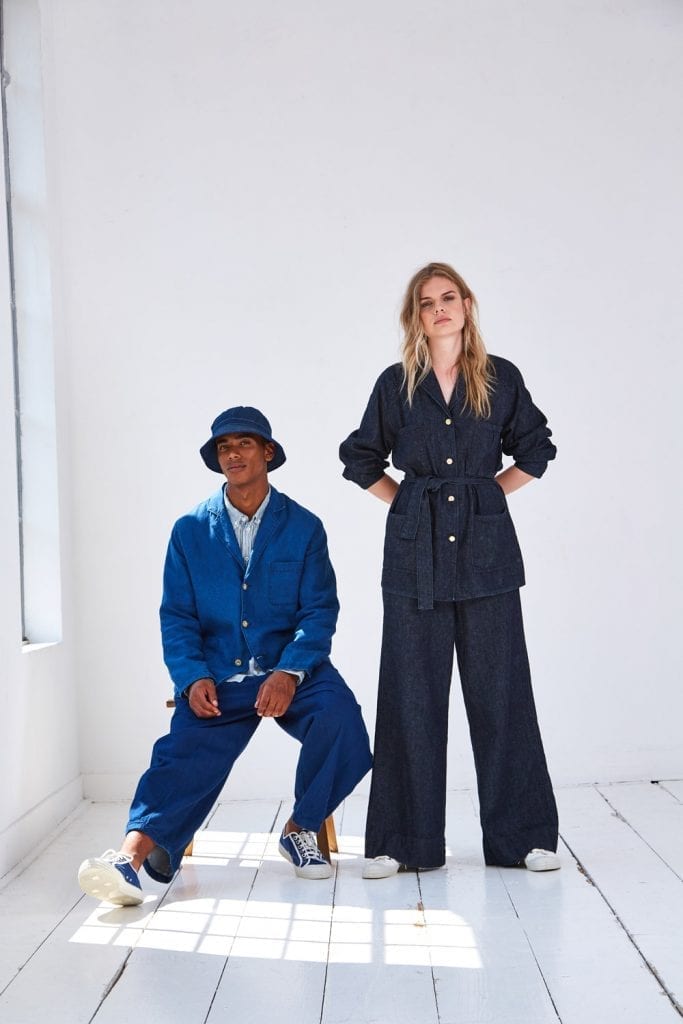 Beyond the vibrancy of the brand's designs, Kings of Indigo is inspiring for its clear commitment to a more sustainable and ethical form of garment production. Indeed, 18 months ago, the label earned the title of "most sustainable denim producer in Europe." As part of this commitment, the brand is transparent about the sourcing of its textiles and place of production (Europe, or nearby) – listing this info on its website.
Kings of Indigo's designs are "inspired by American classics with a Japanese eye for detail." At one point the label was even called Koi. Concentrating on denim, it is understandable that both the US and Japan will loom large (pun intended) as points of reference for the brand. However, Kings of Indigo goes a little further than this, drawing upon Japanese iconography for everything from brand logo to T-shirt designs.
As will be apparent from the number of Japanese brands featured in this article, I appreciate Japanese style as much as anyone. However if I want Japanese details, I'll turn to Japanese designers. Not that it's any of my business of course, but I would much rather see an exemplary European denim brand such as Kings of Indigo pursuing a more uniquely homegrown direction.
Can I be accused of double standards after raving about Japanese brand Haversack's classic English-inspired looks? Perhaps. Yet Haversack offers a reinterpretation of a bygone Britishness that can't really be found anywhere else (if indeed it could ever be found). Meanwhile, Evisu already exists.
This minor criticism aside, there's enough going on with Kings of Indigo beyond mock-Nipponica for the label to be worth checking out. What's more, I have only praise for the brand's dedication to developing a more sustainable and transparent production model.
If the first installment of this series is rather heavily weighted towards Japanese labels, this is of course in part because my own tastes tend to lean more towards clean and understated apparel of precisely the kind Japanese designers so often excel at. However, it also simply reflects the efficiency and speed in which brand press officers supplied us with images to illustrate the article. This being the case, you will still find a number of Japanese brands reviewed in Part 2, however there will also be several others originating from nations with, shall we say, a somewhat more relaxed attitude to business and promotion.
---