Clothing prices are on the rise with inflation. Within the broad apparel category, the consumer price index increased nearly 5% during the past year.
However, the situation with men's apparel is nuanced.
Since June of 2020, menswear increased a relatively low 1.5 percent, as womenswear increased 5.3 percent. Meanwhile suits and outerwear decreased 7 percent. You could say we're in a buyer's market for tailored clothing right now.
But if you're looking for a hoodie or some pants, expect to pay a premium, perhaps 11% more than you did in 2020.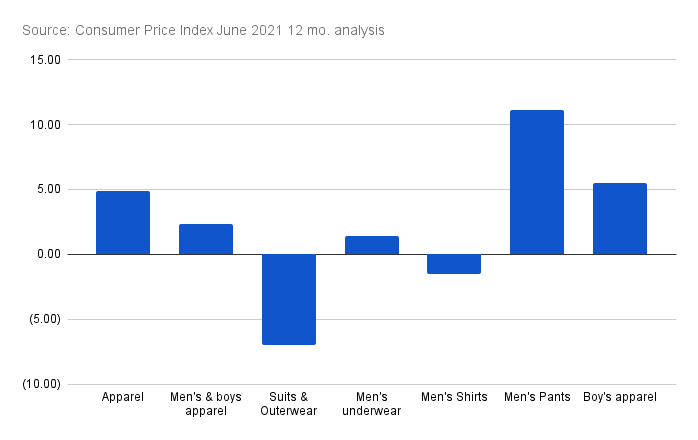 Data Source: U.S. Bureau of Labor Statistics
In general, the price of office attire is dropping while casual / athletic clothing is on the upswing. The timeline of workers returning to the office has been slow and uncertain, so we can expect the current trend to continue, which should mean good deals on tailored jackets, trousers and formal shoes for the near future.
Should you be concerned about rising apparel prices? I don't believe so. As a customer, there are so many ways to control spending and save money on clothing purchases. For a retailer, increasing your price by a few bucks in specific categories won't scare away consumers, and demand is currently strong.
What about imports and the supply chain?
So we've established that clothing prices have increased with inflation in certain categories, but also decreased in other categories due to lowered demand through the pandemic.
What can we expect with apparel prices in the Fall/Winter of 2021-2022?
Some in the industry see threats in the supply chain. Stephen Lamar of the American Apparel and Footwear Association is urging policymakers to address the current shipping crisis as well as the tariffs put in place by the previous administration.
"The next several months are critical to the American retail industry" writes Lamar, "as we prepare for back-to-school and holiday shopping. If action is not taken, we risk empty shelves that would trip up our nation's economic recovery."
(Lamar is one of many industry people lobbying for changes as the infrastructure bill is finalized.)
If a retailer doesn't have a strong supply chain or employees to run their operation, they may not have the items you want to wear this season, when it's finally time to return to offices and schools.
Will these supply chain issues affect the price we pay for clothing? It depends on where you shop, but it's certainly possible that low supply drives up the prices you see this coming year.
Brands such as Ralph Lauren, Chanel, Louis Vuitton and Michael Kors have reportedly raised their prices to offset recent lost sales and reduced inventory.
Our position
Personally, I'm going to shop past seasons and make do with what's in my closet for another year. That said, I'm not one of the many people who changed sizes during the pandemic, so most of my clothes from 2019 still fit. When it comes to clothing for the kids, I've always relied on hand-me-downs from aunties.
As for the store inventory, we're working on some 2015 era merchandise this week. Check in with me in 7 years to find out if we are then being affected by the 2021 transitory inflation and supply chain bottlenecks.
Photo credit: Markus Binzegger on Flickr shared as Creative Commons attribution 2.0 Generic