As the season kicks off once again, we were back down at the Fortezza da Basso in Florence, Italy, to check out the latest street style looks from everyone's favorite fashion-trade fair, Pitti Uomo.
Accustomed as we are to seeing Pitti-goers dressed in medium-weight suits, with slip-on shoes, and no socks, it can be easy to imagine that Florence enjoys an agreeable year-round climate like much of southern Italy. Sure, some peacocks may occasionally sport an overcoat. But as it will invariably be worn hanging off the shoulders, rather than using the armholes like any normal person would, this only serves to reinforce the idea that Tuscany is balmy even in mid-winter.
But Florence holds a dark secret: chronic humidity. So while those attending Pitti in June will likely be perspiring like the Trevi fountain under their fine suitings, in January the cold is every bit as vicious as the summer heat is energy-sapping. Unsurprisingly then, the winter edition of Pitti is a slightly less flamboyant affair than the June event.
Nonetheless, there were still plenty of stylish, innovative, creative – and even just downright eccentric – dressers at the Fortezza strutting their stuff on the first day. Not only this, but unperturbed by the biting cold, many even managed to accessorize their dreary Winter overcoats in ways more fitting of a midsummer rave than the oily midwinter skies of central Italy.
Here we bring you the finest Pitti Uomo 95 street style looks and identify some of the key trends that we'll likely see filtering through to mainstream menswear fashions over the coming months.
Fluro
The plethora of Hawaiian shirts and garish, oversized sneakers on display at Pitti back in June were surely already an indicator that some of the more uncouth street trends of the last year or two were slowly being brought into the fold. But with Pitti 95 I think we can say that the scumbro look has been fully vindicated. No longer are day-glo accessories purely the reserve of millennials wanting to look like an early '90s drug dealer. Fluro colors have been freed from their acid-house origins and distributed far and wide across high fashion circles like a batch of bad pills.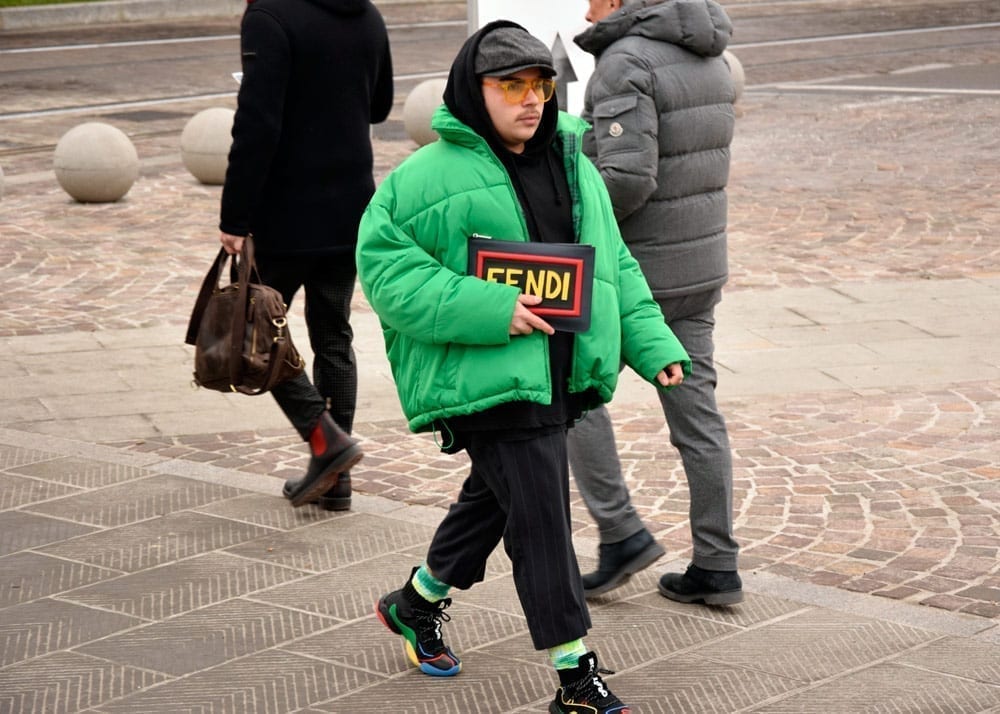 And just as well really, because if it wasn't for this trend, the gloomy first day of Pitti 95 would have been a decidedly dull affair.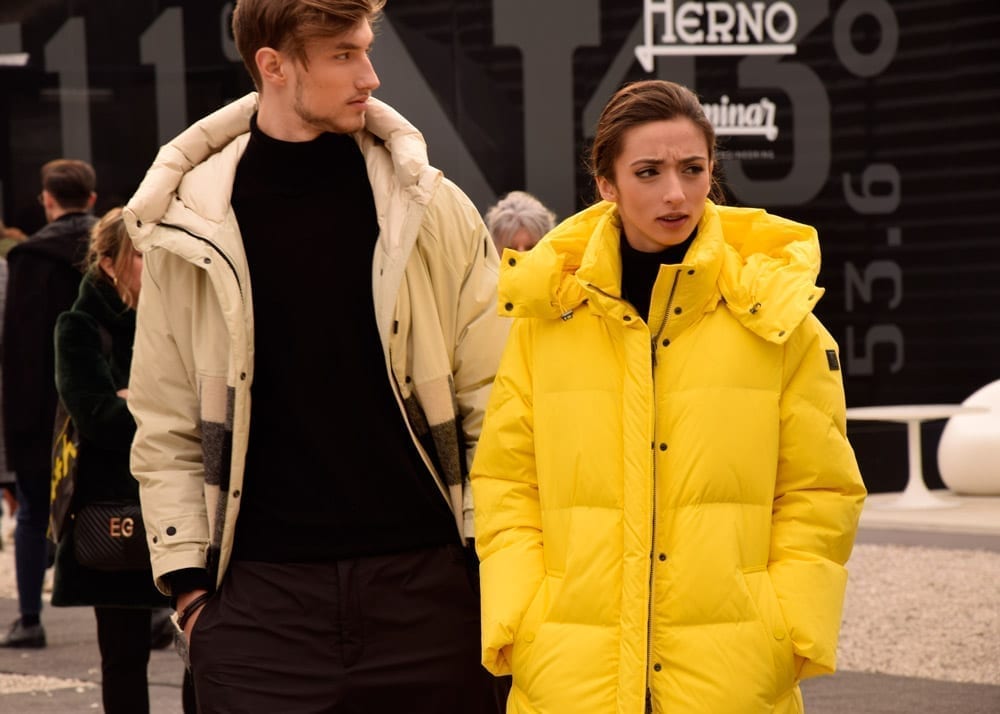 Fluorescent green was by far the most popular color doing the rounds, closely followed by safety orange. Some wore these colors as accessories only; for example, hat and socks adding life to more staid outerwear in classic winter colors. Others went all-out, donning coats made entirely in acidic shades for a look that can perhaps best be described as "walking highlighter pen."
And this brings us to the next, somewhat overlapping, trend…
Bold Primary Color Blocking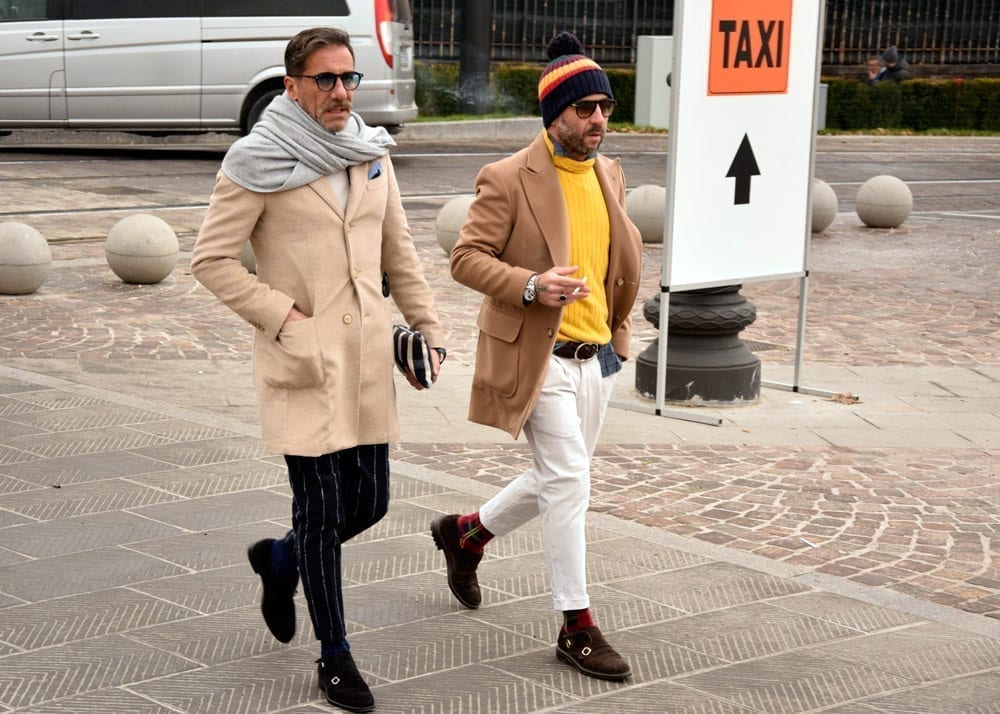 After several years of Pitti really pushing menswear in a more grown-up and sophisticated direction, with this season we're seeing things shoved back into the playground: solid-hued '80s-style old-school puffer coats in roaring primaries were a big look out there today.
Skirt/Kilts/Studs
Do man-skirts have a name? I'm not really sure, but it's a look that works best when pared with something more spiky, like a dirty old leather jacket and boots. Somewhere between King's Road punk and late '90s Tricky.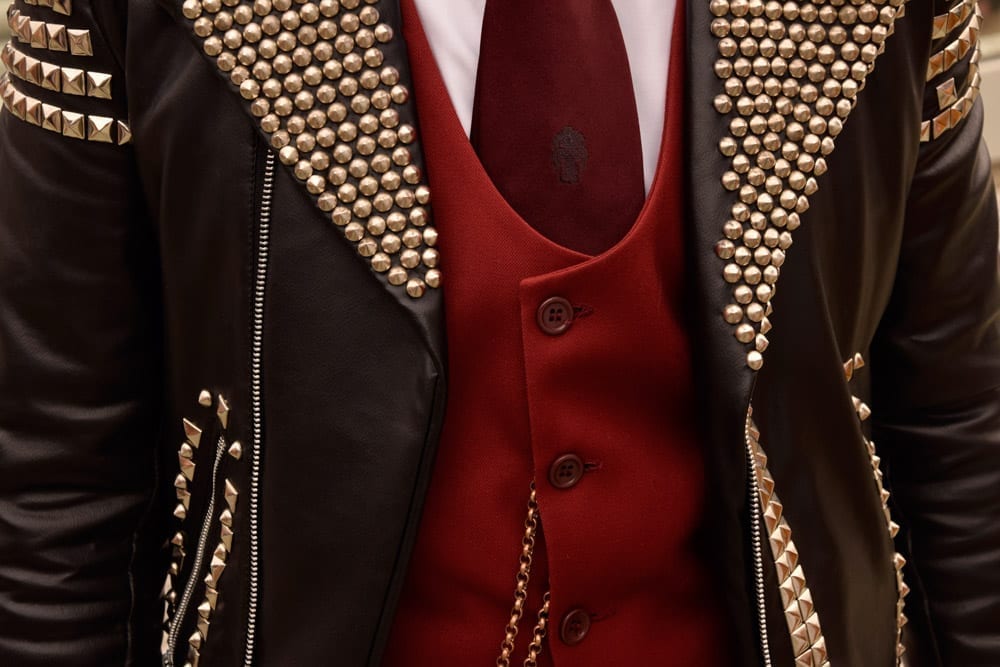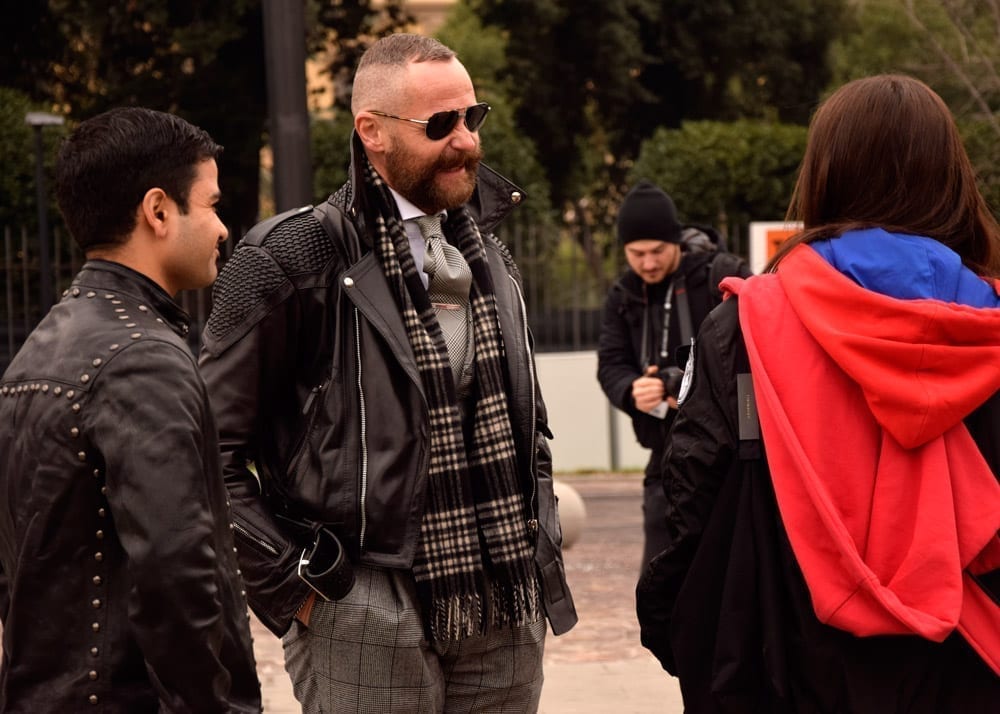 And although I didn't actually see anyone sporting their skirt with a shirt and tie, there's a related look that mixes up over-the-top aggressively studded leather jackets with elegant tailoring.
Beanies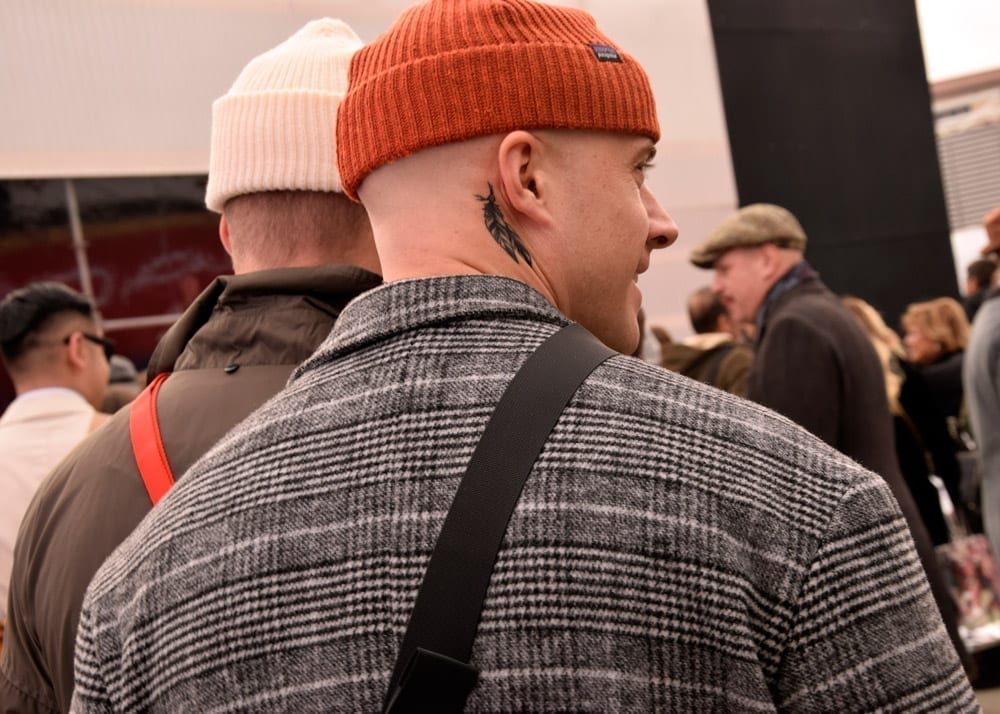 Beanie hats have probably never really been out of style. Yet they may just become so soon: as that's invariably the direction in which the pendulum swings once something is as ubiquitous as the beanie is right now.
Of course, at Pitti the beanies were mostly dayglo orange and green.
Leopard Print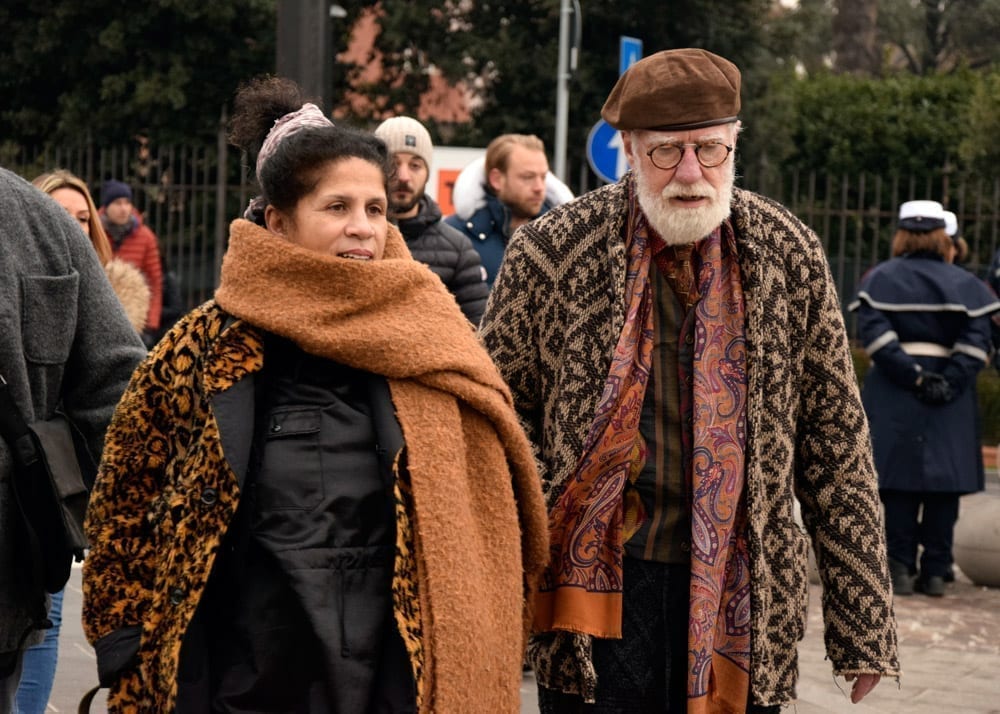 Pitti may be primarily dedicated to menswear, but plenty of women attend the event too. And for some reason, this time around one in four of them were wearing a leopard print coat. So too were a couple of guys. This one looks set to grow.
Wide Lapel Coats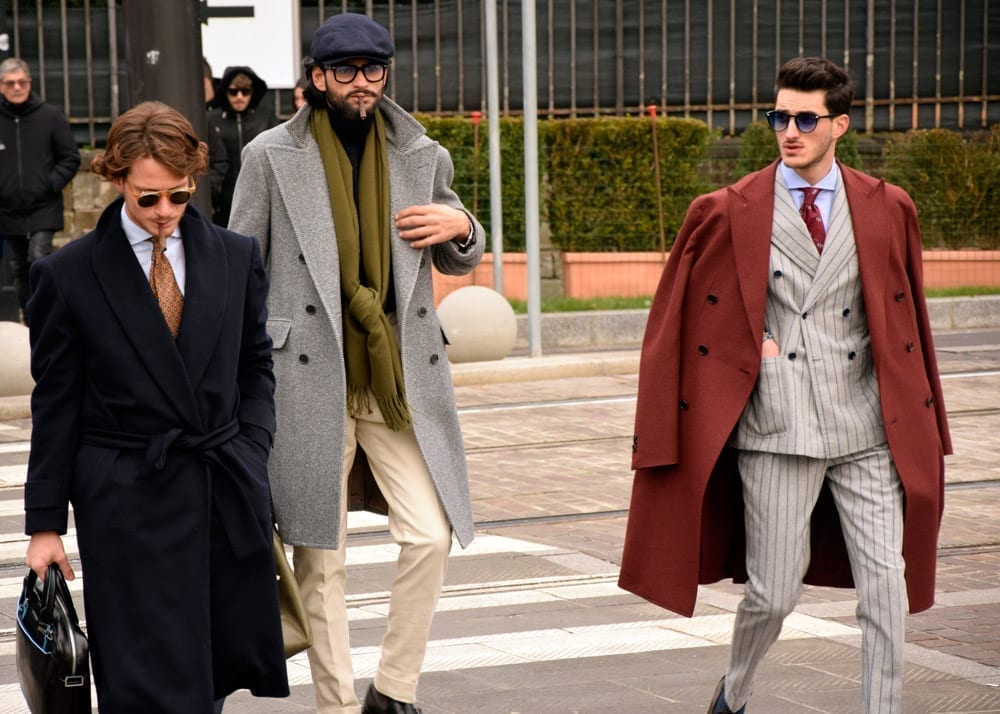 Pitti 94 seemed to be the point where the lapels on suit jackets formally bid farewell to the skinnier dimensions of the last years and fully embraced a more generous width.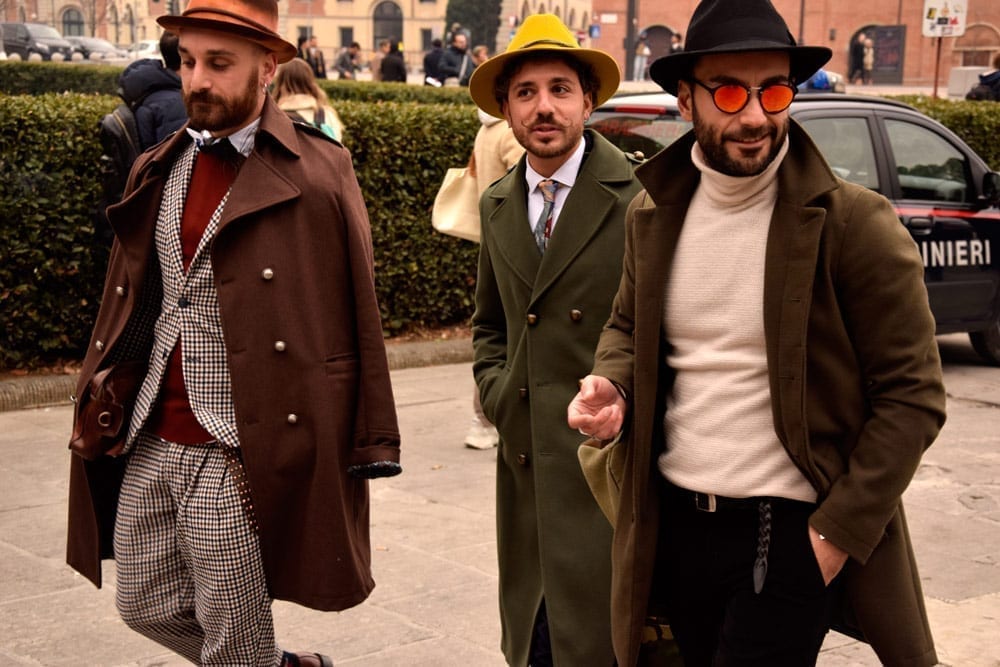 Unsurprisingly then, those Pitti goers who favor sartorial winter looks came in luxurious heavy wool coats with lapels reaching wide and low.
Heavy Flight Jackets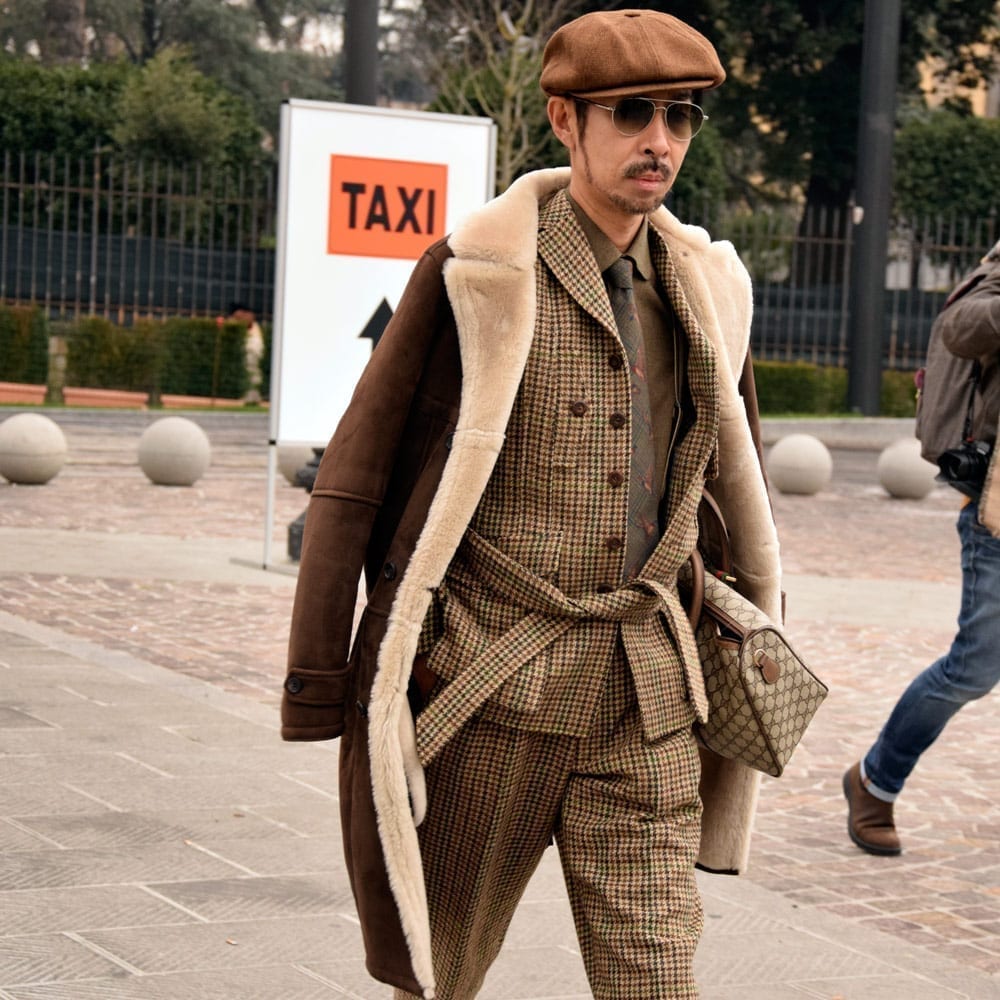 The more practically-minded Pitti-goer was distinguishable by his thick sheepskin or heavy flight jacket. As is your average market trader.
Capes, Blankets, Shawls, Oversized Scarves, and Ornamental Rugs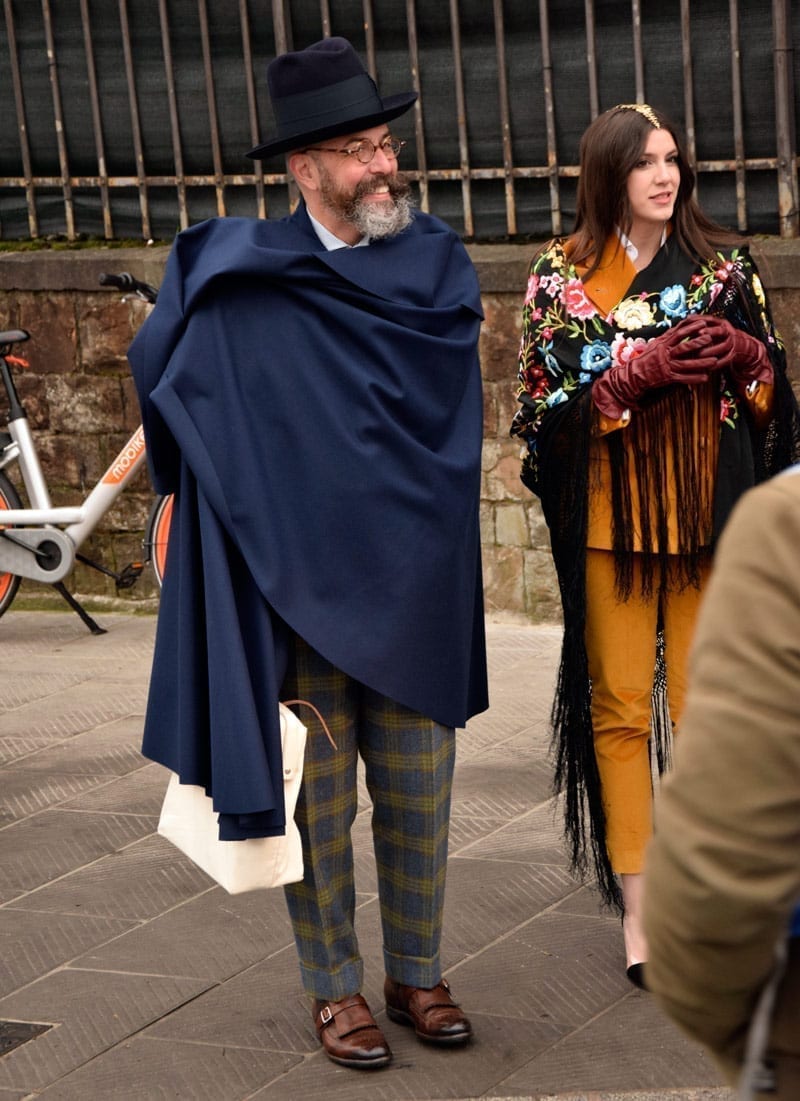 Other sensible attendees brought their bedding along. And some looked very stylish in it too. However, the freshest outfits in this category were probably those that included coats reminiscent of Persian floor coverings.
Vintage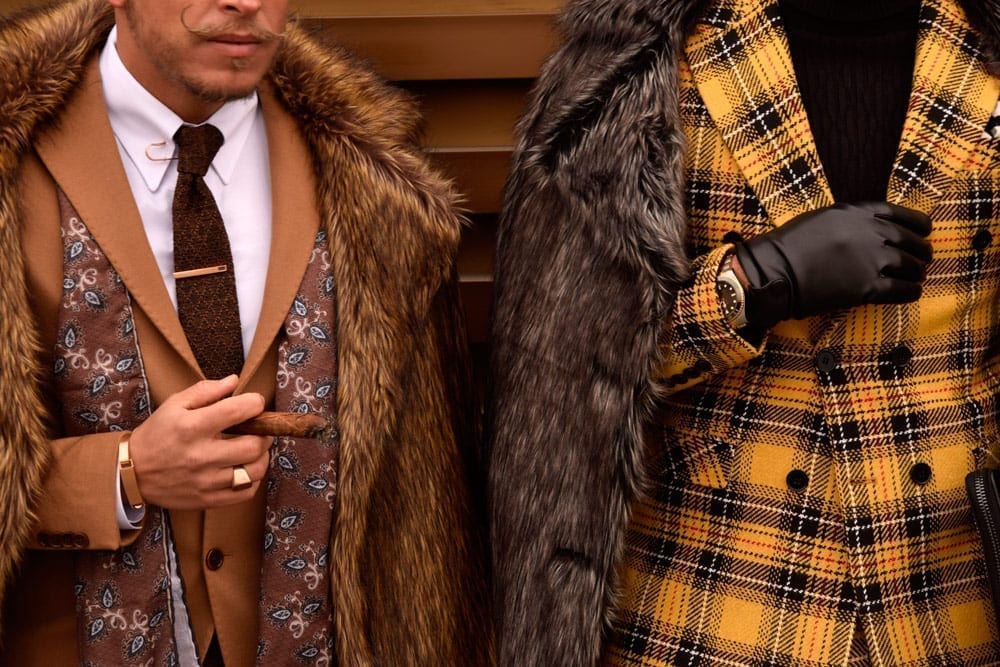 Many of the looks pouring through the gates of the Fortezza this morning had a definite vintage vibe to them. Whether this is merely a flash-in-the-pan trend or the first signs of a much more significant societal shift towards eco-conscious shopping is not clear. But there definitely seems to be an increasing number of people foregoing new purchases in favor of repurposing older items.
Receding Brim Lines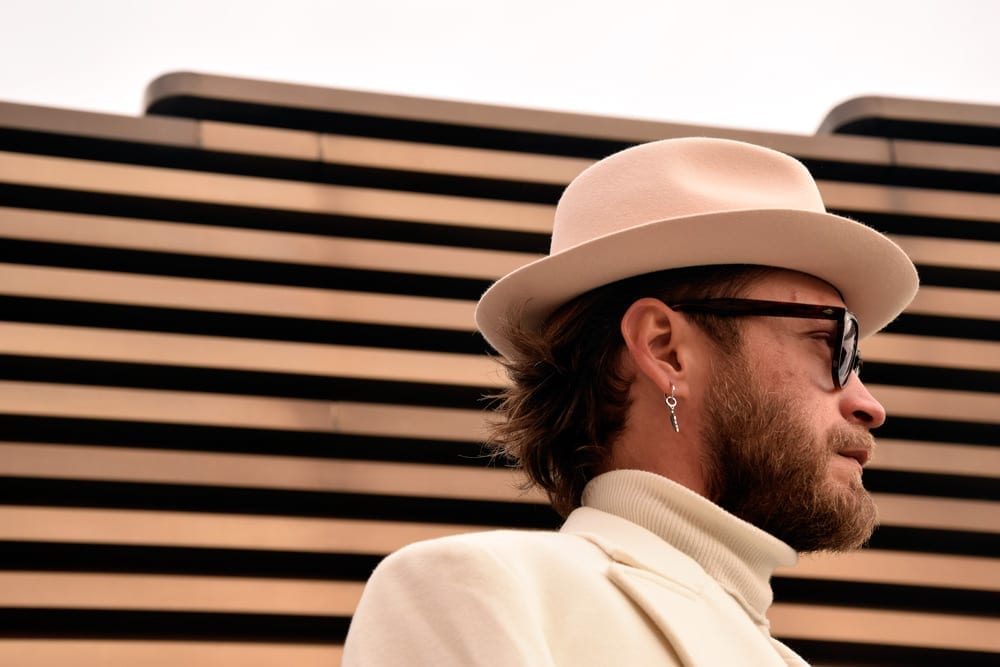 For a long time now Pitti has been associated with the rakish classic-dresser in slim-fitting suit, leather gloves, and a wide brimmed hat. There were still several specimens of the species in attendance, but these individuals were beginning to feel somewhat endangered; anachronistic even.
Instead, among a younger crowd, we could see a clear preference emerging for less pronounced hat brims. While cheap, mass-produced Trilbies can be purchased by tourists at virtually every popular sightseeing spot in Italy, the ones in circulation at Pitti were of an altogether much more sophisticated variety. Again though, often in strong colors.
Belt-Tie Trench Coats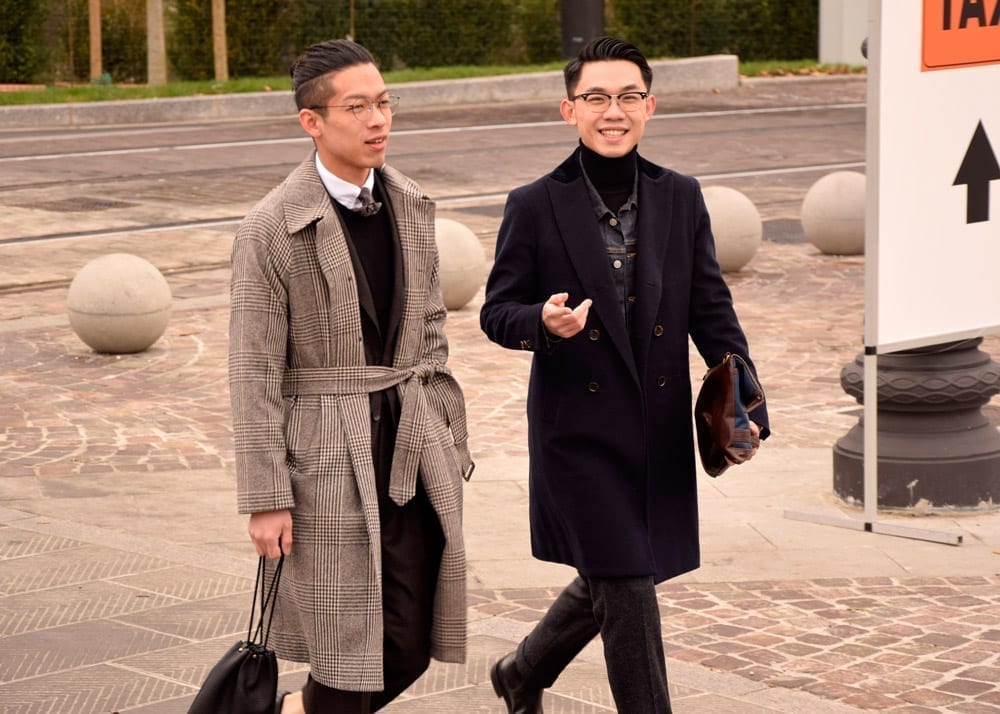 For some years you were most likely to see the belt of a trench coat flapping around in the breeze. If it even had a belt at all. At Pitti today they were assertively tied.
Burgundy Pinstripes
You wait all your life to see a burgundy pinstripe suit, and then two come along in one day! Coincidence?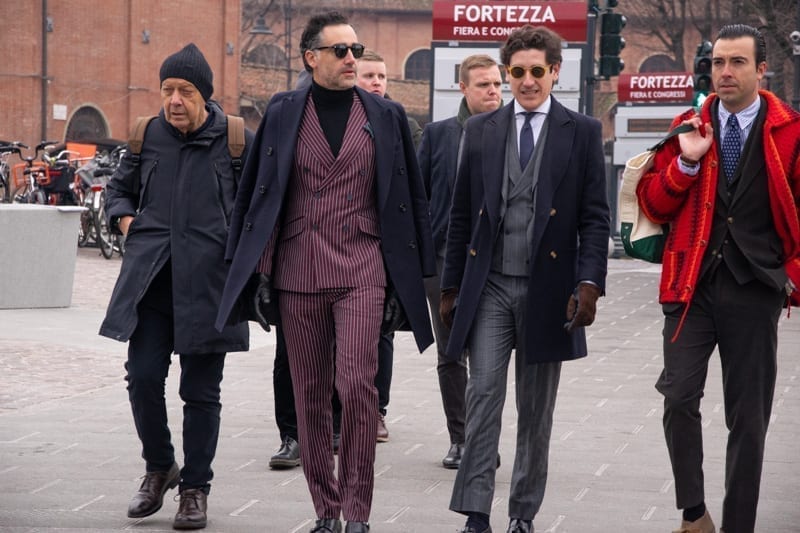 Oversized Layering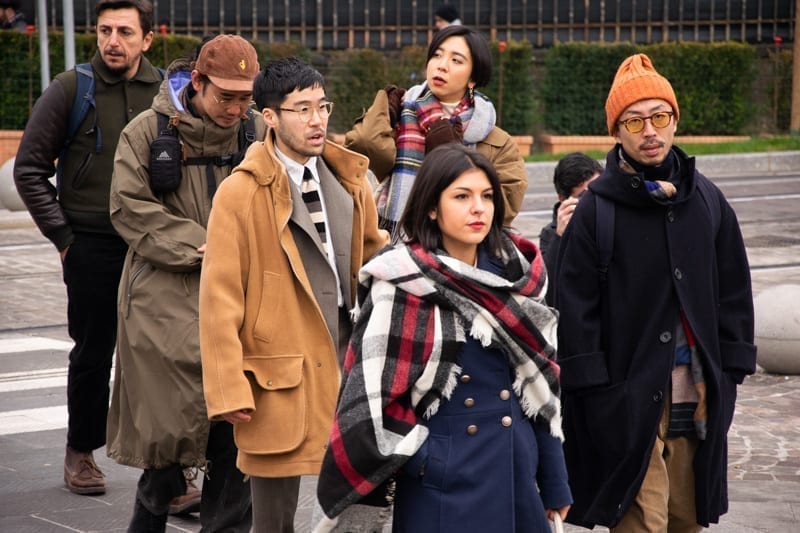 Again, this is one that's been with us for a while already, but at Pitti 95 the trend for oversized outerwear showed no signs of abating either. East Asians invariably do this the best, paring long, loose, A-shaped coats with equally baggy pants, some neat layering of short items over longer ones, and a woolen hat.