If you're just a casual follower of men's fashion, you can be forgiven for believing there's little more to Pitti Immagine than a carnival of streetstyle posers. But Pitti Uomo is first and foremost a trade show where the world's top menswear brands display their latest collections to buyers.
Sure, some of Pitti's more eccentrically dressed visitors have no reason to attend beyond indulging their evidently momentous narcissism. But while this social media crowd spends their entire time milling around outside, many other attendees merely enjoy dressing creatively while they go about the legitimate business of buying and selling next season's menswear.
Despite some reservations about the more vainglorious extremes of the Pitti peacocks, we still enjoy Pitti Uomo street style for the inevitable artistry and flare displayed by many visitors.
We're even more excited about the prospect of peeking out what exhibiting brands have in store for us inside the pavilions each season. And with everybody from century-old "heritage" heavyweights to shiny new start ups in attendance, the looks on offer each time are always highly diverse.
Pitti 95 was no exception. And we were pleased to see many of the designers we featured in our last guide to the best brands of Pitti had come though with even stronger collections this time around.
Here's our round-up of some of the more interesting labels to have shown FW19 collections at Pitti 95. From relatively old-hands pitching elegant and refined knitwear, through to exquisite plant-dyed Japanese workwear, there's sure to be something of interest here for everyone.
J-B-J
Unless you count denim and casual brands such as G-Star, Kings of Indigo, or Scotch and Soda, the Netherlands is unusual among European countries in that it lacks a distinct fashion identity of its own; instead largely aligning with the utilitarian minimalism of its northern neighbors, rather than the more avant-garde influences emanating from the Belgians to the south.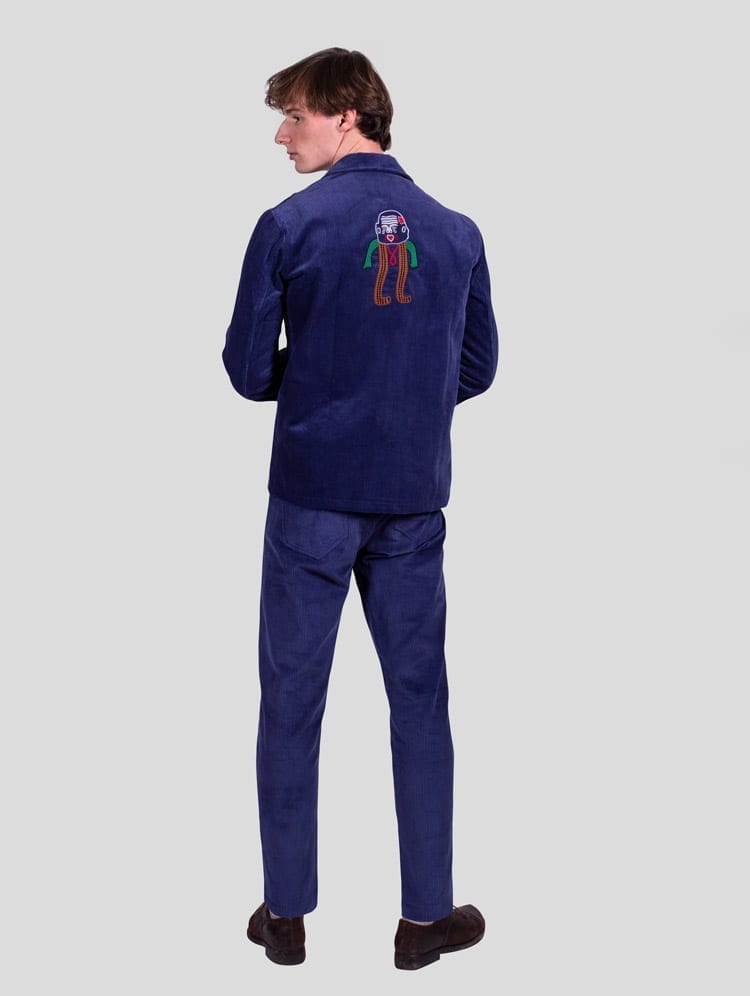 Yet Amsterdam-based designer Julien Villevoye's allegiances are with neither: "the Dutch are practical people, but I'm not into that skinny pants and white sneakers look" he says when I quiz him about this. Instead J-B-J has set its sights much further afield: with a sizable following in Japan and a collab with United Arrows under his belt, in his designs Julien combines the unfussy cuts, quality fabrics, and quirky details that many Japanese buyers find so appealing.
From afar, though, the items hanging in the J-B-J Pitti booth looked somewhat ordinary. However, closer inspection revealed their "USP": quirky embroidered motifs. These naive designs are produced by hand in India, either on premium quality Japanese cotton or a silky-smooth strain of merino wool. Some are humorous: fly agaric toadstools and shaggy Wookie-like creatures. Others more abstract and decorative.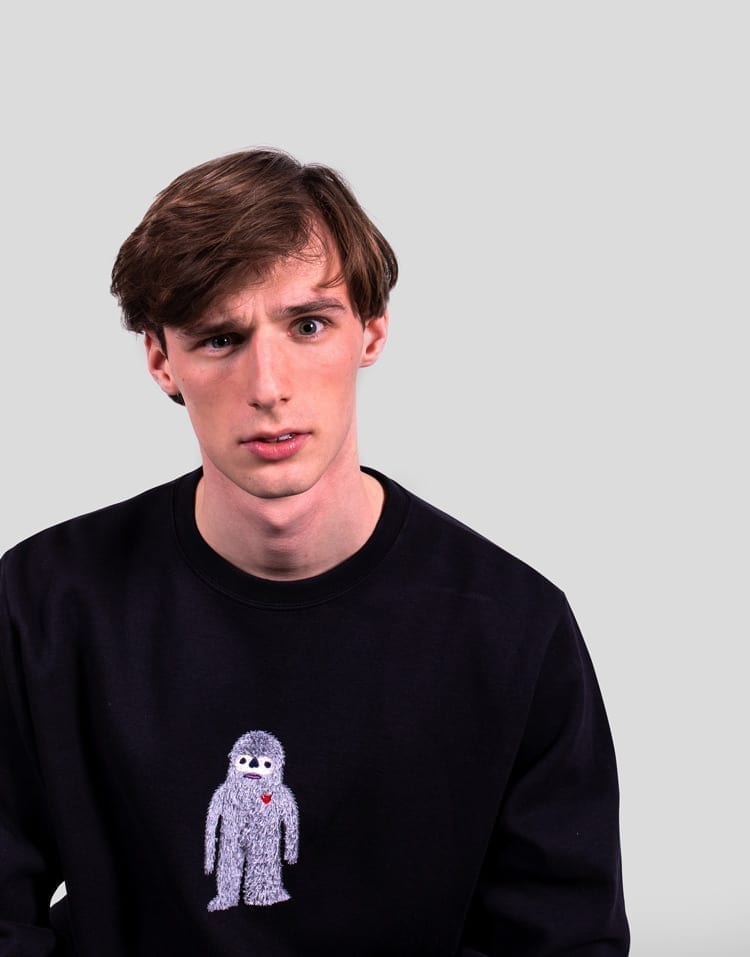 Not being an enormous fan of cutesy designs myself, in a few instances I was left wishing there was no embroidery on the garment at all. In others though, I had to concede that the small detail of a hand embroidered X on the placket, a few simple stitched stripes down the front, or a stylized little flower on the breast, really made the items unique.
In any case, aside from the novelty value of the embroidery, what had at first appeared to be unassuming products turned out to be nicely designed and manufactured clothes. Ones that would easily hold up in their own right as high-quality "essentials" without the need for embellishment.
But then there are already plenty of brands filling this niche, so all power to J-B-J and its embroidered mariachis!
Crossley
With a solid 12 years of production already under its belt, Crossley is by no means new to the world of menswear. It is, however, a label that was entirely new to us.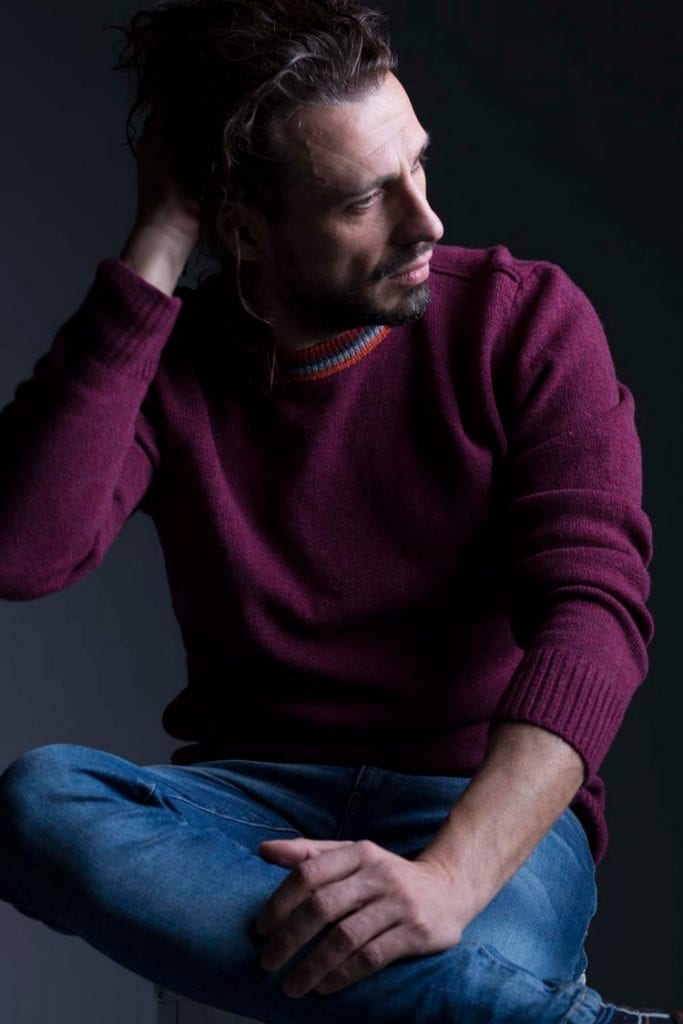 This Florence, Italy based brand was showing some great knitwear. Particularly of the more delicate summer variety. Which, when you consider that this was the F/W collection we were viewing, is actually a little odd.
Aside from the unseasonal designs though, what made Crossley stand out were the relaxed necklines of some garments: finally a designer who understands that not all men get a thrill out of being strangled by their sweaters. Of course, the wider neck openings only served to render these particular items even more suitable for wearing as slouchy, lightweight layers on cool summer evenings – rather than as protection against midwinter temperatures in the northern hemisphere.
True, there were also a few heavier-weight numbers on show. But while these products were all perfectly fine, they didn't make quite the same impression on me as the slinkier summer styles.
As a side note, the brand's resin-treated merino wool sweaters were incredibly soft and luxurious and made me wonder if some of J-B-J's products (above) aren't also produced using the same technique.
Shoto
Many years ago it was brought to my attention that, by a cruel twist of fate, some of the most stylish people in the world are, well, homeless bums. The heavy layering, the unconventional pairing of garments, the creative solutions to practical problems; all topped off with Captain Jack Sparrow's hair. Evidently a combination of acute economic necessity and a touch of mental illness can do wonders for one's style credentials.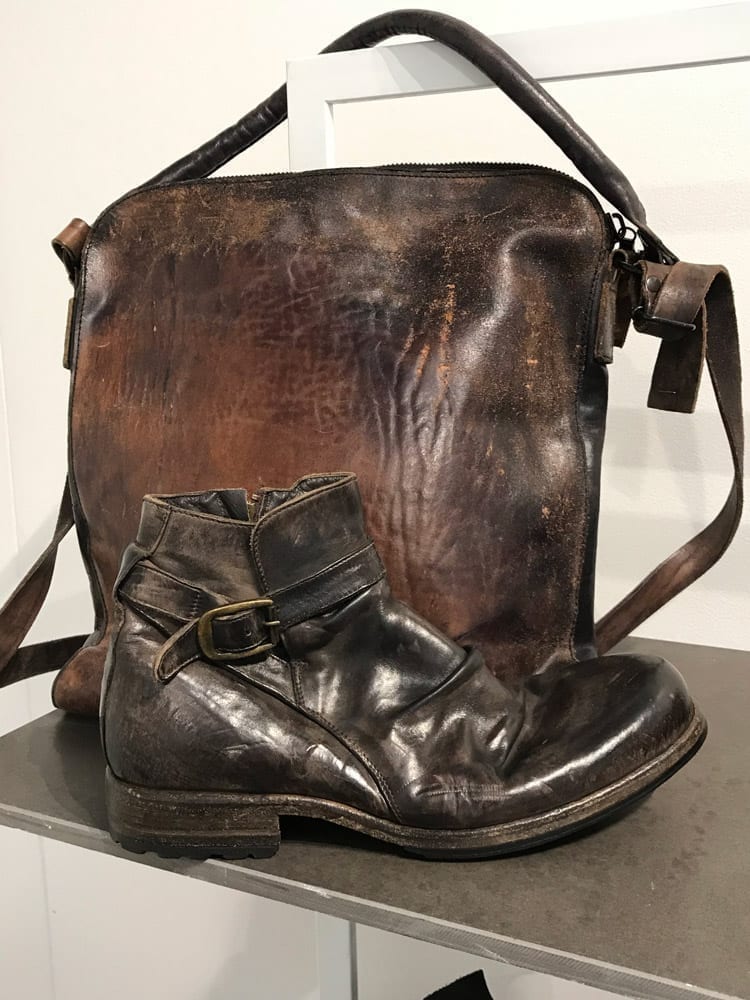 Shoto is a longstanding family-run footwear brand in the Marche region of Italy (for some years the "new Tuscany," but don't tell the Brits and Russians, or they'll buy it all up too). The company is currently run by the third generation of the founding family, Stefano Medori. I don't know if Stefano or his forebears have spent much time examining the sartorial habits of Montegranaro's homeless population, but many of Shoto's designs have a distinctly hobo-inspired look about them.
Which is not in any way to suggest that these shoes are of poor quality: quite the contrary, they are entirely handmade and the quality is exceptional. Rather, many of Shoto's more easily identifiable pieces have a distinctly non-classical, informal, and beat-up look to them. Like a down-on-his-luck Charlie Chaplin drinking Thunderbird in a boxcar.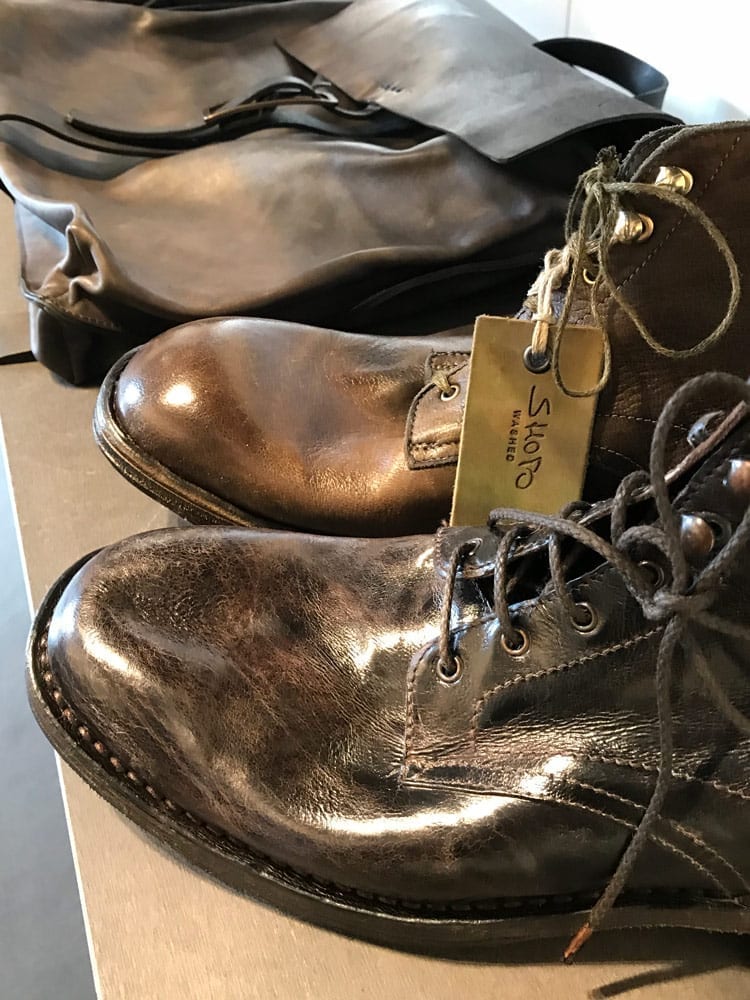 Italian footwear tends to be cut from much softer hides than those favored by Anglo-Saxon shoemakers. This no doubt plays some part in creating the impression that these models have already been very well lived-in. Yet Shoto pushes things further by distressing and discoloring the leather, and producing lasts with the upturned toes of a bowlegged wino.
Beaugan
High on my list of personal priorities at Pitti 95 was a visit to a small "exhibition" co-curated by the Bergen-based bespoke tailor and designer T. Michael. Sadly though, the event was somewhat lower down my list of professional priorities, and thus it was only in the last hours of Pitti that I made it into the upstairs showroom.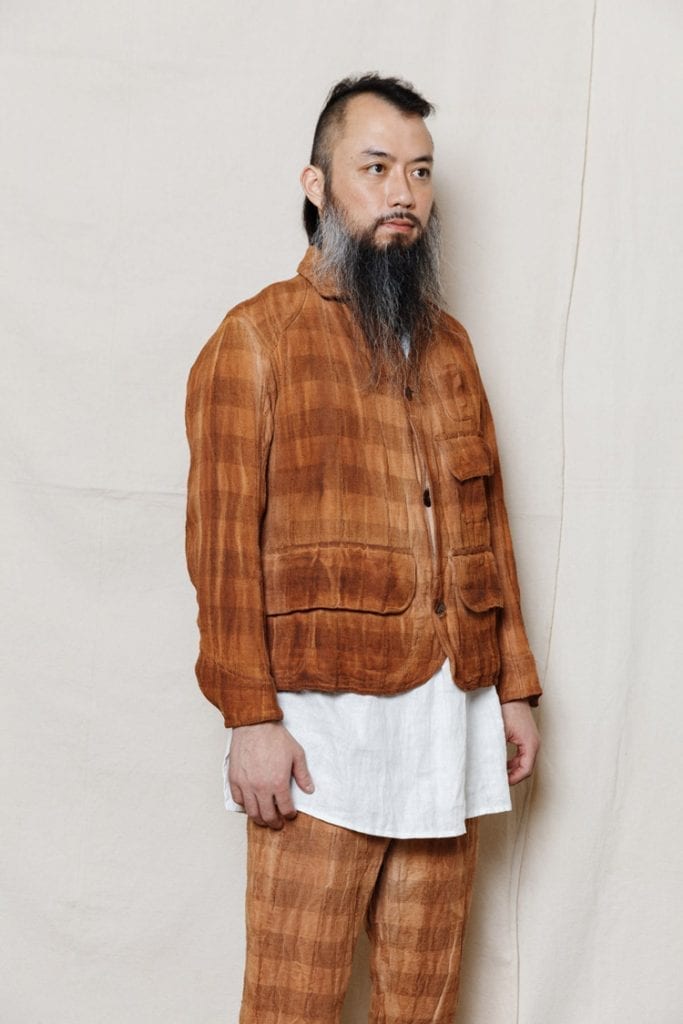 As it turned out though, the inclusion of relative newcomer Beaugan in the exhibition would have justified a much earlier visit. Run by Miko Okamura (Japan) and Christopher Hancy (Australia) from their base in rural Wakayama Prefecture, Japan, Beaugan produces deceptively simple workwear that somehow fuses a "primitive sensibility" with luxury craftsmanship. In practice this means men's clothes that are simultaneously extremely rustic, yet patently very expensive looking.
No doubt it was partly due to the "curated" presentation and directional lighting of the exhibition space, but the rough-hewn nature of the cloth, earthy tones of the natural dyes, and the evident craftsmanship of Beaugan's haberdashery, all contrived to create the impression of museum exhibits: precious relics from a lost civilization of superior sartorial knowledge.
The phrase "attention to detail" is without a doubt one of the more threadbare cliches still rolled out when speaking of Japanese design. Nonetheless, as fatigued as this expression may have become, its use is frequently justified. To their credit, Hancy and Okamura do little to overturn this stereotype.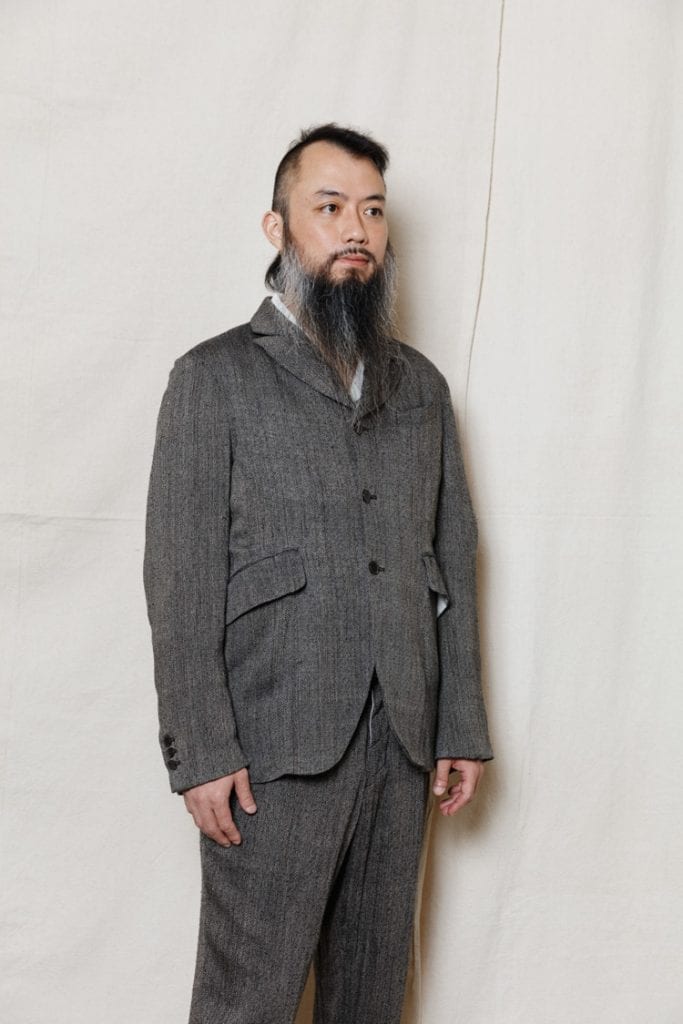 Indeed, chatting with the duo, it was clear that they are people who genuinely give a shit. Not only about the finer details of clothing design, but more broadly speaking; about the things in life that count. After several days of listening to hollow marketing spiel from certain of their colleagues, it came as something of a relief to meet designers with both a brain and a conscience. And this insistence upon doing things right is very much evident in the brand's products.
An item of Beaugan clothing starts life when Hancy sources heavy cotton "khadi", or wild silk gathered from Indian forests and woven by hand. These fabrics are then colored in Japan by Okamaura, using natural dyeing processes: indigo leaves for a deep emerald blue; madder root with an iron mordant to create a rich black; or unripe persimmon for a tawny orange. Cutting and sewing then takes place in Japan.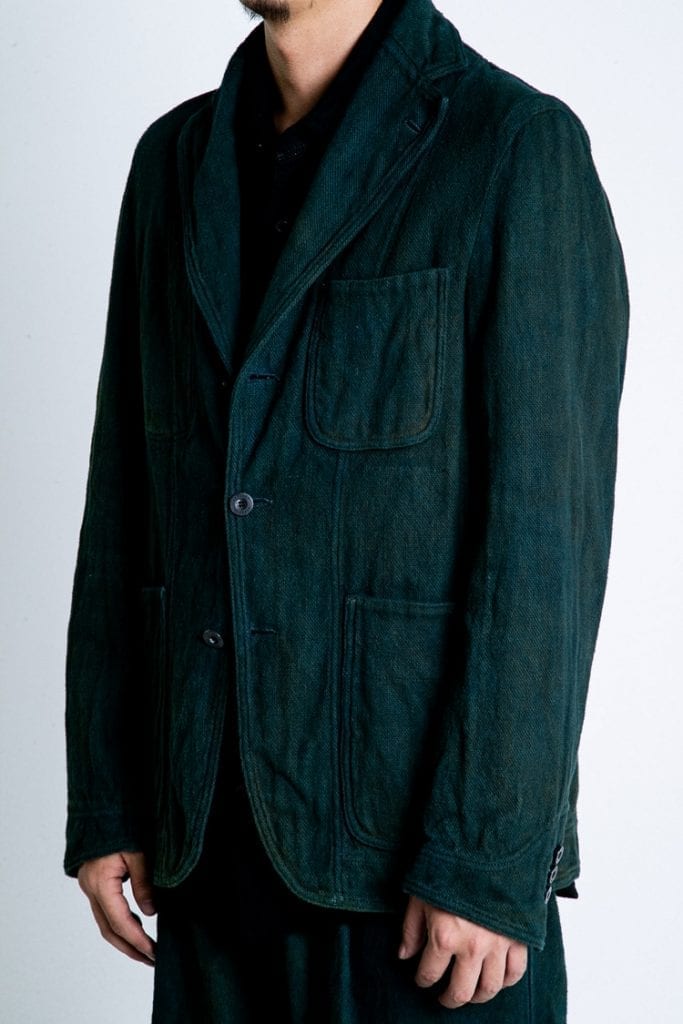 The hands-on processes employed by the brand often make a feature of organic imperfection. For example, the kakishibu overdyeing of a patterned weave results in a jacket with truly unique tone-on-tone striping. Meanwhile, the intriguingly monikered "moon dyed" fabric gains its name from being lain out on the ground, covered in mud, and left to absorb the earth's organic hues overnight – producing a garment that is the color of oxidized chocolate.
As natural and traditional as these processes are though, Beaugan didn't specifically go out of its way to be "sustainable." Rather, if many of their products edge firmly towards this category, it's simply a collateral effect arising out of its owners' personal preferences for natural tones and fibers and the superiority of "slow" manufacturing.
Counterbalancing these somewhat haphazard organic processes is the very deliberate handiwork evident in the brand's custom-made buttons: commissioned from artisans in Japan and the Philippines using tin, brass, and water buffalo horn. Similarly, the contemporary silhouettes of these garments alert you to the fact that you are not looking at some beautifully preserved early 20th Century deadstock, but rather what in fact could be the future of fashion production if only the average brand were more willing to put quality before profit.
Lamler
While the words "fashion designer" may evoke images of a temperamental and artistic prodigy appeasing the inner demons through iconoclastic sartorial expression, the reality is that a clothing brand is first and foremost a business. So rather than being creative visionaries, the people behind many successful labels are just as likely to be serial entrepreneurs or investors who saw a potential gap in the market, and then simply attempted to fill it – just as they would a gap in the market for non-drip garden hoses or luxury toilet paper.
Not so British trenchcoat makers Lamler.
The creative vision behind Lamler is Helen Plummer. She's running a business, too, of course, but she's also an accomplished fine artist in her own right. So the Lamler studio not only produces trench coats, but also paintings.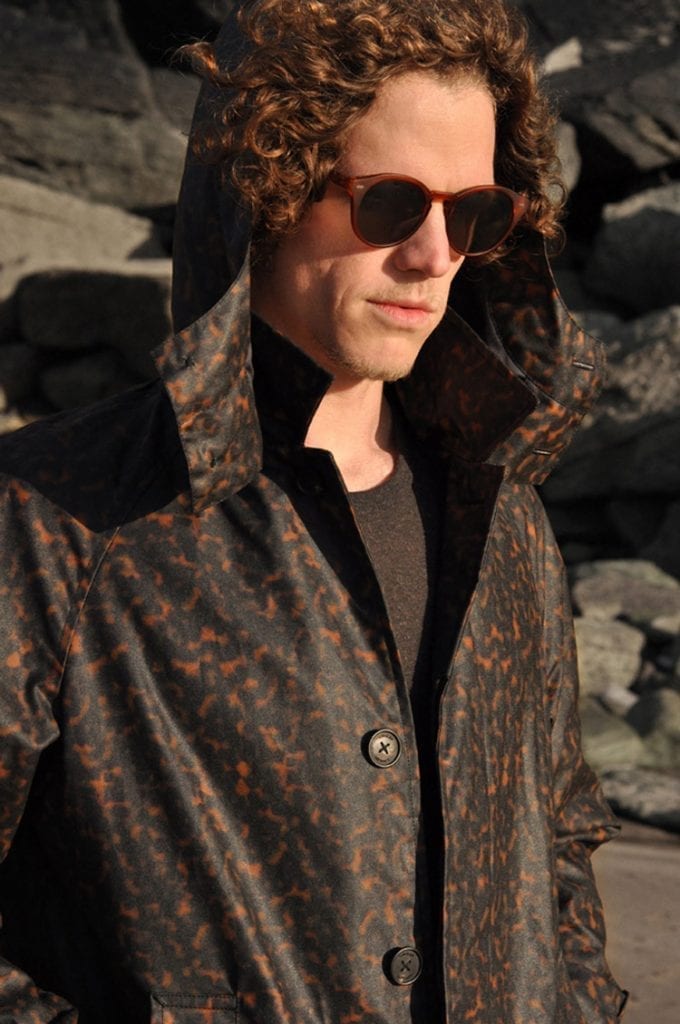 However, stating it in this way might give the impression that the two disciplines are somehow separate. On the contrary, for Plummer there is a symbiotic relationship between clothing design and her artistic practice: sometimes graphic patterns developed for trench coats also end up as paintings; sometimes paintings are produced with a view to later becoming incorporated in clothing design; and sometimes the paintings are just paintings.
These are no twee watercolors though, but instead Plummer's works are firmly deconstructivist: modernist geometric tropes chopped, shifted, and layered via '80s platform-game graphics. While not all of the raincoats feature the same strain of aggressive formalism as the paintings (there are plenty of tamer designs for those who prefer their outerwear more subdued), some products do indeed come with the bright colors and bold block prints, grids, and bark motifs featured on her canvases.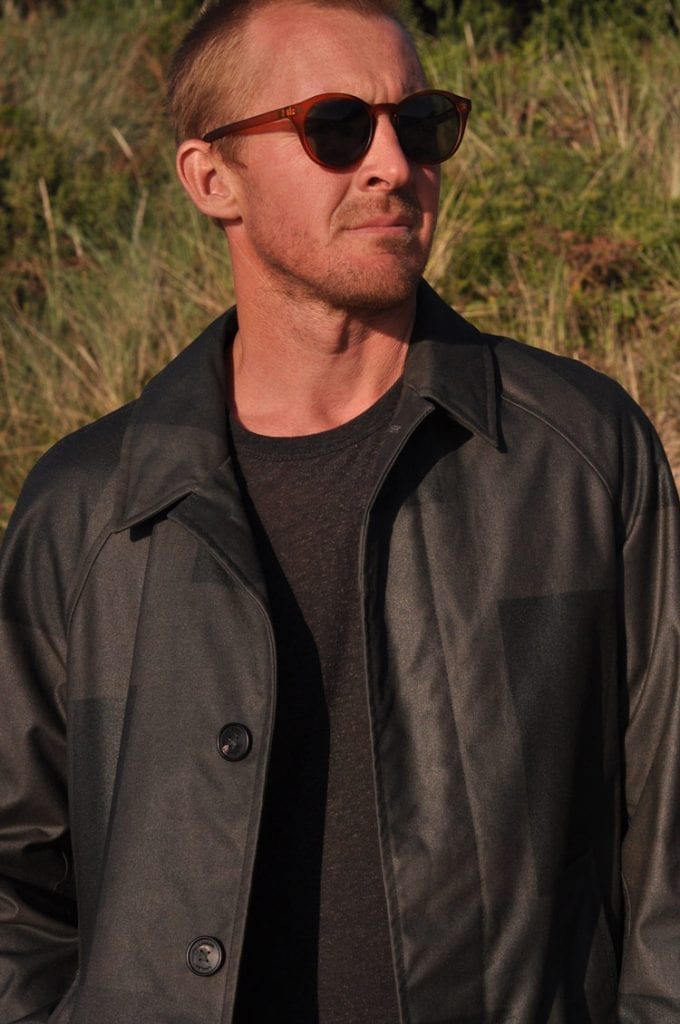 While personally I'd be more likely to wear some of the more discrete – but nonetheless quirky – designs, I like the colorful ones too. And for those with the verve to pull it off, they would make fantastic centerpiece garments: keystone to all manner of creative and distinctive looks.
Lamler is based in Devon, towards the southwestern tip of the UK. A region known for its rolling countryside, good surf spots, and tasty-yet-life-threatening dairy products. Accordingly, many of the label's designs are inspired by surf culture and the local nature.
Made from high quality waxed cotton by Mackintosh in the UK, and featuring cotton or silk linings rather than any nasty synthetics, Lamler's outerwear is also of the very highest quality.
Rolf Ekroth
www.instagram.com/rolf_ekroth/
Finnish-Swedish designer Rolf Ekroth freely admits to having spent much of his adult life as a directionless and unfocused drifter. In an earlier incarnation he studied psychology, and then worked as everything from a social worker to a professional poker player – before ruling out each of these avenues for being incompatible with his personality.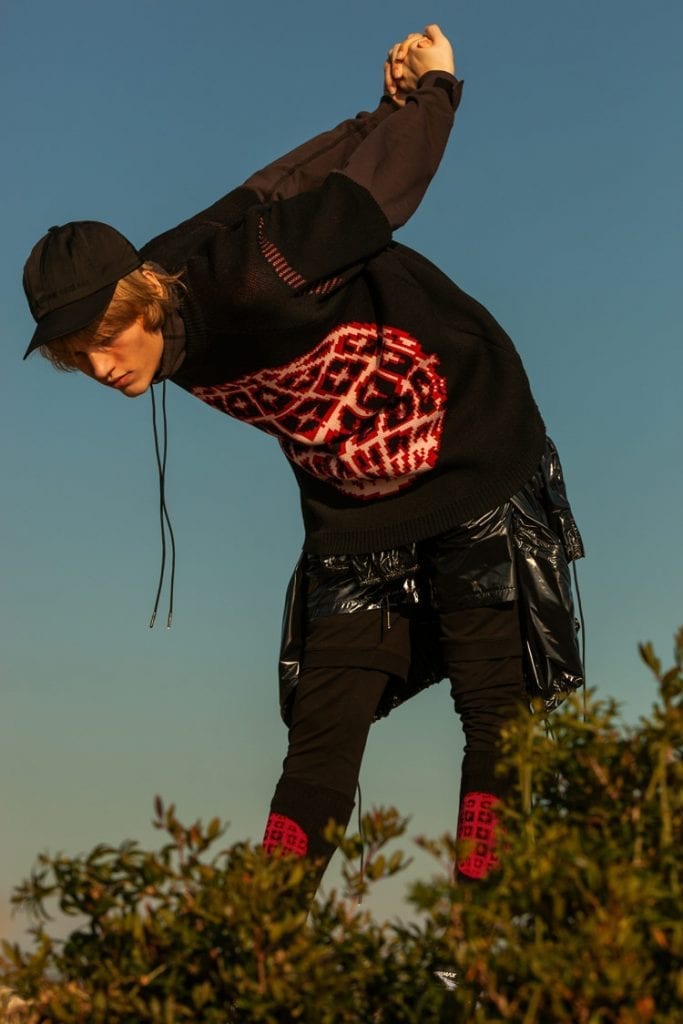 Having only graduated with a degree in fashion design in 2015 – by which time he was already in his mid 30s – it's perhaps too early to tell if menswear is Ekroth's "true" calling, rather than merely another passing phase. However, his current choice of career is certainly garnering plenty of attention from the the right people: a finalist at the prestigious Hyeres festival in the south of France; a capsule collection for Galeries Lafayette; write ups in Vogue and Harper's Bazaar; and now guest of honor at Pitti 95.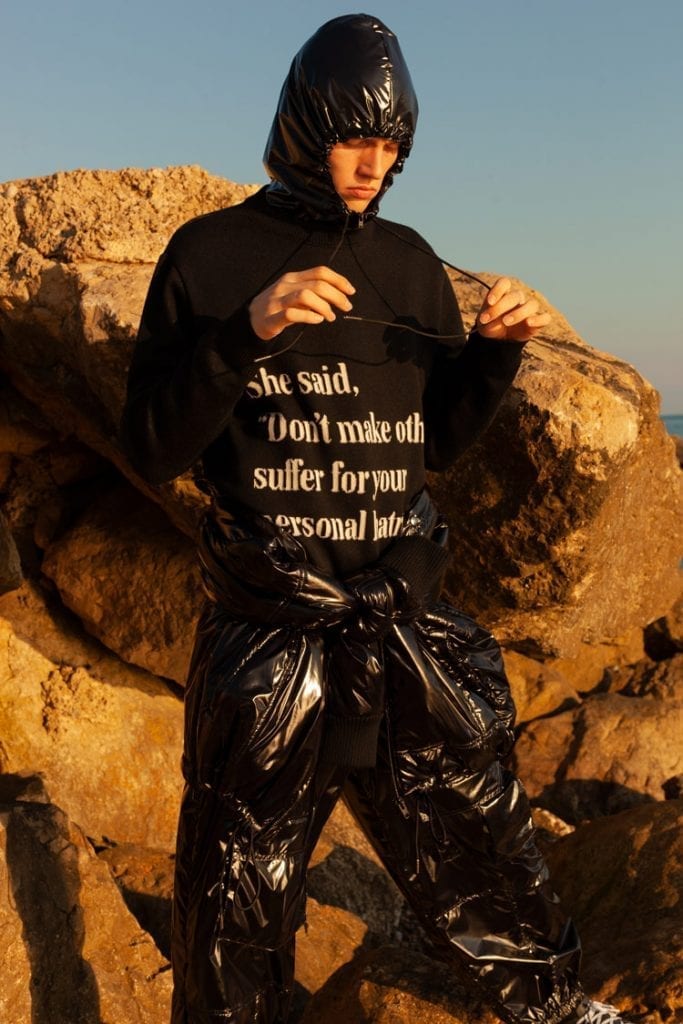 At a combined show in Florence's Palazzo Pucci, Ekroth unveiled not just one, but two, collections: one for the heritage sportswear label Terinit, and another under his own name. Of these, the latter was – perhaps unsurprisingly – the most interesting. Mixing '90s-inspired sportswear with sharp tailoring in Japanese fabrics, Ekroth's current iteration is unashamedly on-trend.
Lovat&Green
Countries such as China, Vietnam, Bangladesh and India continue to be seen as – and indeed most frequently used as – budget cutting shops for the production of inferior garments at rockbottom prices. Yet these are countries populated by as many, if not more, skilled artisans as any other nation. It's just that we as consumers generally don't value the skills these people have to offer. We simply want them to make "our" stuff, only cheaper.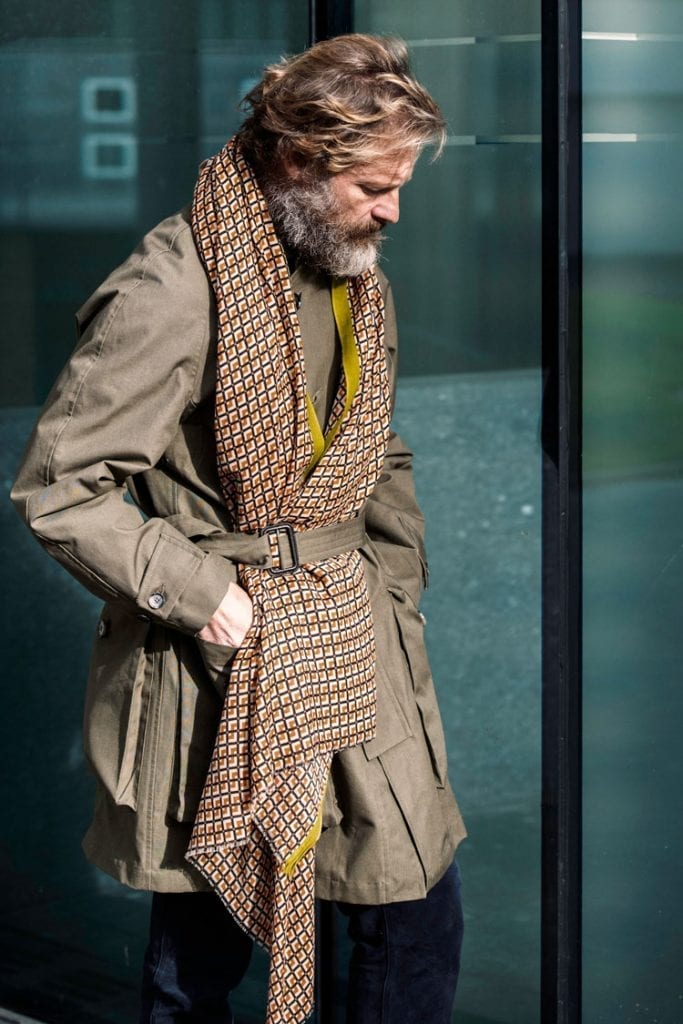 However there's a growing number of small European and N. American brands who manufacture in Asia not merely in order to pocket the enormous disparity between the fees they pay their producers and what we as consumers are expected to fork out for their products, but simply because they hold in high esteem the exceptional artisanal skills of the local people there.
One of these is Lovat&Green, a brand based in Bilbao, Spain, but producing in India – with an evident appreciation for that nation's homegrown textile traditions. The resulting products are beautiful quality wool and mohair scarves in rich colors and patterns.
Far Afield
There I was, thinking to myself that you really can't beat the Italians when it comes to bold, eccentric knitwear, when I chanced upon Far Afield. The brand was a carnival of color and pattern in an exhibition hall otherwise largely populated by booth after booth of tasteful workwear-inspired brain-death.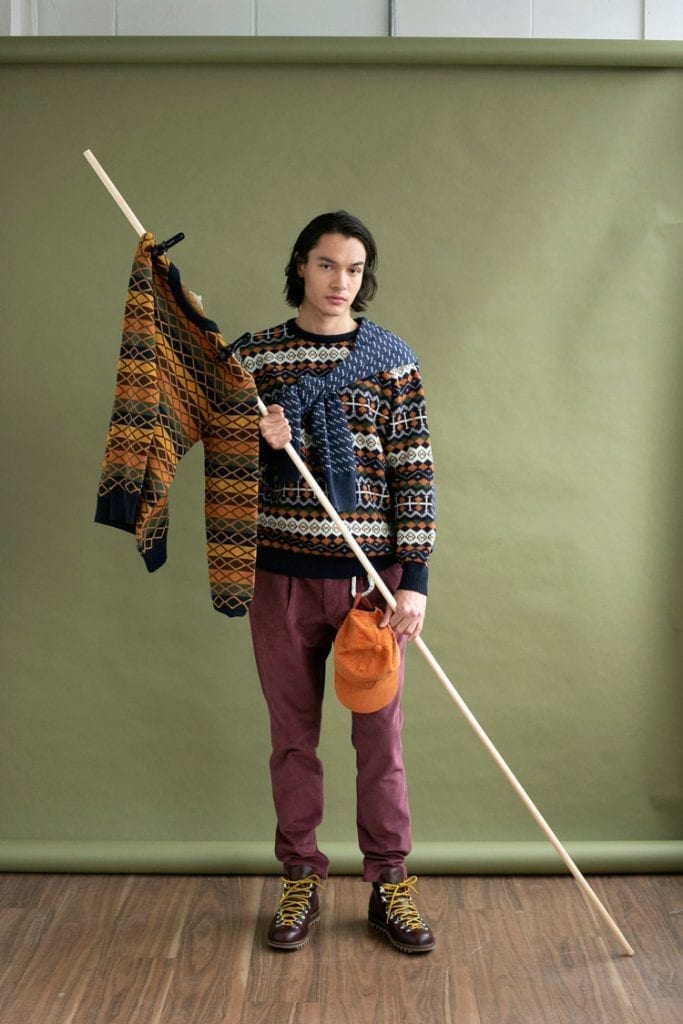 Run by two brothers from the city of Brighton on the UK's south coast, Far Afield has been operational for just 5 seasons and yet already has very good distribution in the US: readers in the main urban centers should be able to track down the label's products without much difficulty.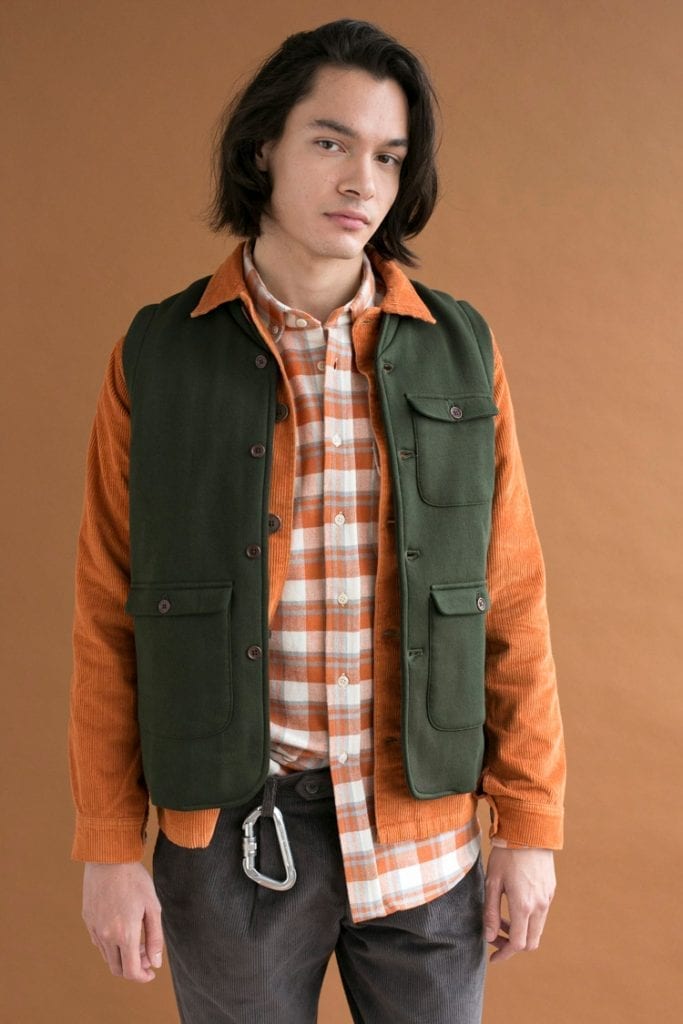 Amiable co-founder Chris told me that Far Afield's designs are inspired by Scandinavia and the great outdoors. This may be so. In practice though, what we're treated to are strong colors, busy prints, and corduroy. Lots of corduroy. All of which is absolutely fine by me.
---